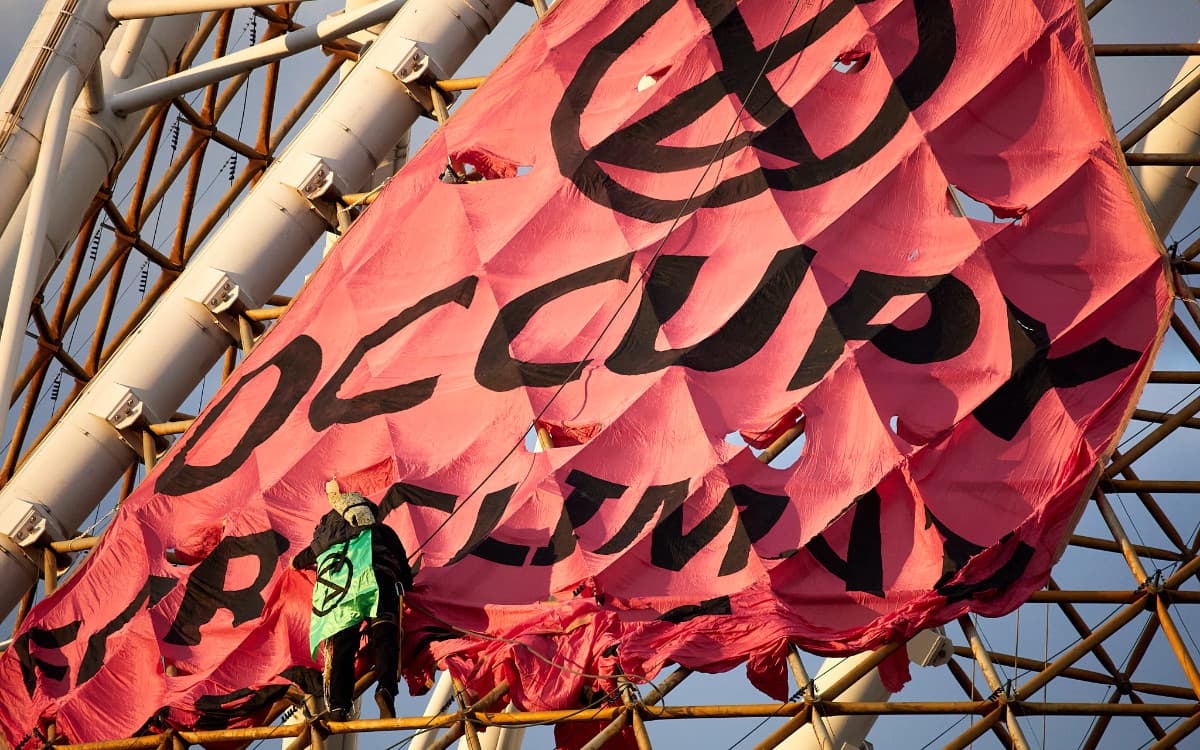 XR Vic raise giant banner over Melbourne
Extinction Rebellion Australia, 29 Apr 2023
An XR Vic rebel climbed the Arts Centre Melbourne spire at dawn to hang a banner launching XR's 25-27 May 'Occupy for Climate' campaign.
As the banner was unfurled, a group of rebels set up a makeshift tent city at the base of the spire, see Climate protester hangs from spire of Melbourne building for four hours. Activists told news media they were supporting the spire climb and protesting the rising number of people displaced by worsening severe weather events brought on by climate change.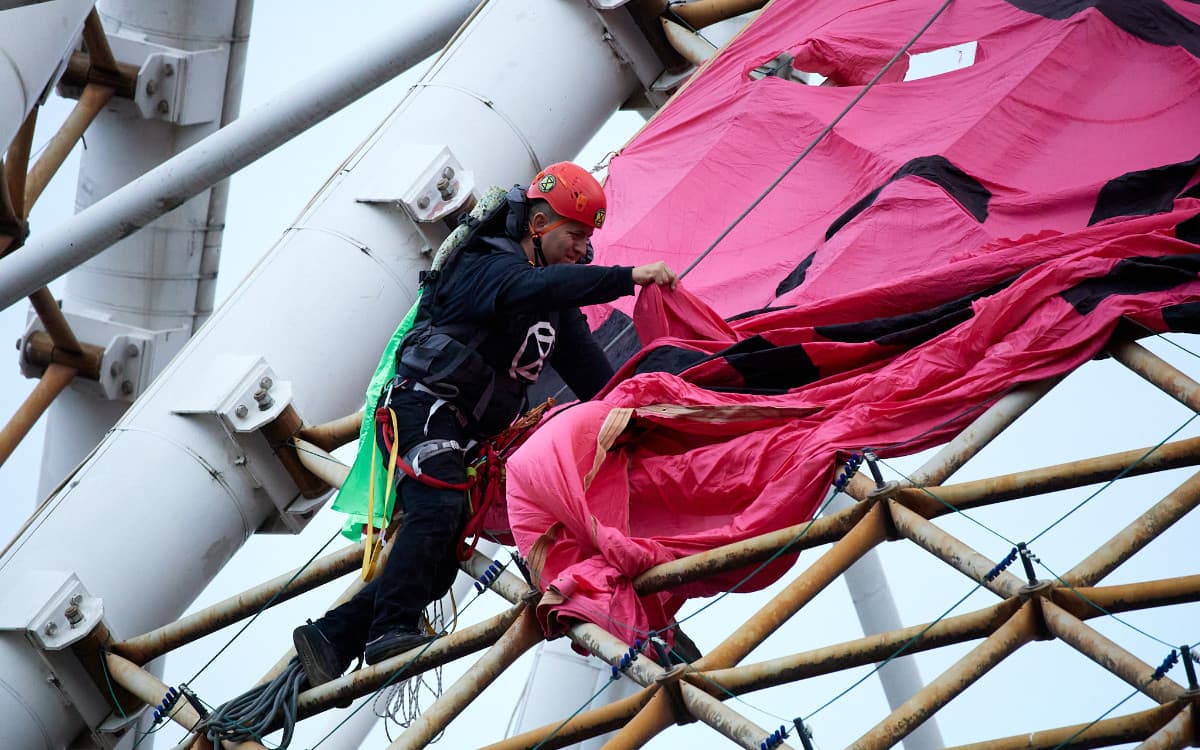 Other protesters held banners reading 'Climate chaos = war + famine' and 'Business as usual = death'. The event was livestreamed on Facebook.
The protest was publicising a series of actions that will take place in Melbourne's central business district between 25th and 27th May. Daily acts of civil disobedience are expected and the likely occupation of an area in Melbourne by hundreds of activists for the duration of the action period. For more information, see Occupy for Climate on this website.
The 'Occupy for Climate' campaign aims to have thousands of people gather in Melbourne, in a month's time. XRVic is calling on our governments to take urgent climate action, in line with the science, not the politics.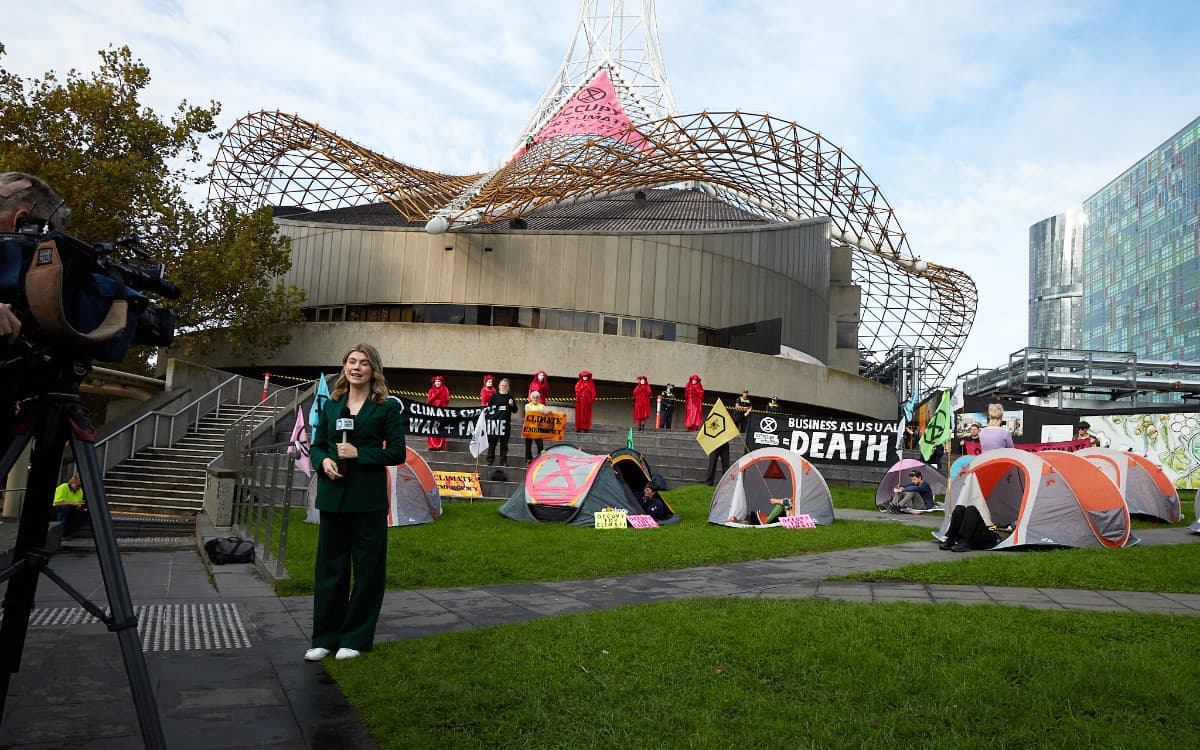 The climber, XR activist Brad Homewood, said: "Every day we get more grim news on the climate and ecological emergency – the Earth is heating and dangerous tipping points are being passed as we speak. We are in the climate endgame and what each of us does matters.
"People ask us why we do what we do. My question to them is, are we doing enough? We need everyone to step up and face the scientific truth; the climate emergency is here now and there is no more time for half measures.
"As UN Secretary-General, Antonio Guterres has said, 'We need disruption to end the destruction'. That's why I'm calling on everyone to join Extinction Rebellion and other groups in our three-day Occupy for Climate action."
"We have a government that is failing to pluck even the lowest of low-hanging fruit. No new coal. No new gas. No more logging of native forests. These are basic first steps, towards the emergency action we so desperately need if we are to preserve a liveable planet.
"This is not just me saying this. Will Steffen, a very prominent Australian climate scientist, said to activists shortly before his death, 'On our current trajectory, we are headed for the collapse of our globalised civilisation and a precipitous drop in population – hell on earth.'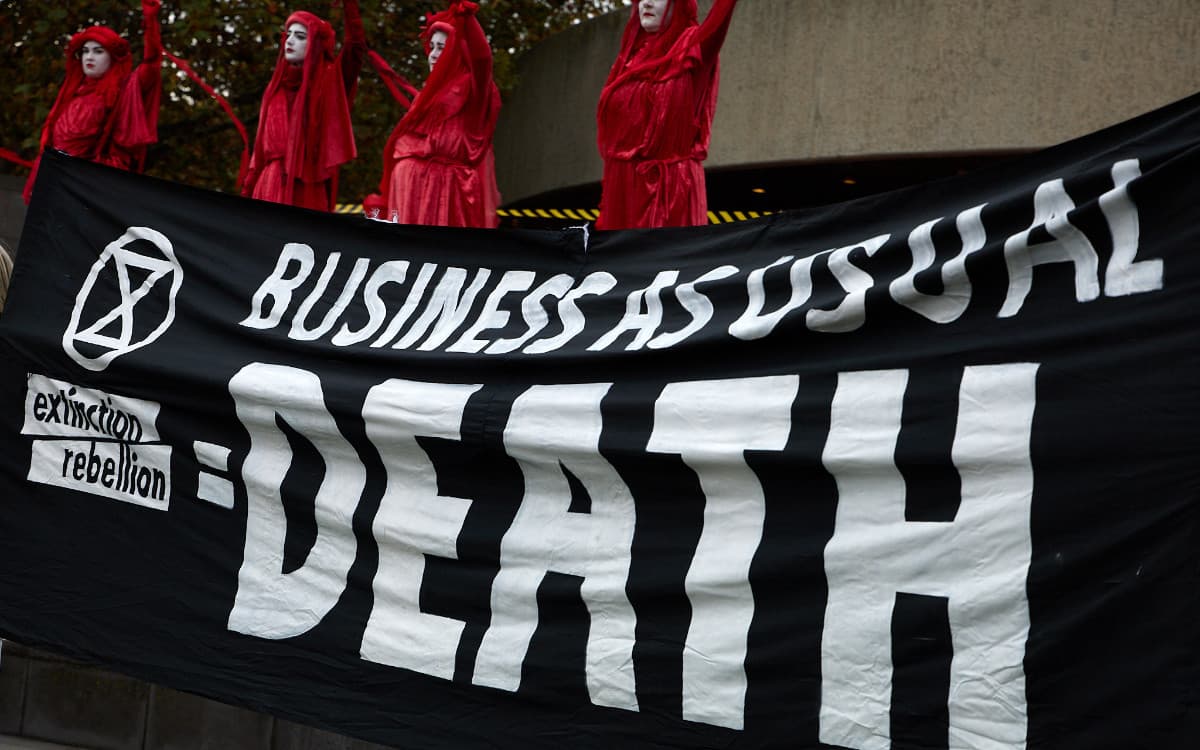 XR spokesperson Jane Morton told reporters: "The concern is the same as always - that is, that we are heading for out-of-control warming, potentially quite soon."
Jane said that XR's next Melbourne protests would be in the Melbourne CBD in May, where they would be camping in the park. She told the Channel 9 news reporter that "disruption" by the group would be minimal compared to that caused by climate change.
"We're in what the scientists say is the end game. Very soon we have to make unprecedented changes or accept that it's been left too late."
"I would say we're doing this for your children and your grandchildren" Jane told the Today show reporter, in answer to a predictable question.
"We're risking societal collapse and people need to know. We are sorry for the inconvenience, but this is our last chance.
"We're in what the scientists say is the end game. Very soon we have to make unprecedented changes or accept that it's been left too late."
After several hours Brad descended the spire and was met by specialist police, who placed him in handcuffs and led him to a police van. See The Daily Mail UK story Climate change protester scales iconic Melbourne building - as the group threaten to shut down CBD street again.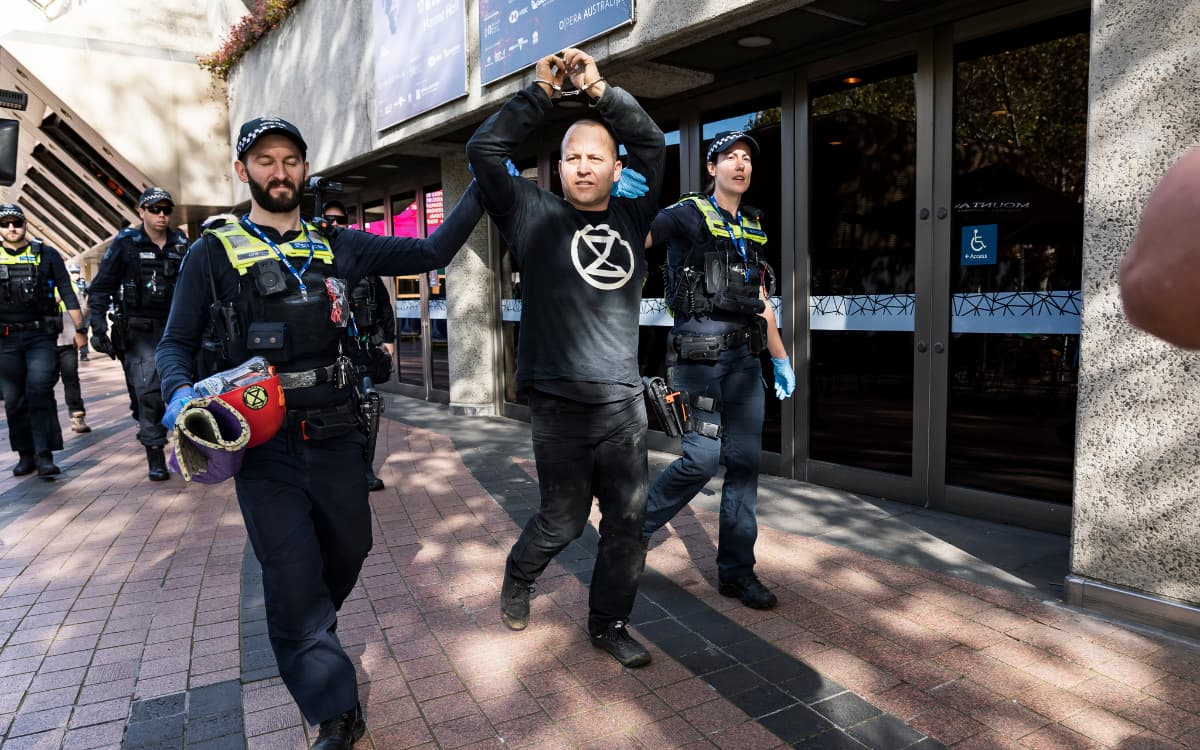 When Brad faced court later that evening, he was given no conviction and no fine. The magistrate hoped he "would try not to do it again."
Like most actions, there was much preparation by rebels behind the scenes. Extinction Rebellion welcomes volunteers with many different kinds of skills, from art work and construction, to social media expertise, police liaison and action planning. See the Get Involved page on this website to find out more about Extinction Rebellion Australia.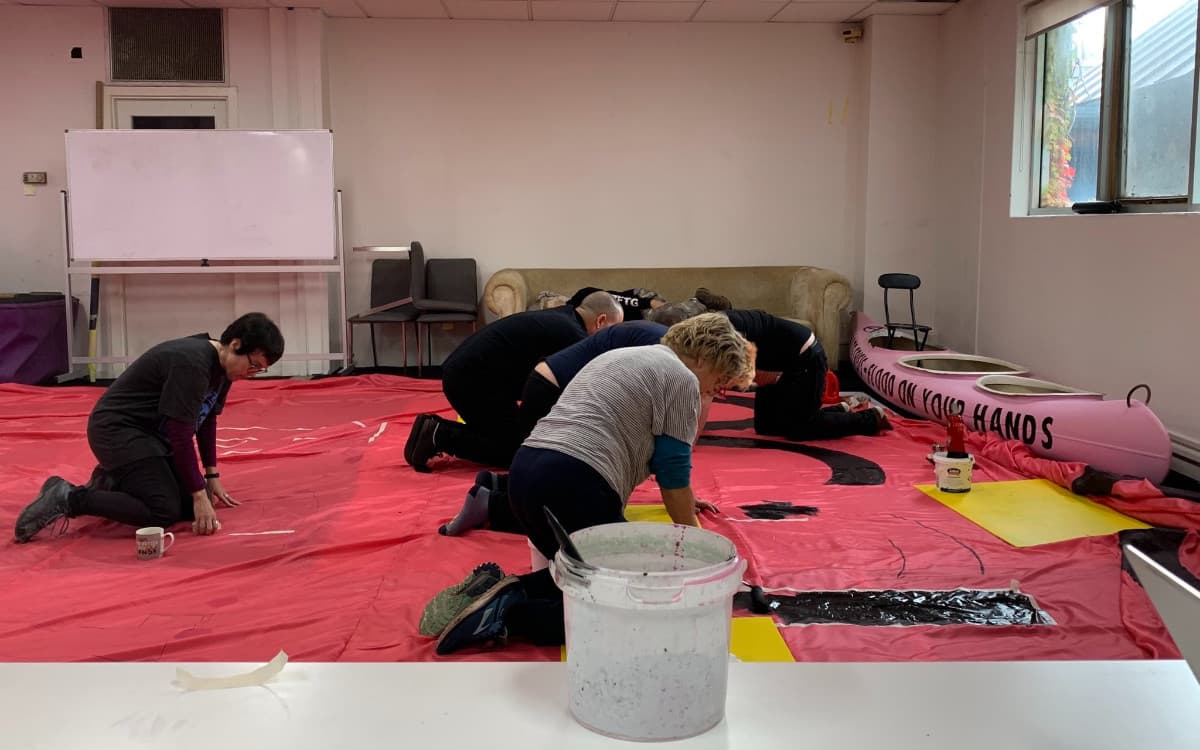 ---
Get involved