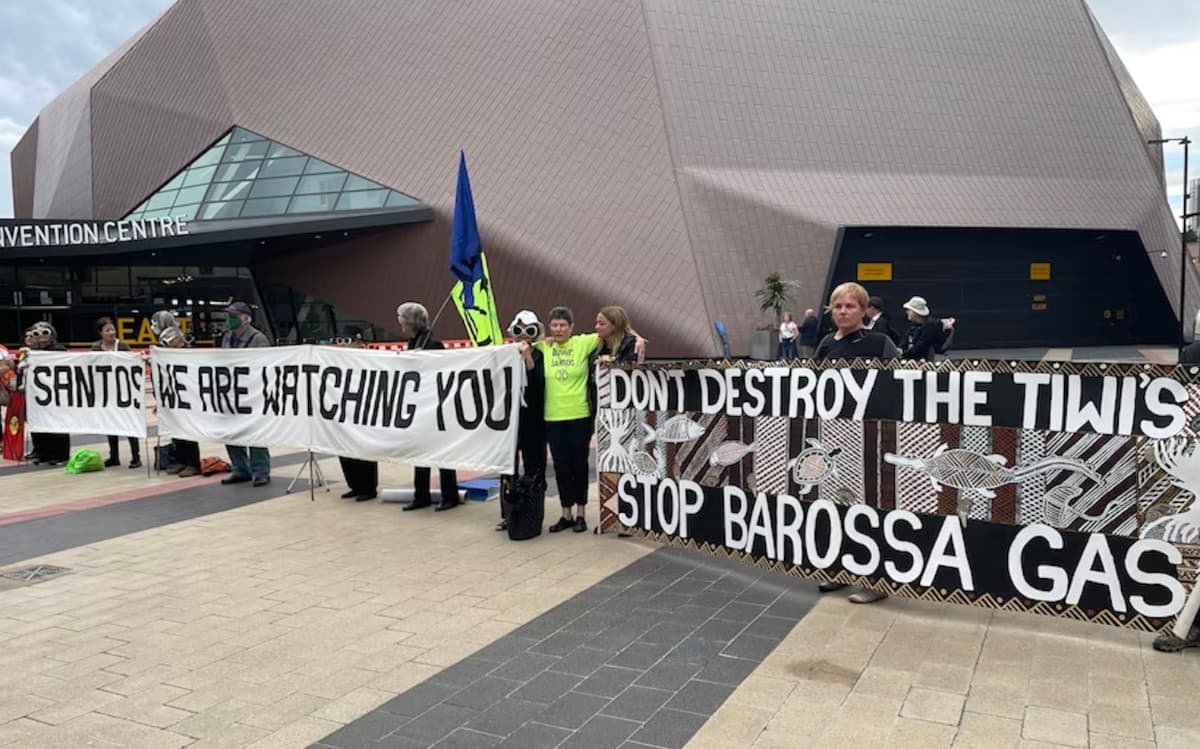 XR SA protest at Santos 2023 AGM
Extinction Rebellion Australia, 9 Apr 2023
Extinction Rebellion SA were at the Adelaide Convention Centre on 6 April in support of Tiwi and Gomeroi representatives attending the Santos AGM, to hold board members and executives to account for their destructive actions.
The protest took place two weeks after the release of the latest IPCC Synthesis Report, which warns we are now on a climate crisis precipice, that we must urgently phase out fossil fuels and reduce emissions in this make-or-break decade.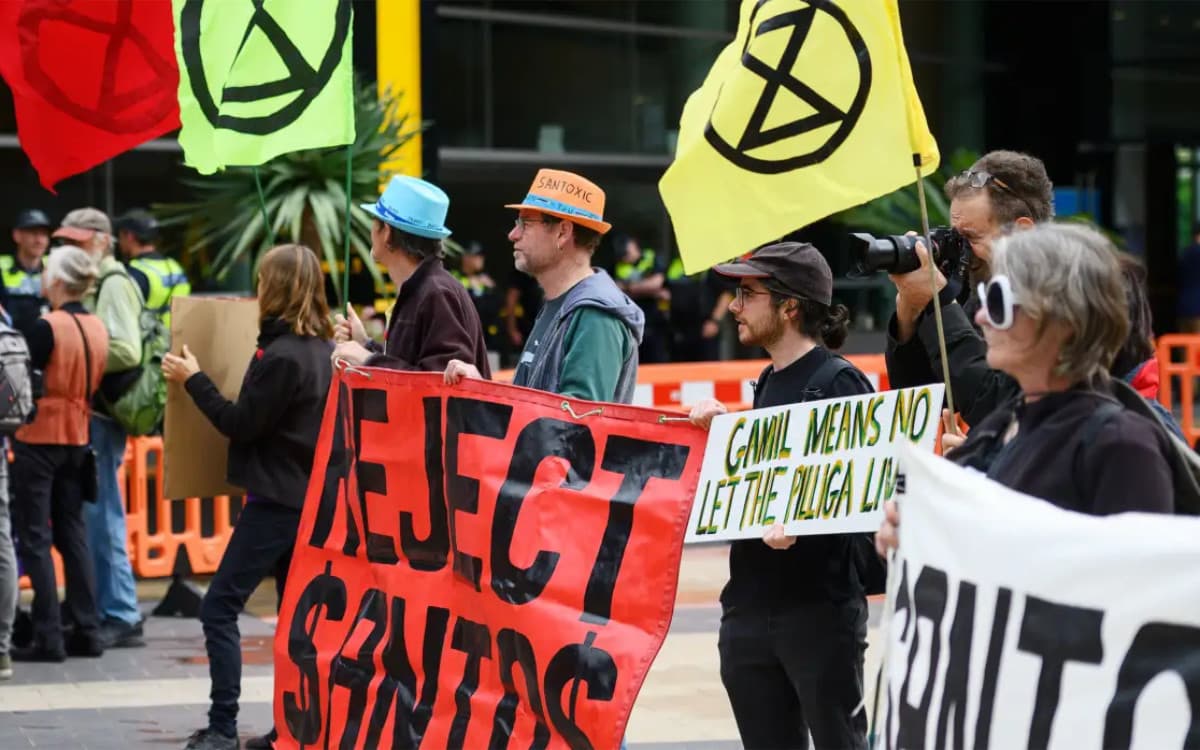 South Australia was the first state to declare a climate emergency a year ago, but the Malinauskas government continues to support gas and oil exploration and production by Santos and condone their greenwashing.
The Climate Council have named Santos as one of the "Dirty Dozen" fossil fuel polluters feeding the climate crisis while raking in billions in profits, paying obscene bonuses to their Executives and paying less tax than the average Australian worker.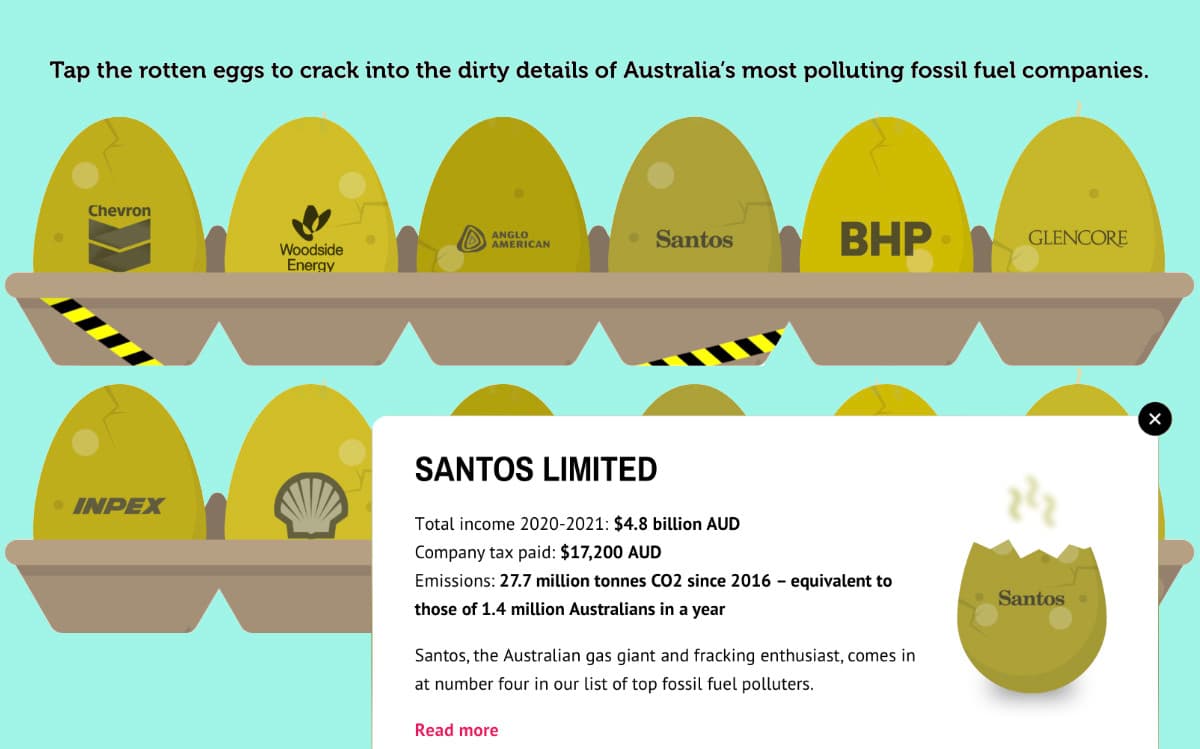 The 'Dirty Dozen' top polluters. View the interactive graphic on the Climate Council website
Santos' total 2020-21 income was $4.8 billion AUD yet the company paid only 17K paid in tax. Emissions from Santos account for 27.7 million tonnes of CO2 since 2016, equivalent to the emissions from 1.4 Australians in a year.
Santos has made empty promises of mitigating all emissions but this is based on carbon capture – unproven, expensive and slow.
The Australasian Centre for Corporate Responsibility (ACCR) is engaged in proceedings against Santos in the High Court, claiming that in its 2020 annual report and subsequently, Santos engaged in misleading and deceptive conduct in its representations about gas as "clean energy" and in relation to its claims to have a "clear and credible" plan to reduce its Scope 1 and Scope 2 greenhouse gas emissions 26-30% by 2030 (from its 2019-20 financial year baseline) and to achieve net zero emissions by 2040. See the ACCR Presentation on the Santos Ltd 2023 AGM.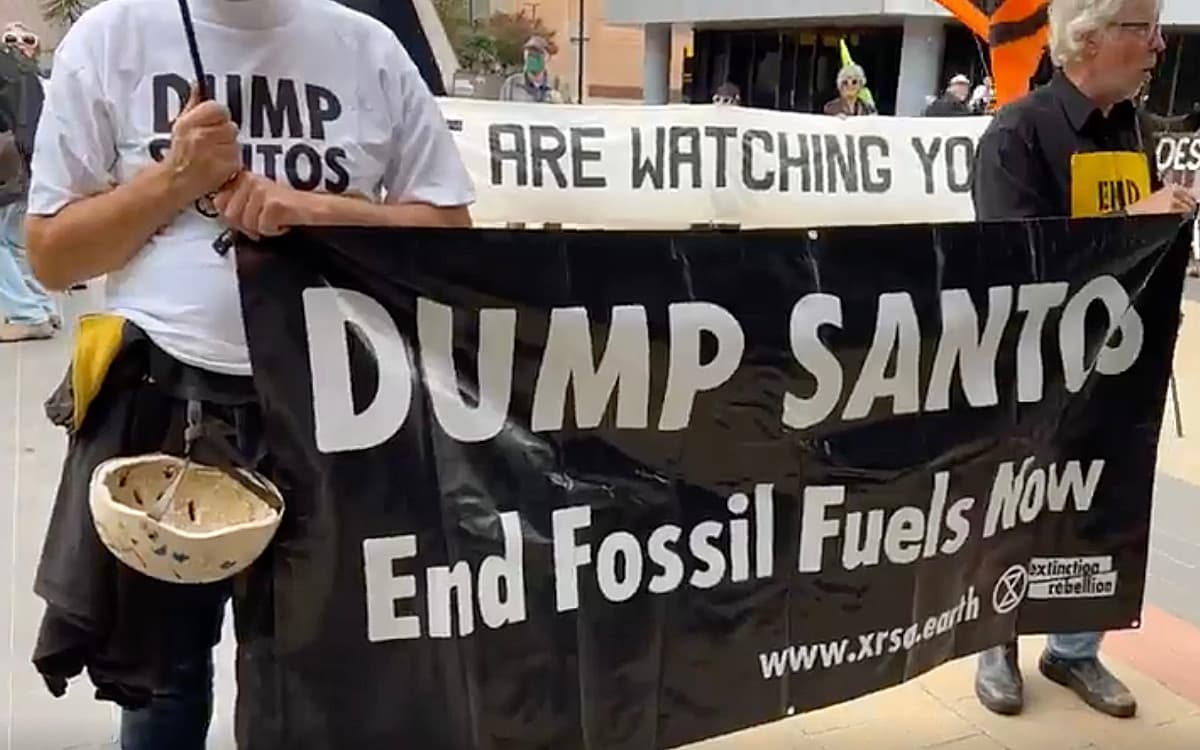 Munupi Senior Lawman and Tiwi Traditional Owner Dennis Tipakalippa is also pursuing a case against Santos and the Federal Government over the approval of plans to drill the Barossa gas field. The Barossa gas field is forecast to be one of the most carbon-polluting gas projects in the world. Drilling plans threaten Tiwi food sources, culture and way of life. This is the first case in Australia brought by First Nations people challenging an offshore project approval because of lack of consultation.
The Tiwi Islands lie about 80 kilometres north of Darwin, and are home to some 3,000, mostly Aboriginal people. The Islands are a biodiversity haven, with hundreds of species of plants and animals not found anywhere else in the world.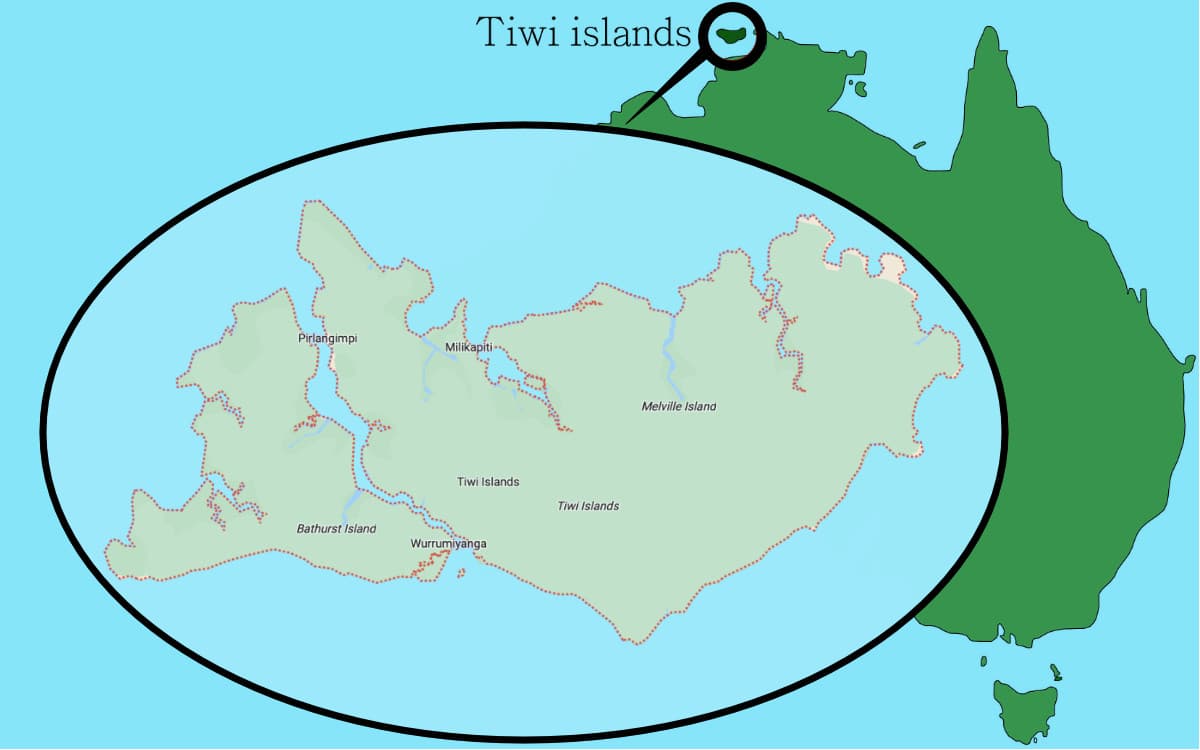 Extinction Rebellion SA Spokesperson Leena Sudano said: "Santos are climate criminals, wrecking the environment and ignoring the rights of First Nations and farming communities across the country. We are sending a clear message today that South Australians want no new gas, no new oil and no more fossil fuel greenwashing."
The organisation 'Market Forces' reported that more than 18% of Santos' shareholders at the 2023 Adelaide AGM demanded the company drop its oil and gas expansion plans and instead manage down production in line with a net zero emissions by 2050 pathway. Market Forces also reported that the company faced fierce scrutiny from Traditional Owners from the Tiwi Islands and Gomeroi Country (around Narrabri in NSW).
---
Get involved