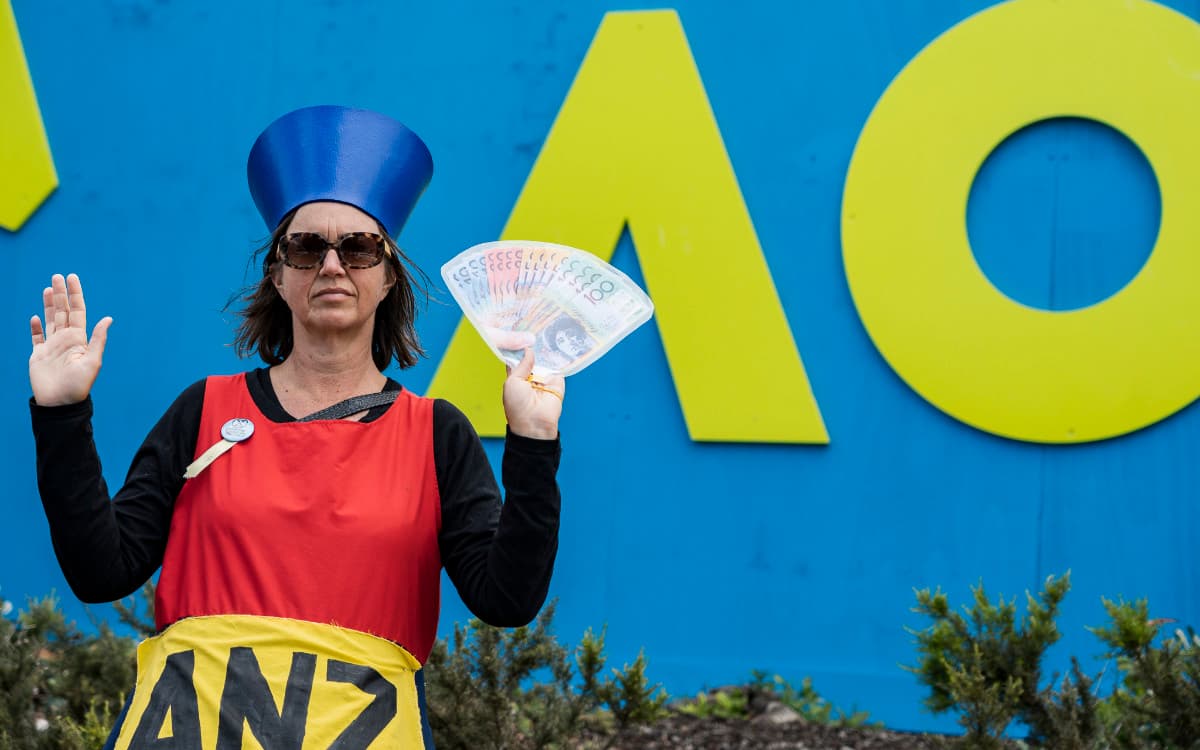 XR Vic: Stop fossil fuels sponsoring sport
Extinction Rebellion Australia, 22 Jan 2023
Four days of non-violent actions by XR Vic rebels to highlight the role of the ANZ Bank, a sponsor of the Australian Open, in funding fossil fuels.
Members of Scientist Rebellion gathered at the Rod Laver Arena for a launch event that drew a procession of Sybils from Westernport, Victoria. The Scientist Rebellion climate action group has many international links and over one thousand members across 32 countries.
Scientists from many disciplines are joining together to send the message to the public "We are NOT safe". Scientists taking non-violent direct action wear lab coats to identify themselves during acts of civil resistance.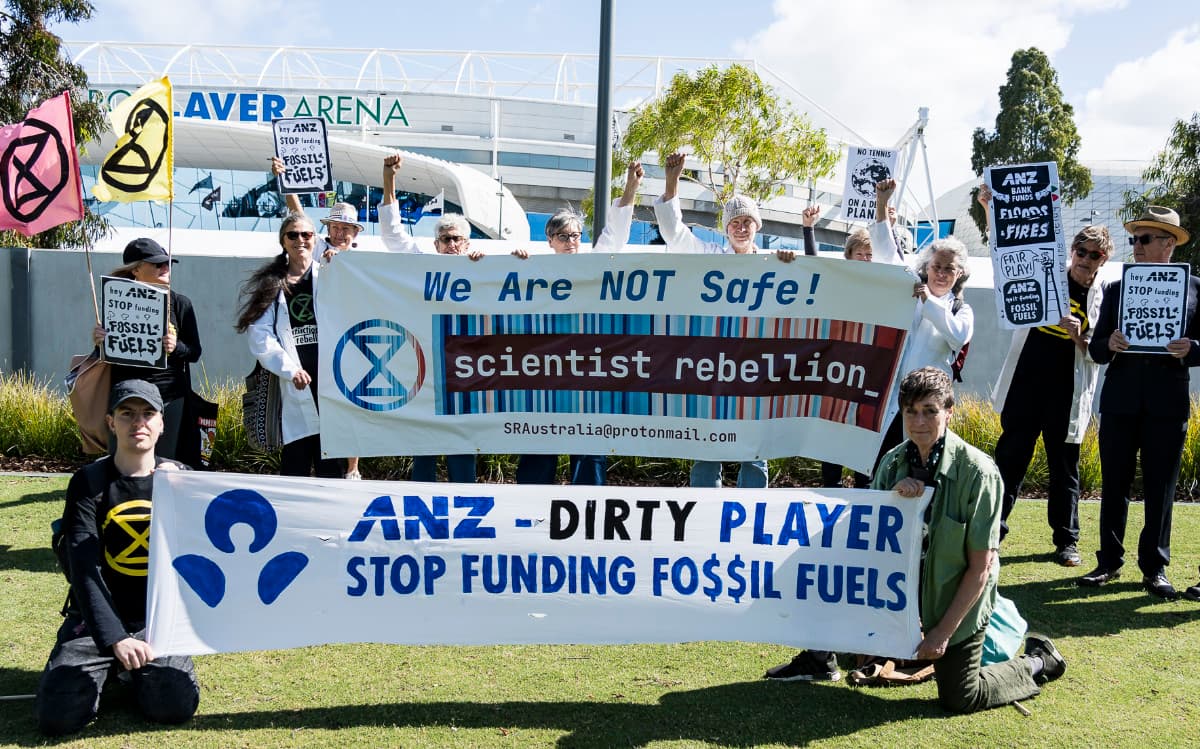 Members of Scientist Rebellion and supporters at Rod Laver Arena - photo by Matt Hrkac
Messages on the Sybils' bright yellow aprons were about Australian Open's partnership with the ANZ bank and ANZ's greenwashing; 'Oil and gas in sport – it's a racket' and 'Stop fuelling the climate crisis'.
ANZ gave $1.73 million to sport and community projects in 2022 to improve their profile and spent $65 billion in two years funding the expansion and building of new fossil fuel projects that put the future of those same communities at great risk.
ANZ is funding 33 new coal, gas and oil projects Including the Santos project (Barossa Gas in the Northern Territory), Glencore (Coal mines in NSW and Queensland), Woodside (Scarborough Gas in Western Australia) and many others. ANZ is also a partner of the Australian Open, and is one of the big four banks funding Santos.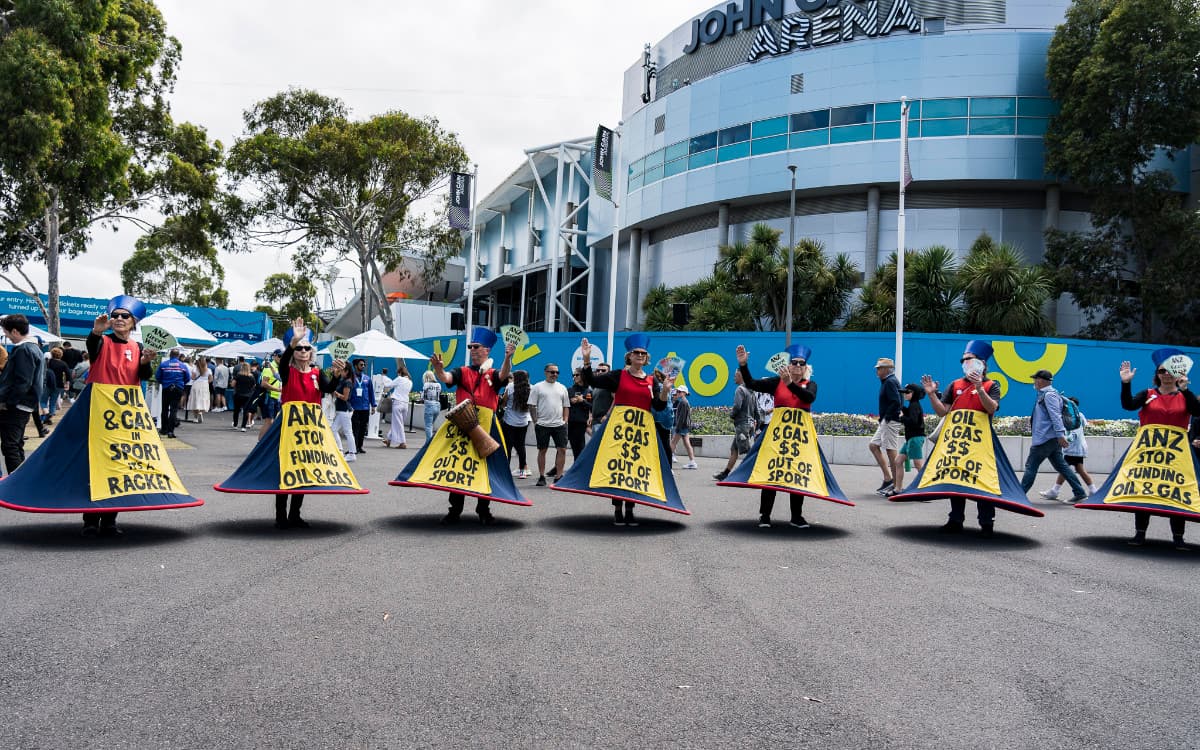 Dirty dollars link the ANZ and mining giants like Santos drilling for new gas, oil and coal - photo by Matt Hrkac
Saturday's action saw a swarm of skeletons on bikes in Melbourne's CBD and parkland. The message was - Business as usual = Death; Stop Funding Fossil Fuels. It's time to kick fossil fuel sponsorship out of Aussie sport!
Santos were slammed out of the Aussie Open but are still sponsoring cycling, footy and rugby. Saturday's ride was in solidarity with the XR South Australia pedal rebel action and XR SA's campaign to stop Santos sponsorship of the 'Tour Down Under' – see the news item on this website XR SA riders cross TDU race finish line wearing 'DUMP SANTOS' message.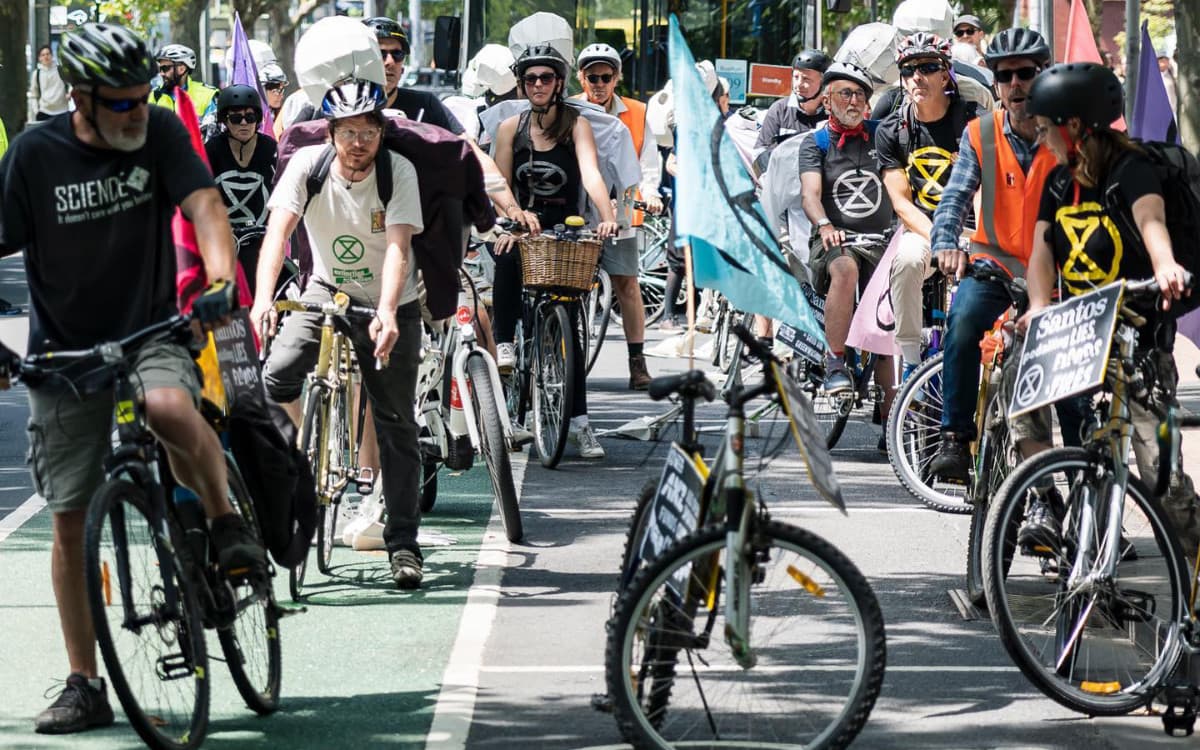 Bike swarm in Melbourne CBD - photo by Danielle Judd
Coal, gas and oil companies spend $14 to $18 million a year greenwashing their public image by sponsoring sport in Australia, according to a new report, by the Climate Council, Game, Set, Match: Calling Time on Climate Inaction.
Meanwhile, the pursuit of profits by these same fossil fuel companies is helping to bring on extreme heat that's already causing problems for sporting events in Australia.
In an article in The Age, Climate Council director of research Martin Rice said: "Without urgent and decisive action, Australia's summer of outdoor sport could become unplayable." According to the Climate Council, "by 2040, heatwaves in Sydney and Melbourne could reach highs of 50°C, threatening the viability of summer sport as it is currently played… No athlete, whether an elite professional or a community player, is immune to increasingly hot summers, which are a health hazard for those playing and watching sport."
Temperatures at the Australian Open Tennis in Melbourne have repeatedly hit +40°C with games suspended and players taken to hospital. In 2014, almost 1,000 spectators were treated for heat exhaustion.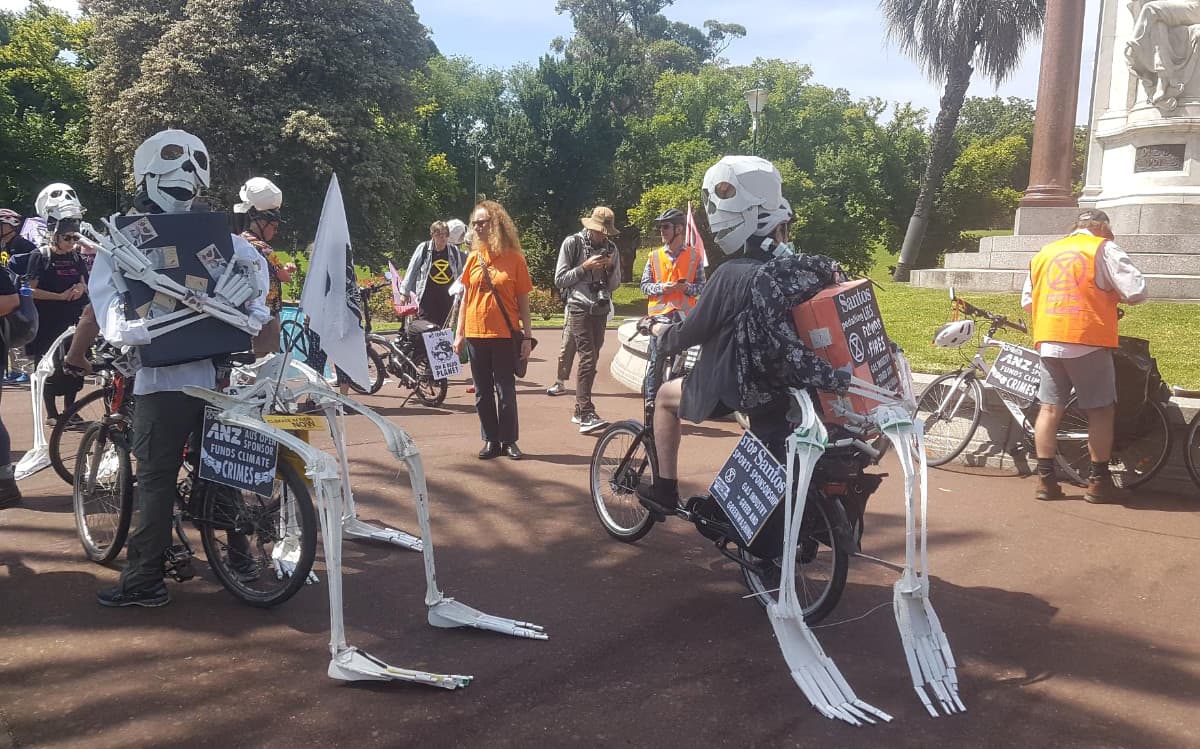 Preparing for the bike swarm - photo by Danielle Judd
After intense pressure about 'greenwashing' in sports, the Australian Open dumped Santos one year into a 'multiyear' partnership deal in 2022. The gas company moved on to buy naming rights to the 'Santos Tour Down Under' in South Australia. Extinction Rebellion and other groups in Europe have been campaigning to have a ban placed on all advertising from 'harmful products' like fossil fuels. Last year France became the first country to ban advertising of petrol cars.
Brenda Tait from XR Victoria said: "Banks and corporations like ANZ and Santos are investing in environmental destruction and fuelling climate collapse, despite the UN Secretary António Gutteres labelling Australia a 'holdout' for refusing to do more on climate change."
The four days of action are to call out this attempt to greenwash the image of fossil fuels. It's time to tell the truth about sports sponsorship in Australia. Sports and the companies that sponsor them have a choice: planet or profits!
On Sunday the Sybils appeared again outside the National Gallery of Victoria, to get these messages across. Members of Scientist Rebellion staged a banner protest on Princes Bridge, and spoke about the realities of the climate emergency and impacts on health.
Extinction Rebellion is appalled that fossil fuel companies are allowed to sponsor anything at all, let alone big sporting events like the Santos Tour Down Under and the Australian Open while they destroy our future.
Viola Rosario, also from XR Victoria said: "Gomeroi Traditional Owners are standing strong after The National Native Title Tribunal refused to recognise the cultural knowledge of Gomeroi Traditional Owners, and allowed Santos to go ahead with 850 gas wells in sacred Pilliga forest. We support them in saying 'Yanay Santos!' Say 'no' to Santos."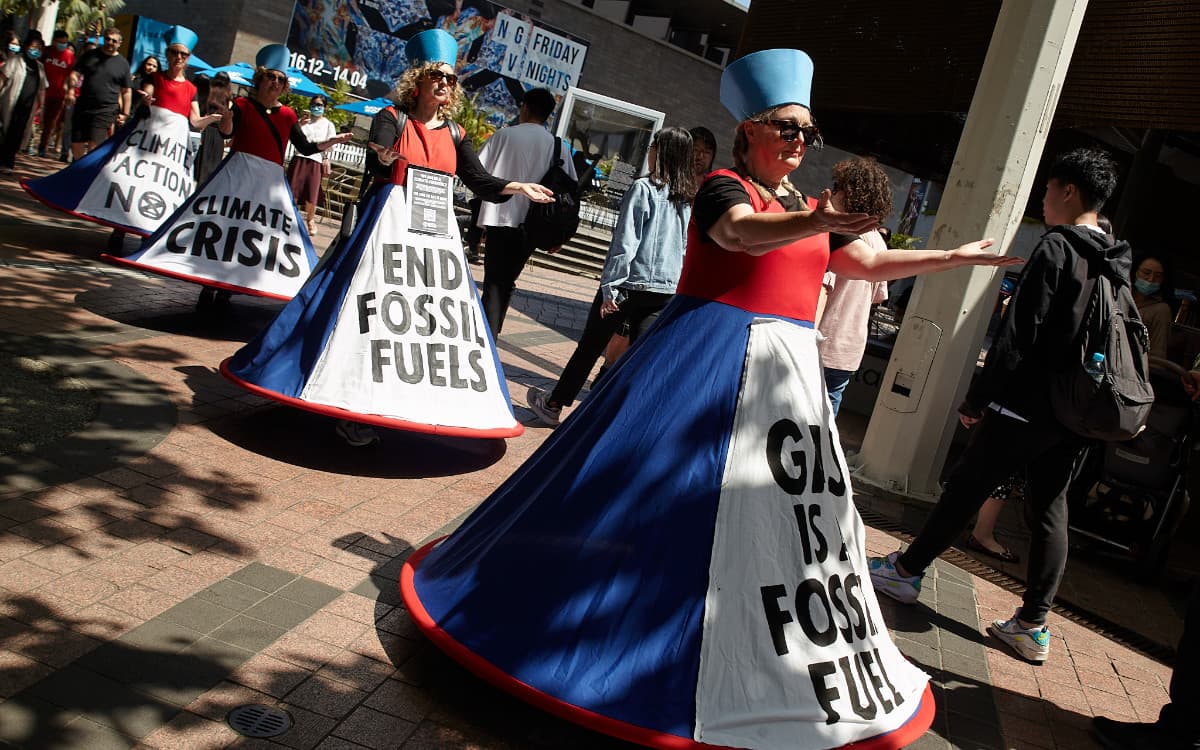 Sybils at the National Gallery of Victoria - photo by Danielle Judd
---
Get involved