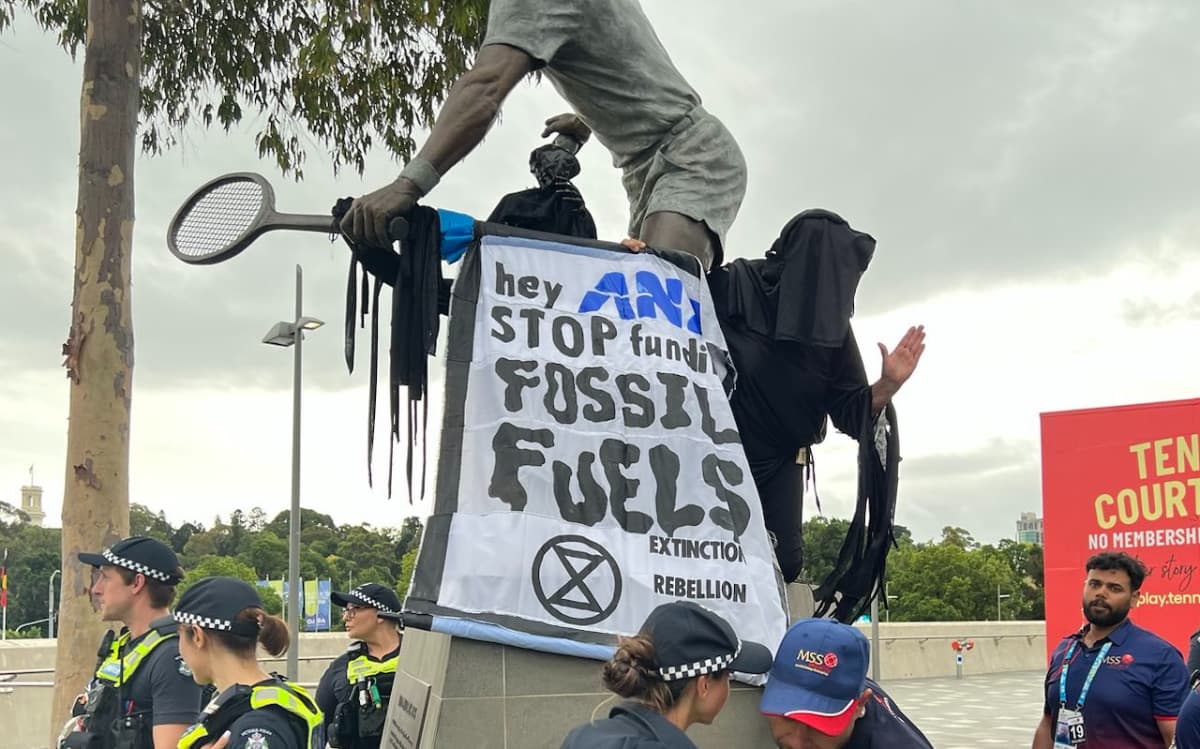 XR Vic protest greenwashing at the Australian Tennis Open Men's Final
Extinction Rebellion Australia, 31 Jan 2023
Rebels from XR Victoria locked on to the statue of Rod Laver outside the Australian Tennis Open to protest greenwashing in sports sponsorship.
Tennis Australia is partnering with ANZ Bank - a company pumping billions of dollars into new gas, coal and oil projects and fuelling climate destruction.
Rebels purchased tickets and did not enter the arena or disrupt the game itself. They took care to protect the statue of Rod Laver and it wasn't harmed in any way. Sadly, Tennis Australia is failing to show similar respect or care for the safety of the public and sports players by partnering with a bank labelled the 'worst in Australia' on climate over fossil fuel loans.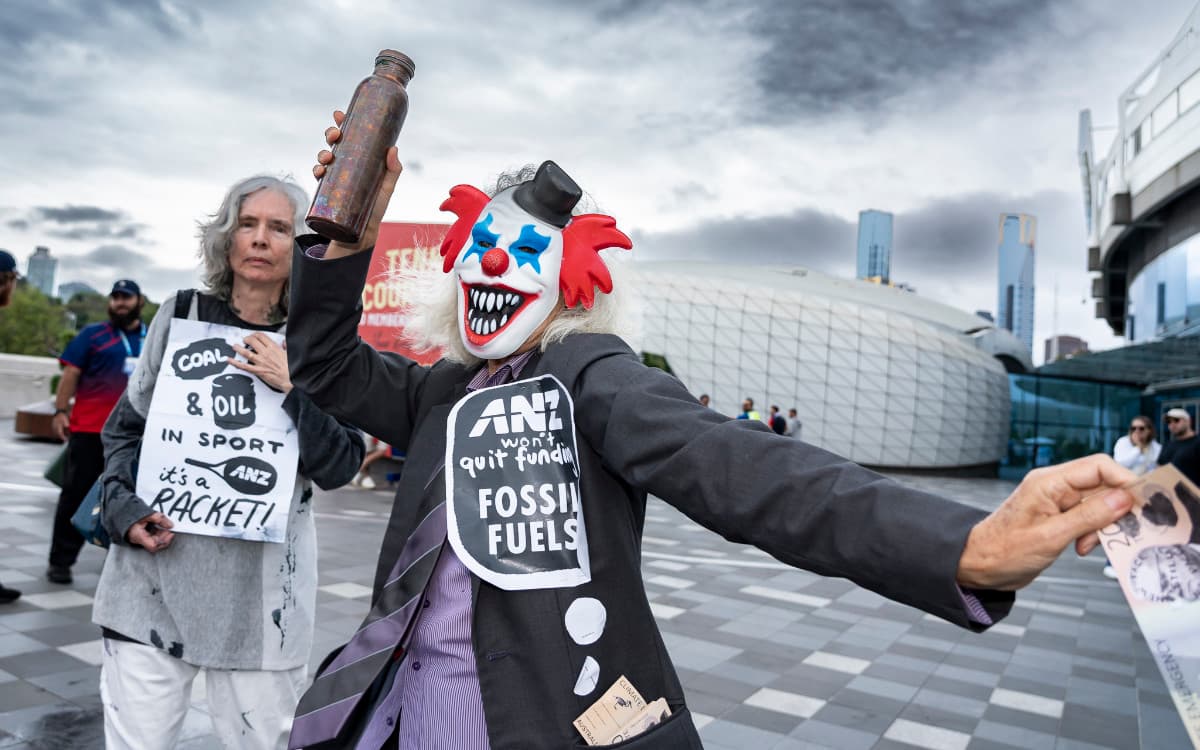 XR Vic rebels make the point with theatrics at Rod Laver Arena - photo by Matt Hrkac
The 2021 Climate Council report, Game, Set, Match: Calling Time on Climate Inaction warned that athletes and spectators will be increasingly affected by rapidly rising temperatures and heat events.
ANZ gave $1.73 million to sport and community projects in 2022, but spent $65 billion in two years funding the expansion and building of 33 new coal, gas and oil projects.
The statue of Rod Laver is a cherished symbol of sportsmanship. Rod Laver represents fair play, the pursuit of excellence and remains a role model for generations of tennis players around the world. Tennis Australia's partnership with ANZ Bank is NOT fair play. ANZ is not a role model we want in sport.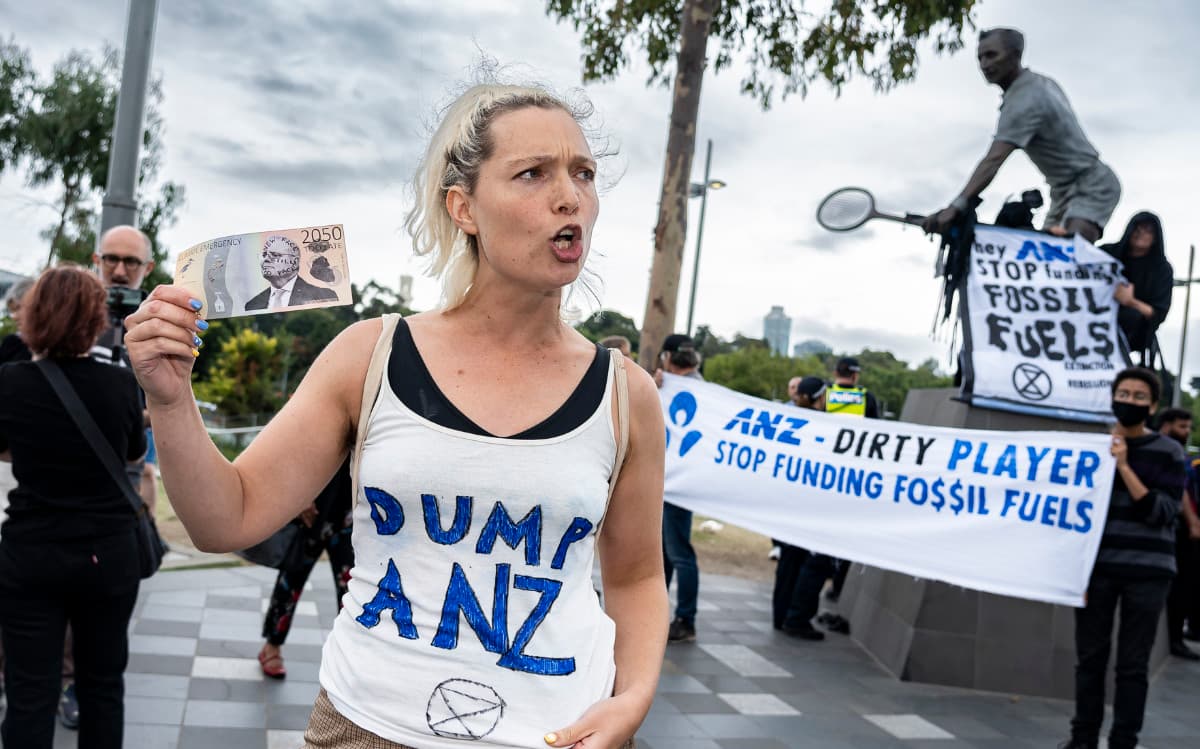 XR Vic rebel Freya adding energy to the protest - photo by Matt Hrkac
XR Spokesperson Brenda Tait said:
"We need people to stand up and engage in peaceful, non-violent protest in Australia to raise the alarm about the threat posed by rising emissions from gas, coal and oil pollution. Let's kick the dirty players out of sport and clean up the planet before it's too late.
"The action outside the Men's Final highlighted how sport is being misused by companies like ANZ Bank, Santos and Woodside. They are a dirty secret within Australian sport promoting their clean and green image, while driving up emissions and threatening our future."
The action also showed the inability of private security contractors to distinguish between violent or drunken behaviour and peaceful protest. XR's police liaison person was one of the first to be removed from the area, with unnecessary force, by security, which made communication between the police, security and the demonstrators far more difficult.
The security team generally showed a lack of understanding of best practice protocols when dealing with peaceful demonstrations.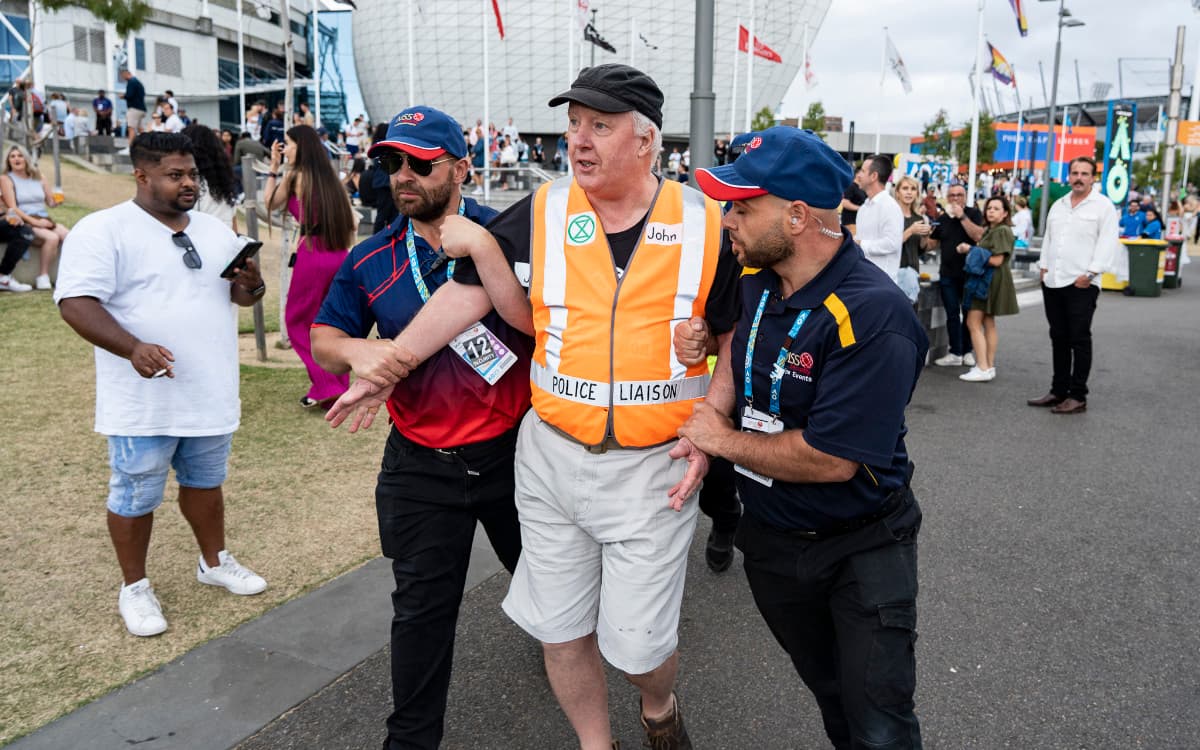 XR Police Liaison removed by security personnel - photo by Matt Hrkac
---
Get involved