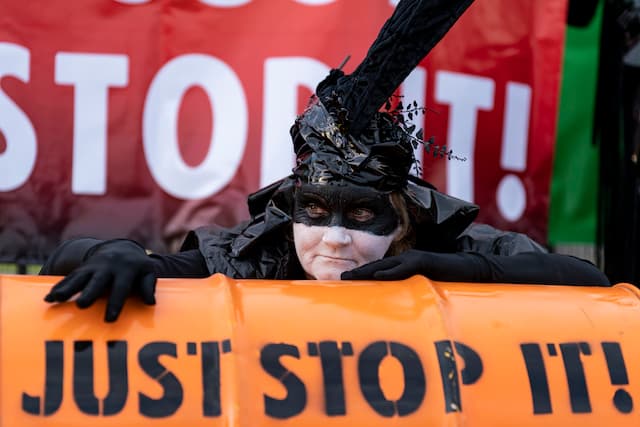 XR Vic rebels blockade petrol distribution terminals
Extinction Rebellion Victoria, 28 Mar 2022
Just Stop It. No More Coal, No More Gas, No More Oil. When our governments are failing us, it is the duty of citizens to rebel.
Concerned citizens will be risking arrest in sacrificial actions day after day, for at least this week, to make sure the climate emergency message is heard just before we head to the polls in May. We are aiming to cause sustained disruption. While we are reluctant to affect the lives of ordinary people, experience shows that it is necessary to have a significant economic impact in order to be heard. Around the world, other similar actions are taking place, including Just Stop Oil in the United Kingdom and Blockade Australia in Sydney.
We are facing a climate and ecological emergency. The unprecedented droughts, fires and floods we have seen in the past few years are just the start. As Hans-Otto Pörtner from the IPCC has said: "Any further delay in concerted global action will miss a brief and rapidly closing window to secure a liveable future". But, our government continues to approve new gas fields and coal mine expansions, while arguing in court that they have no duty of care to protect young Australians from the catastrophic impacts of these actions.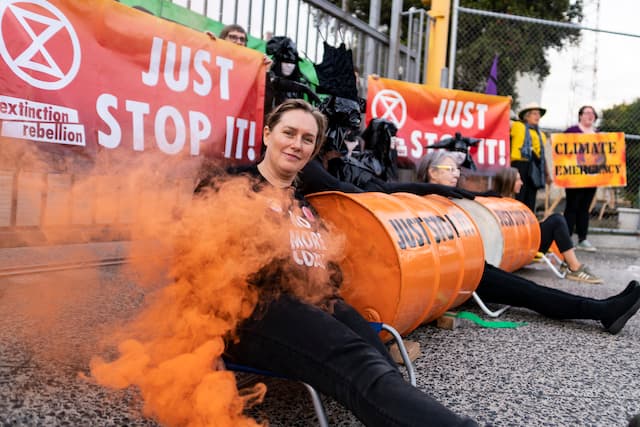 Today, three women, a grandmother, a mother of one, and a health worker were arrested after locking on to barrels to blockade the Exxon Mobil Yarraville facility for almost 5 hours. In the afternoon the gate was blockaded again, this time with a giant burning planet replica and banners.
One of the arrestees this morning, Dr Laresa Kosloff, 48, mother of one, explains her choice:
I feel compelled to take action because I want my child to know that his future matters. I feel a moral responsibility to do whatever it takes to try and stop the destruction of everything we know and love. I don't want to live with regret, knowing that I could have acted but didn't. It is difficult and confronting to do this, but I feel that I have no choice.
Arrestee Jodie Winnell, 45, a health care worker, says:
I am locking on to a barrel because I cannot ignore the fact that we are in a climate and ecological emergency and yet our governments are approving new gas wells, expanding coal mines and destroying native forests. I feel a moral duty to take this action for people now and into the future. I feel an urgency for undertaking non violent direct action for the millions of animals that have died in flood and fire, and the frequent unfolding destruction that is happening to the land.
For Elizabeth Hartrick, 74, a retired grandmother arrested this morning:
We are deliberately targeting this major economic pinch point in response to a dangerously incompetent federal government and a multinational corporation, both hell-bent on ignoring the scientific warnings. We are in a climate and ecological crisis. Thirty-eight nation-states and thousands of councils around the world have declared a climate emergency. Yet the Australian government has decided to give the fossil fuel industry $51 billion, instead of finding new opportunities for sustainable employment in the industries of the future.
No more coal. No more gas. No more oil. JUST STOP IT! We need an emergency transition, or the recent floods and fires will be only the beginning.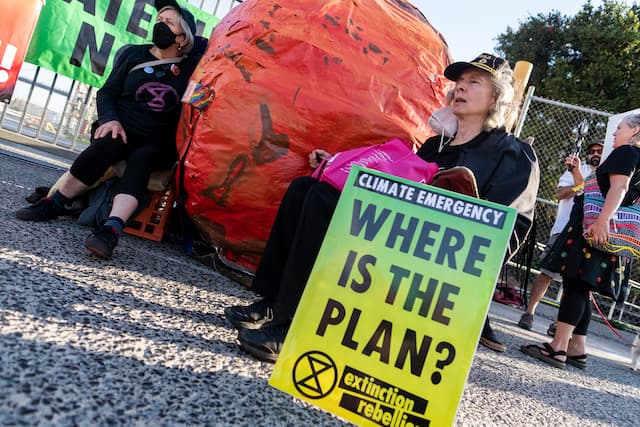 We are all connected through the web of life, that's why people have been glued on to Mother Earth today.
Later the same afternoon, accompanied by powerful singing by the Climate Choir, brave Earth Defenders attached themselves to a giant burning Mother Earth to blockade the Exxon Mobil exit gate for 3 hours and the entry gate for 1.5 hours.
Leslie Fraser, a 68-year-old ecological restoration volunteer, mother and great-aunt, talks of:
'The Black Summer bushfires and unprecedented wildfires in California! Floods in Quebec, Europe and now in New South Wales and Queensland! And we're losing the Great Barrier Reef to yet another mass bleaching event. It's the burning of fossil fuels that is supercharging these events. When will enough be enough? When will governments finally react? Where is the plan to transition all sectors of society to a safer future before it is too late?'
Helen Bowman, 69, grandmother, explains:
'I am deeply concerned about the future of all children – and the future they will inherit. Young people have been the least responsible for the damage caused, but will feel the impacts throughout their lives. Everything we can do to make things better for them must be done.'
Extinction Rebellion Victoria is targeting fossil fuel facilities in Melbourne and around Victoria in a series of highly disruptive actions. Our message is simple: No more coal. No more gas. No more oil. JUST STOP IT!
We are calling for the declaration of a climate emergency and asking all parties 'Where's the plan?' What is needed is a transition at unprecedented speed and actions on the massive scale required to protect us and our kids. Every emission is doing us damage, and every emission we can avoid can help preserve a liveable planet for the next generation. We are grandparents, parents and young people who are prepared to do whatever we can to sound the alarm … before it's too late.
Stay tuned for alerts about one or more actions per day from now on. Breaking news will be available on the XR Vic Facebook page with live feeds from actions as they get under way.
---
Get involved