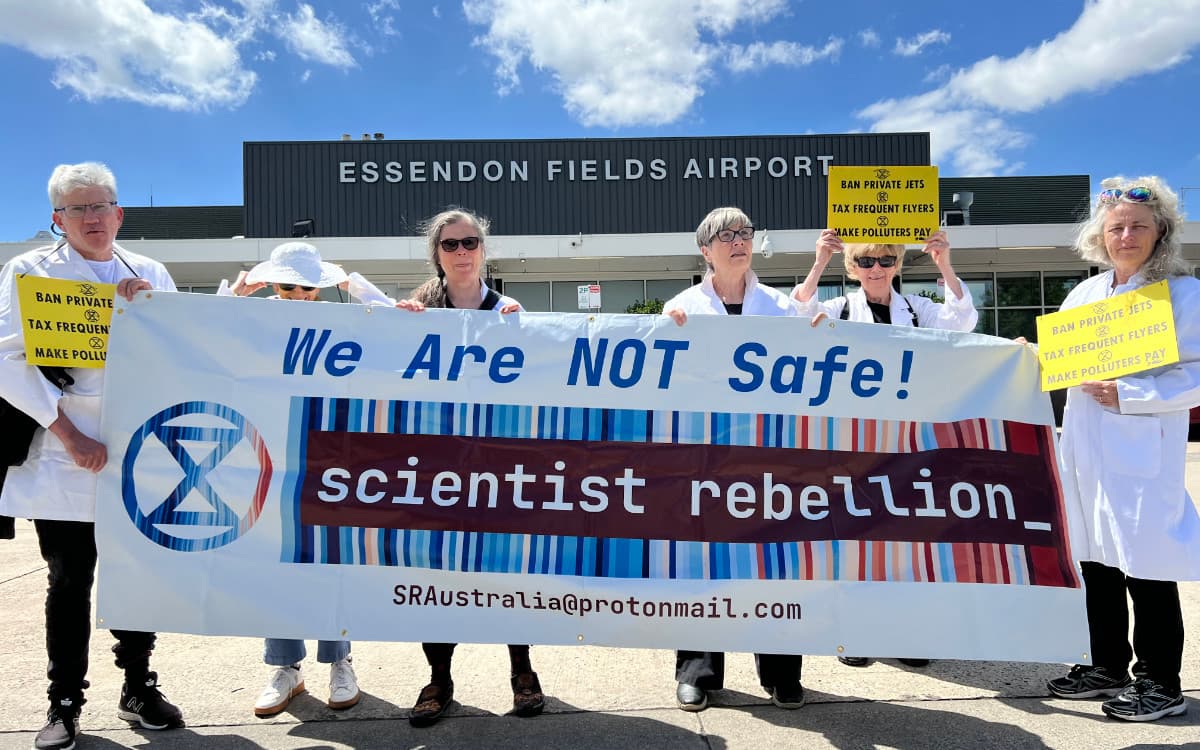 XR Scientist Rebellion joins global day of action against the private jet industry
Extinction Rebellion Australia, 15 Feb 2023
Climate Activists in XR and Scientist Rebellion were at Melbourne's second airport in Essendon as part of the global MAKE THEM PAY campaign to confront the climate injustice of aviation and call out the rich and powerful for their luxury emissions.
Around 23 actions targeting private jet airports took place in 11 countries on Valentine's Day. The campaign, supported by Scientist Rebellion, Extinction Rebellion, and Stay Grounded, unites citizens and scientists from around the globe behind three demands. These are BAN PRIVATE JETS, TAX FREQUENT FLYERS, and MAKE POLLUTERS PAY.
Just 1% of the global population produces over half of total aviation emissions, while 80% of the global population have never set foot in an aircraft.
The 14th February date was chosen due to the rise in the use of private jet flights for supposedly romantic Valentine's Day dates. In a protest dubbed 'love in action', XR UK rebels locked themselves to a large boat blocking all three gates to Luton Airport's Luton Airport's private jet terminals.
In Belgium, XR rebels, Scientist Rebellion and Youth for Climate activists blocked the entrance of a private jet lounge and terminal offering exclusive facilities for the super-rich flying on private jets to and from Brussels. In Milan, Italy, activists sprayed Scientist Rebellion's signature yellow colour on the terminal building.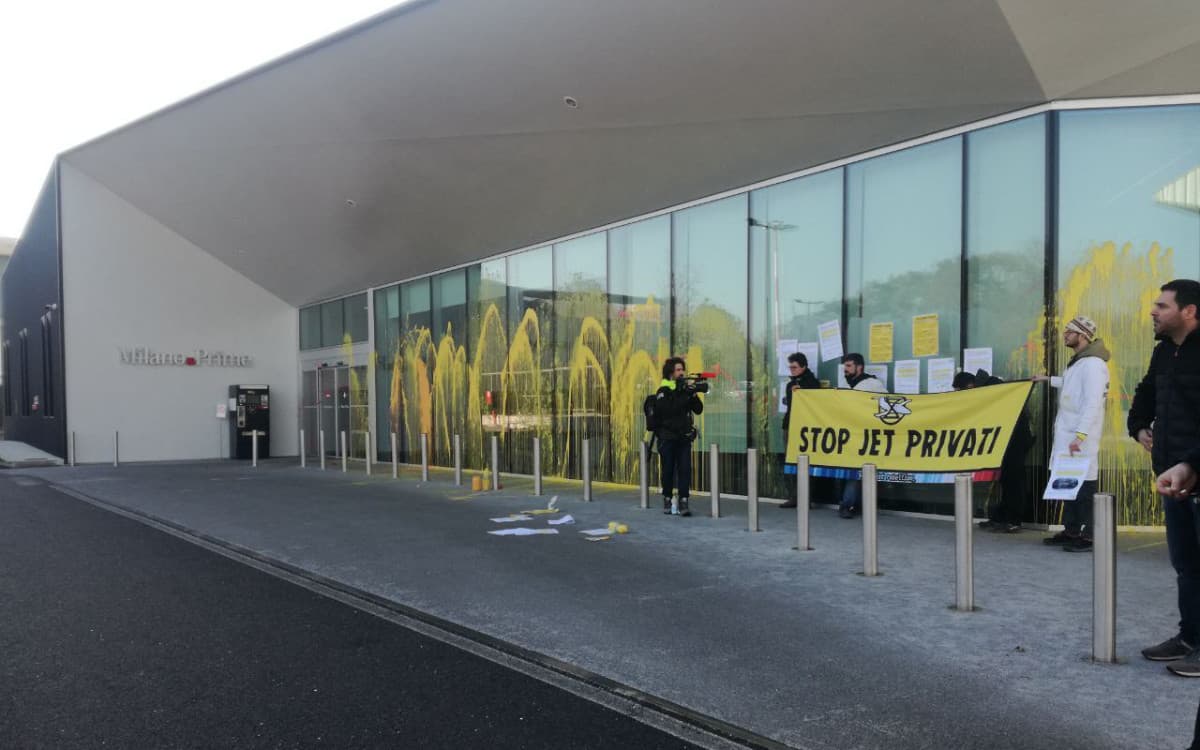 Scientist Rebellion protest at the Milan airport
In Australia, XR Scientist Rebellion and supporters took a banner and placards to the Lindsay Fox- and Max Beck-owned airport in Essendon Fields, Victoria. The airport caters for a growing market of private jets by offering housing, maintenance, repair and overhaul (MRO) facilities set up by global manufacturer Bombardier.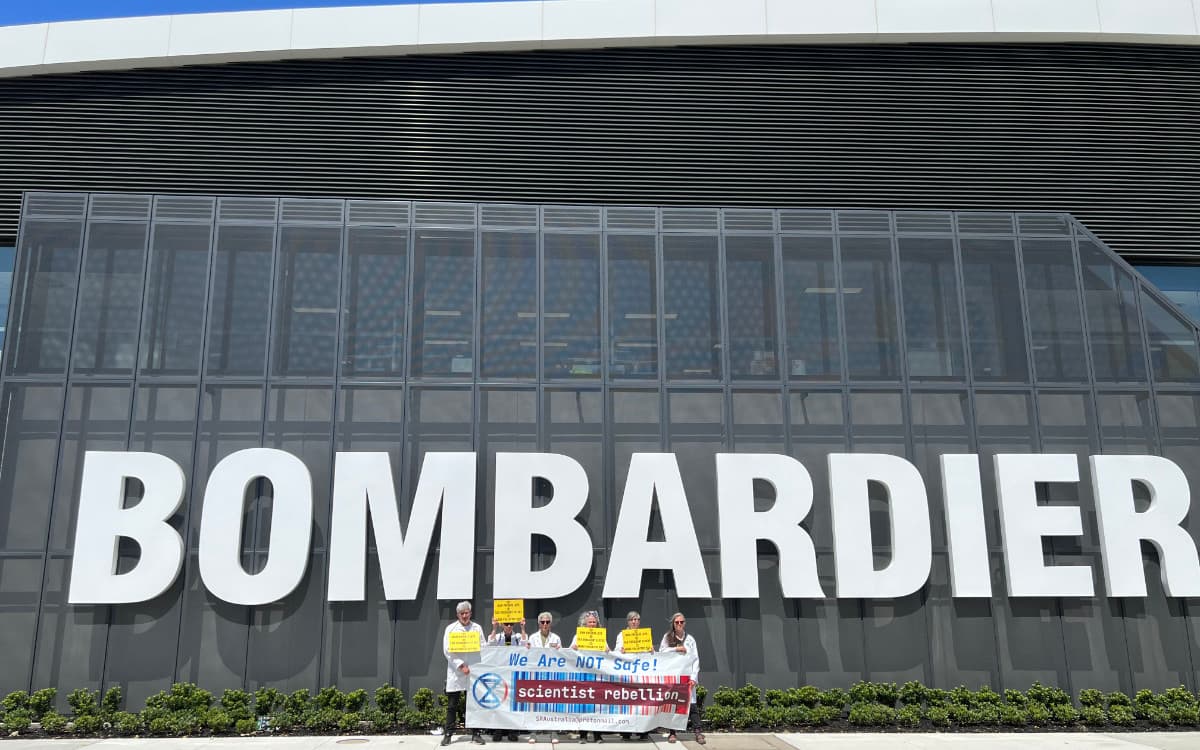 Scientist Rebellion activists outside the Bombardier facility in Essendon, Victoria
Worldwide, private and business jet travel proved more resilient than the commercial aircraft industry to the decline suffered during the height of COVID. Demand in Australia was buoyed by the $27-billion instant asset write-off provision offered by the last Liberal government. This applied to new aircraft and, for companies with turnover below $50 million, second-hand aircraft.
Private jets, a symbol of extreme wealth, emit up to 20 times more carbon per passenger compared to commercial air travel and are 50 times more polluting than trains. Super-rich jet-setters are responsible for the majority of the world's pollution, yet the resulting consequences – including drought, food price rises, unpredictable weather, and sea-level rise – are felt primarily by the poorest.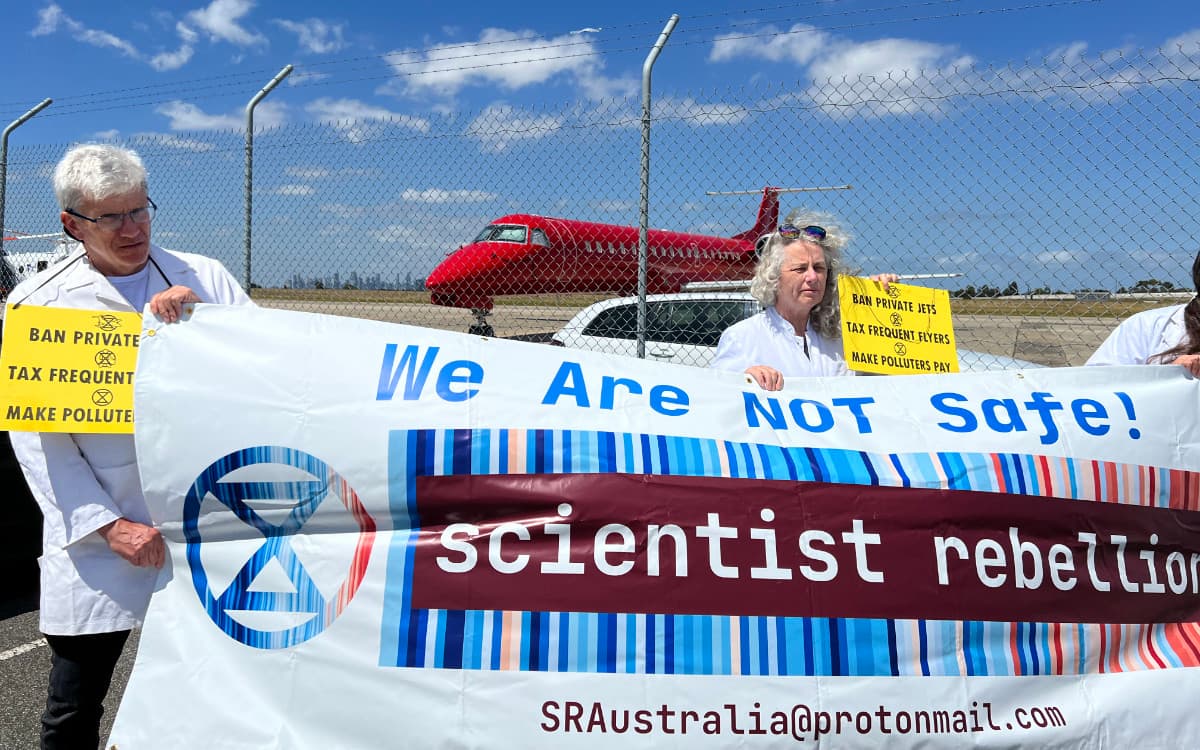 Since the late 1990s, the Intergovernmental Panel on Climate Change (IPCC) have advocated for charges and taxes on aviation as important incentives to reduce the growth of aircraft emissions, together with stopping airport expansion. The Citizens Assembly UK and others have recommended that private jets be banned.
In his address at the World Economic Forum in January, the United Nations Secretary-General, António Guterres, emphasized the need to 'end the addiction to fossil fuels' and called on business leaders to provide concrete plans by the end of the year — companies cannot claim to make efforts if they continue to invest in new fossil fuels or offset emissions through carbon credits.
More information on the global campaign MAKE THEM PAY
4pm March 7, 2023: FOLLOW UP TALK (online)
Scientist Rebellion is a climate action group with over one thousand members across 32 countries. Members are science students to senior lecturers and researchers across a wide range of scientific disciplines. All believe that scientists must take non-violent direct action to gain credibility with the public. During acts of civil resistance scientists identify themselves by wearing lab coats. Find out more on the Scientist Rebellion website.
Scientist Rebellion Australia launched a new campaign in January 2023, with an open letter warning 'We are not safe' outside the venue for the Australian Tennis Open in Richmond, Melbourne. The ANZ Bank, a major lender to fossil fuels, is a sponsor of the Australian Tennis Open.
The letter calls on all academics, scientists and the public to join in civil disobedience to demand the urgent decarbonization of our economy and the protection of the living world. The wealthy few need to be stopped from preventing us living sustainably and justly on this planet.
Scientist Rebellion Australia says:
We are not safe! Tell the truth and admit failure. There is no viable pathway to staying under 1.5°C global heating. We are going to overshoot that in coming decades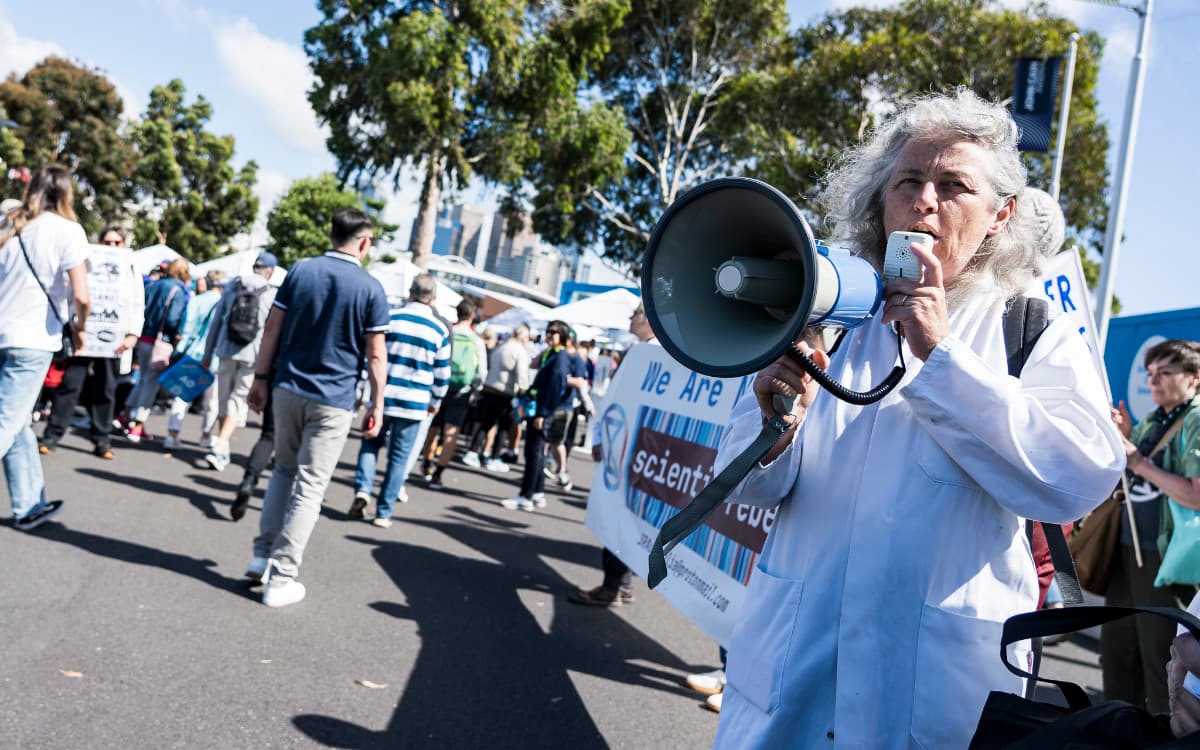 Scientist Rebellion at the Australian Open - photo by Matt Hrkac
---
Get involved