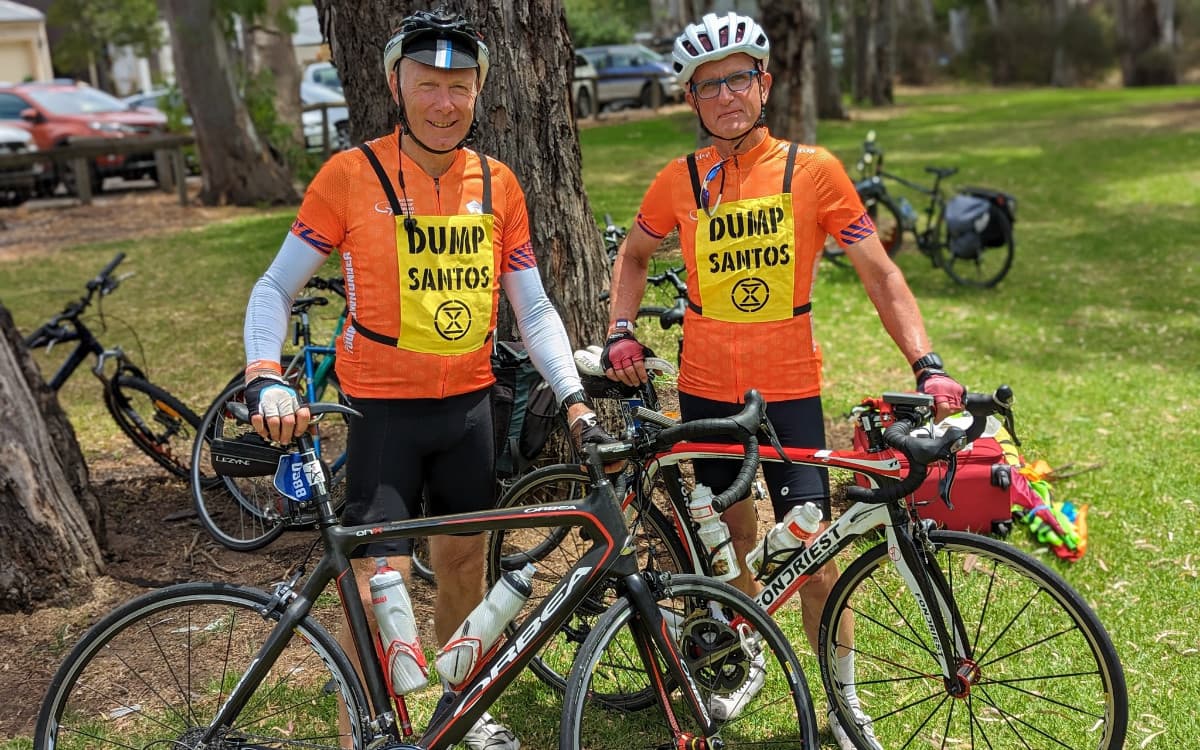 XR SA riders cross TDU race finish line wearing 'DUMP SANTOS' message
Extinction Rebellion Australia, 21 Jan 2023
Pedal rebels David and Andrew completed the gruelling Tour Down Under Challenge Tour to get their message across. A solidarity action by XR Victoria followed on Saturday; a fun ride through Melbourne CBD and parkland with skeletons on bicycles.
XR SA riders David and Andrew were followed by seven other rebels who joined the Challenge Tour in the final stretches but were intercepted by security. Other supporters gathered with banners by the finish line.
TDU security stepped out in front of the supporting riders, preventing them from reaching the finish line and putting them at risk. One activist was dragged off their bicycle and ended with a grazed knee and a damaged bicycle.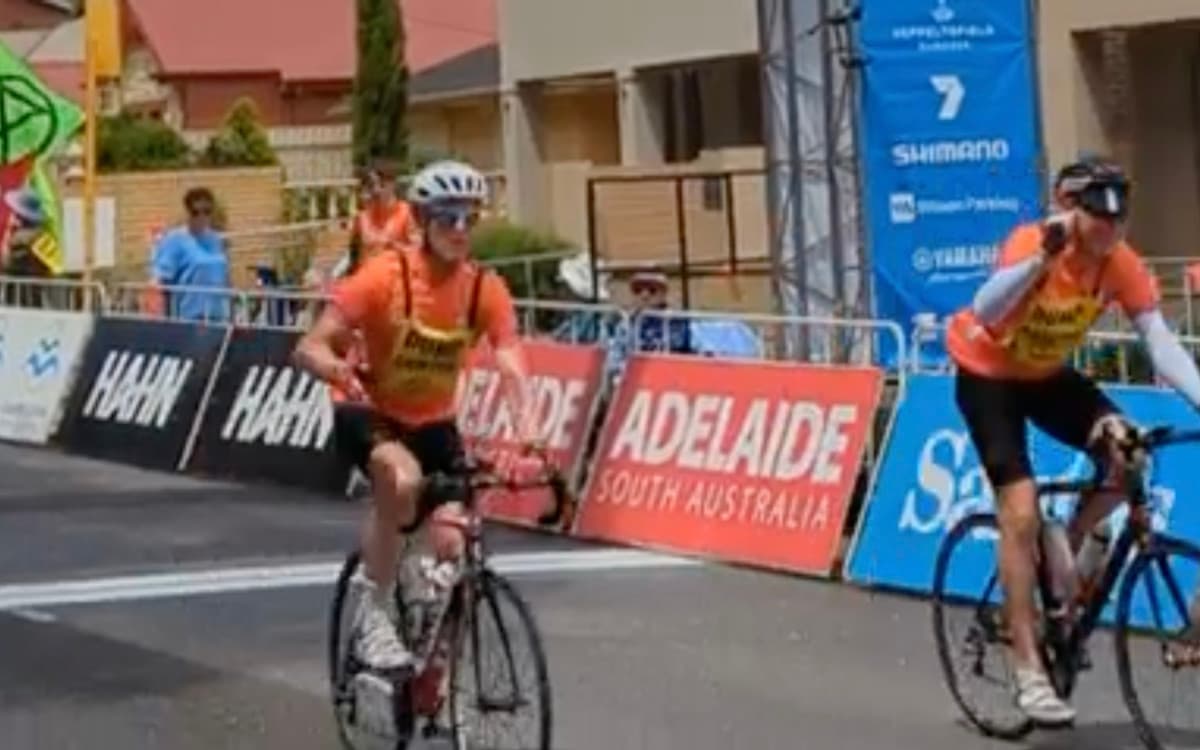 David and Andrew cross the finish line of the Challenge Tour
The cycling community of Adelaide wants the state government to move way from fossil fuel industry sponsorship. Last week community organisation Bike Adelaide supported calls to dump Santos as Tour Down Under sponsor.
"We love all forms of cycling and the TDU is a showcase for not only our state but of the amazing skill and dedication of our diverse cycling community and industry.

What we don't love is one of the largest polluters using cycling to greenwash their polluting operations. Not only have Santos' emissions been increasing but so have their profits as their gas projects escalate. What's more, they're being sued for greenwashing by the Australasian Centre for Corporate Responsibility due to allegedly misleading and deceptive claims about their emissions reductions and net zero aims.

We want the TDU to be a success and see cycling in SA on the world stage. We want sponsorship of our premier cycling event to reflect our State's environmental credentials and aspirations.

We want the TDU to be a platform for cycling, not for polluting. It's time to Dump Santos."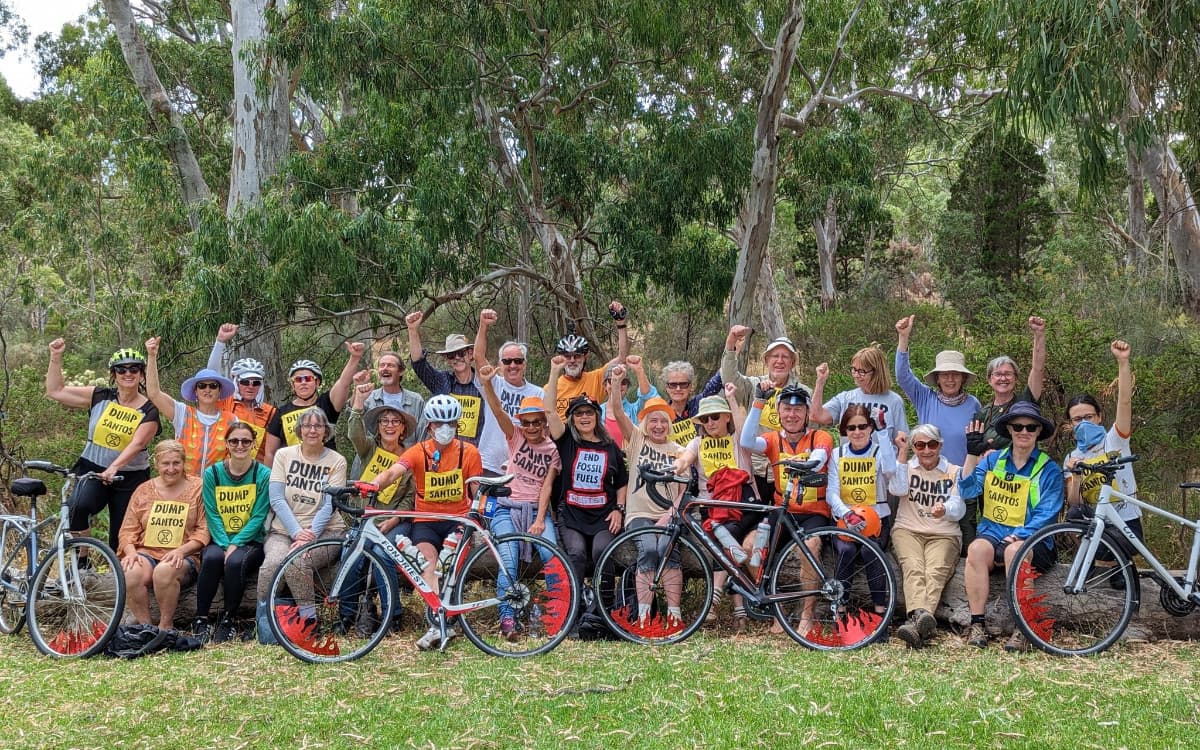 XR SA riders and supporters
XR SA spokesperson Chris Johnson said: "Today's protest and the statement by Bike Adelaide reflects the growing demand in the cycling community to have Santos dumped as a Tour Down Under sponsor."
Challenge Tour rider David said he loves the Tour Down Under and wants it to continue. But he said "SANTOS is a major oil and gas producer. It's a big cause of the climate crisis. It's time we stopped helping them look respectable, and found another sponsor."
Fellow Challenge Tour rider Andrew said: "Santos sponsors the TDU to sanitise its reputation in the eyes of the public. I've always loved bike riding, and especially the Tour Down Under. For the sake of our grandchildren, the State Government needs to give Santos the flick and find a new naming rights sponsor!"
To reinforce the message from XR SA, XR Victorian Pedal Rebels toured Melbourne streets and parkland trailing skeletons clutching ANZ Australia and Santos Ltd briefcases. The ANZ is one of the banks funding Santos and is still a partner of the Australian Open. The XR Vic message to ANZ is Stop Funding Fossil Fuels!
Santos was slammed out of the Melbourne Aussie Open but still has naming rights to the South Australian Tour Down Under. Santos should not be allowed to sponsor the Tour Down Under. DUMP SANTOS!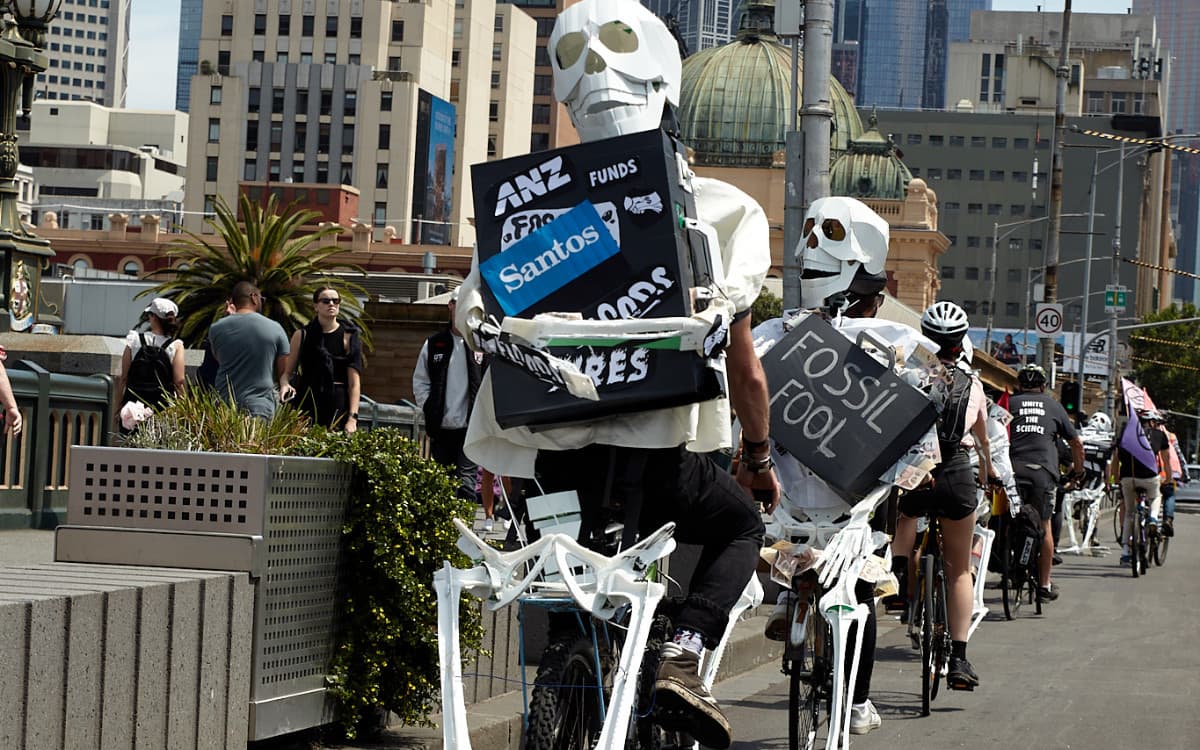 XR Vic skeleton bike swarm - photo by Danielle Judd
---
Get involved