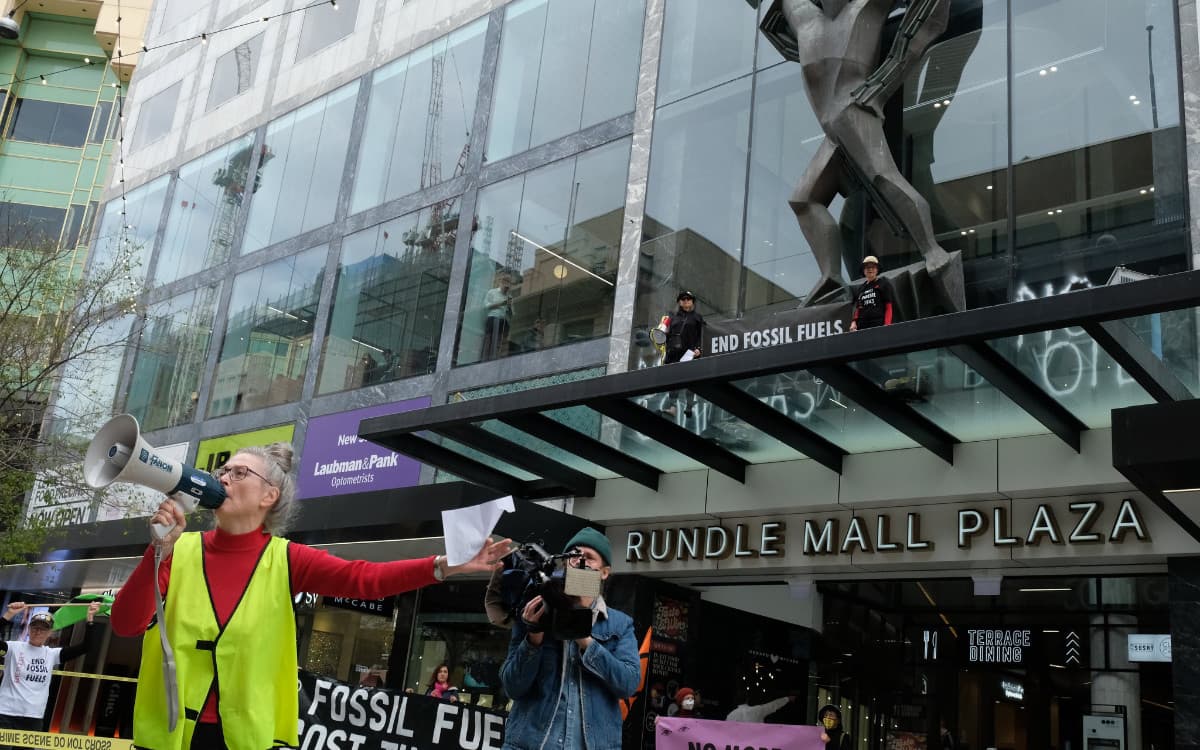 XR SA rebels highlight lack of government action on the climate crisis
Extinction Rebellion Australia, 28 Aug 2022
Rebels glue themselves to a CBD roof and the front entrance of Labor HQ in Adelaide to send a message that empty words are not enough.
100 days earlier, the Australian public sent a clear signal that we want serious action on the climate crisis.
In spite of this, what we have seen from the incoming Albanese government is business as usual; inadequate targets, new fossil fuel projects and nothing to curtail an industry that is leading us towards certain disaster.
To make their point, Extinction Rebellion rebels Meme and Sarah climbed on top of the awning of Adelaide's Rundle Mall Plaza and glued themselves on. Meanwhile a group of rebels with banners converged on the Mall, chanting and playing drums.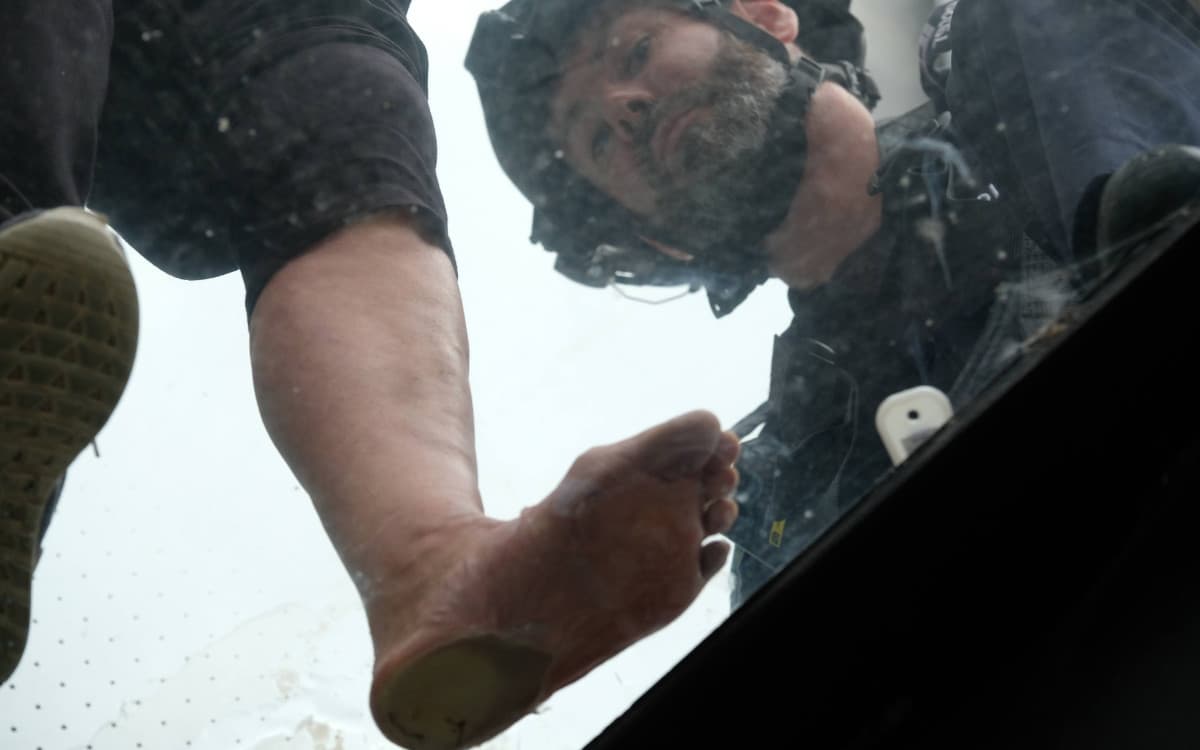 A section of the mall was blocked off while police and firefighters worked to remove the two rebels. Meme and Sarah were charged with unlawfully being on premises, while another rebel, Dave, was charged with loitering and hindering police.
Shortly afterwards, Rebel Cathy glued themself to the front of Labor HQ in Adelaide, to make it clear that those demanding more from our government are not going away.
The actions kicked off XRSA's new End Fossil Fuels Now campaign.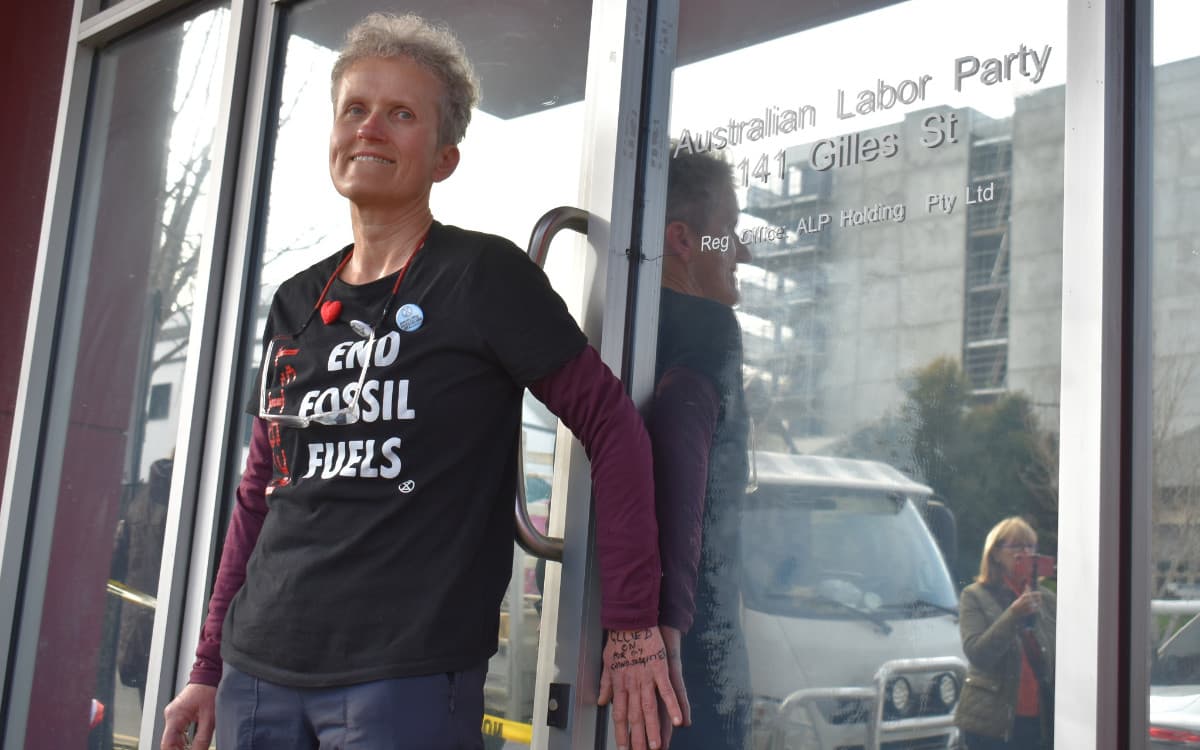 In an article in the Guardian 'Labor is sending mixed messages on energy – and some of it sounds like climate denial' Adam Morton points out that Labor's decision to release of vast new areas along the Australian coast for oil and gas exploration is undermining their proclamations about creating a cleaner economy.
The new fields are being proposed despite the head of the International Energy Agency warning that no new oil and gas reservoirs should open if the world is to do what was agreed in the landmark 2015 Paris climate agreement. A study last year found 90% of coal and 60% of oil and gas reserves need to stay in the ground to give just a 50% chance of limiting global heating to the global goal of 1.5C.
In the Monthly article 'One hundred days of platitude', Rachel Withers called Labor's action to date on Climate "a letdown", along with the dispiriting decision to open vast swathes of Australian waters to new oil and gas exploration. One of the worst parts of Labor's climate betrayal is watching them parrot Coalition talking points, she says.
In the face of an escalating crisis, the federal government is dragging its heels. We have voted. We have held huge rallies and demanded change.
Now is the time for mass participation in nonviolent civil disobedience.
We have a moral duty to take effective action - whatever our politics.
---
Get involved