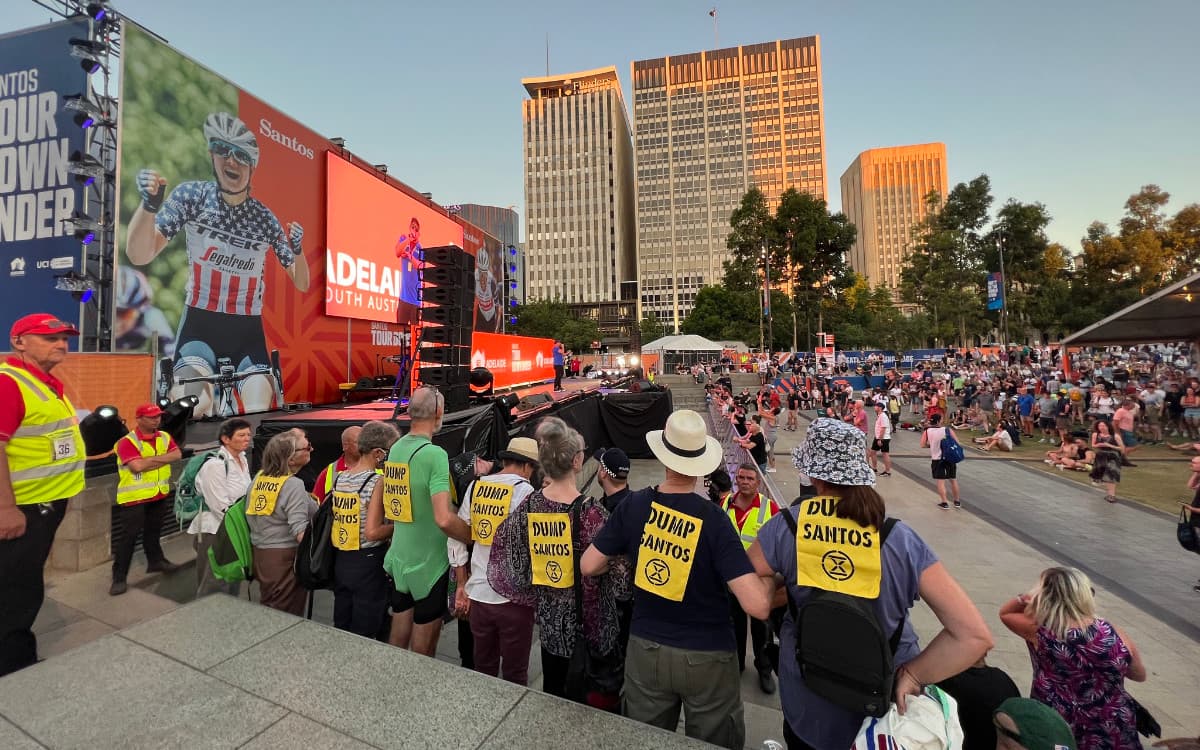 XR SA challenges Santos sponsorship of Tour Down Under
Extinction Rebellion Australia, 13 Jan 2023
UPDATE Jan 15: Rebels gatecrash TDU Team Presentations with 'Dump Santos' message. Why is South Australia still allowing a fossil fuel company to leverage a key sporting event to promote its brand?
Santos' attempts to buy social consent for climate destruction are the focus of the campaign by XR South Australia to End Fossil Fuels Now.
In the first action of Wave 2 of the campaign, XR SA rebels Anna and Dharma glued themselves to a pile of bikes outside the head office of oil and gas producer Santos in Adelaide/Tarndanya. Drawing the connection between fossil oil and the Tour Down Under, rebels poured a trail of fake oil from the Santos building down onto the pile of bicycles and rebels.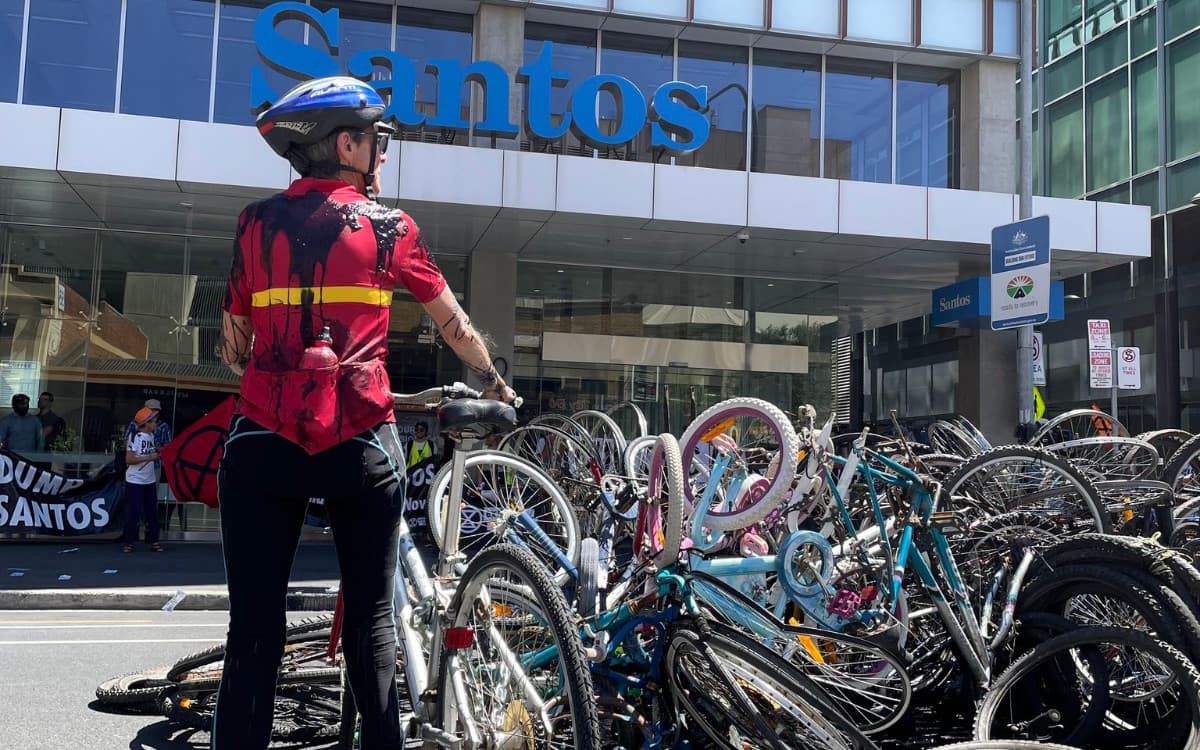 Rebel with a pile of bikes outside Santos HQ in Adelaide
In the evening, 12 rebels made their way into the Tour Village, revealed 'Dump Santos' bibs and dropped large banners by the side of the stage (see top photo). Outside groups of rebels swarmed entrances with banners, flags and loud chants audible from the Tour Village.
Extinction Rebellion SA is calling out Santos' greenwashing and sportswashing throughout the Tour Down Under and demanding that the South Australian Government dump Santos as a sponsor for the Tour Down Under.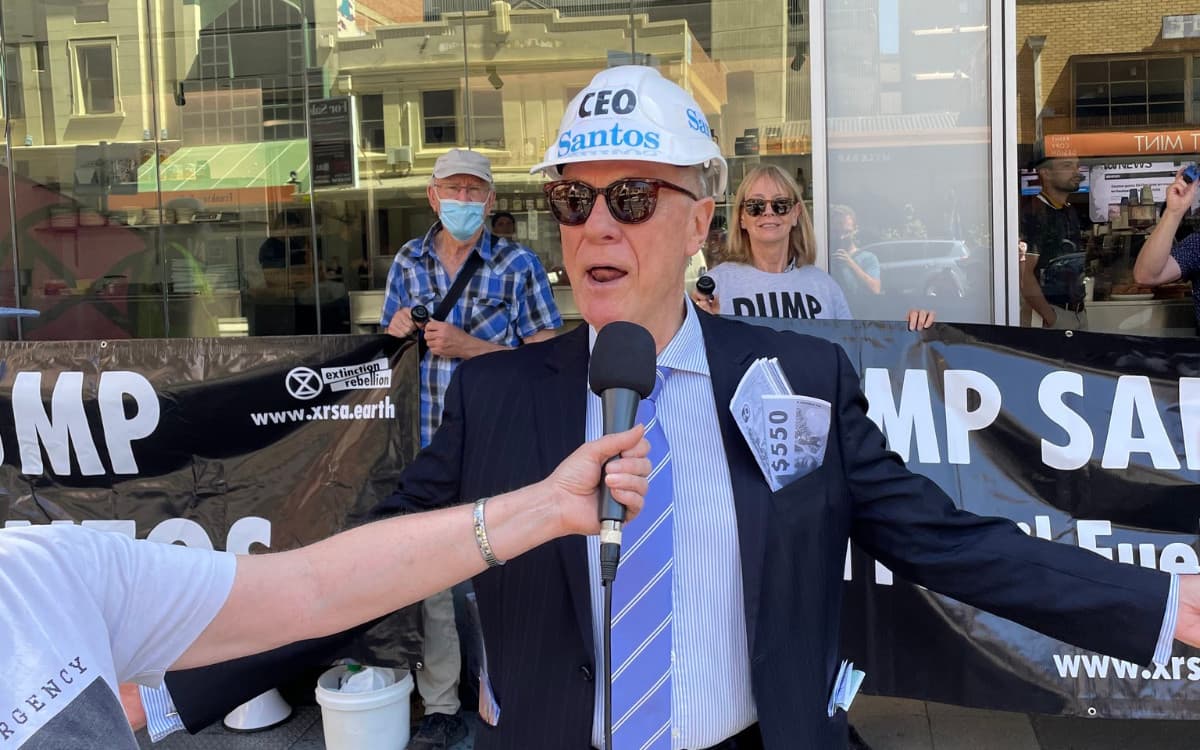 Someone very like the Santos CEO speaking to media at a protest action
Tennis Australia ended a partnership with Santos in 2022 after only one year after the multiyear deal with the fossil fuel company had been the target of a campaign against 'sportswashing'.
If Tennis Australia can rid themselves of tainted sponsors then so can the organisers of The Tour Down Under!
On Sunday 15 January, rebels from Extinction Rebellion ACT staged a bicycle swarm through Canberra, riding in solidarity with with the XR SA campaign to have Santos dumped as a sponsor of the Tour Down Under.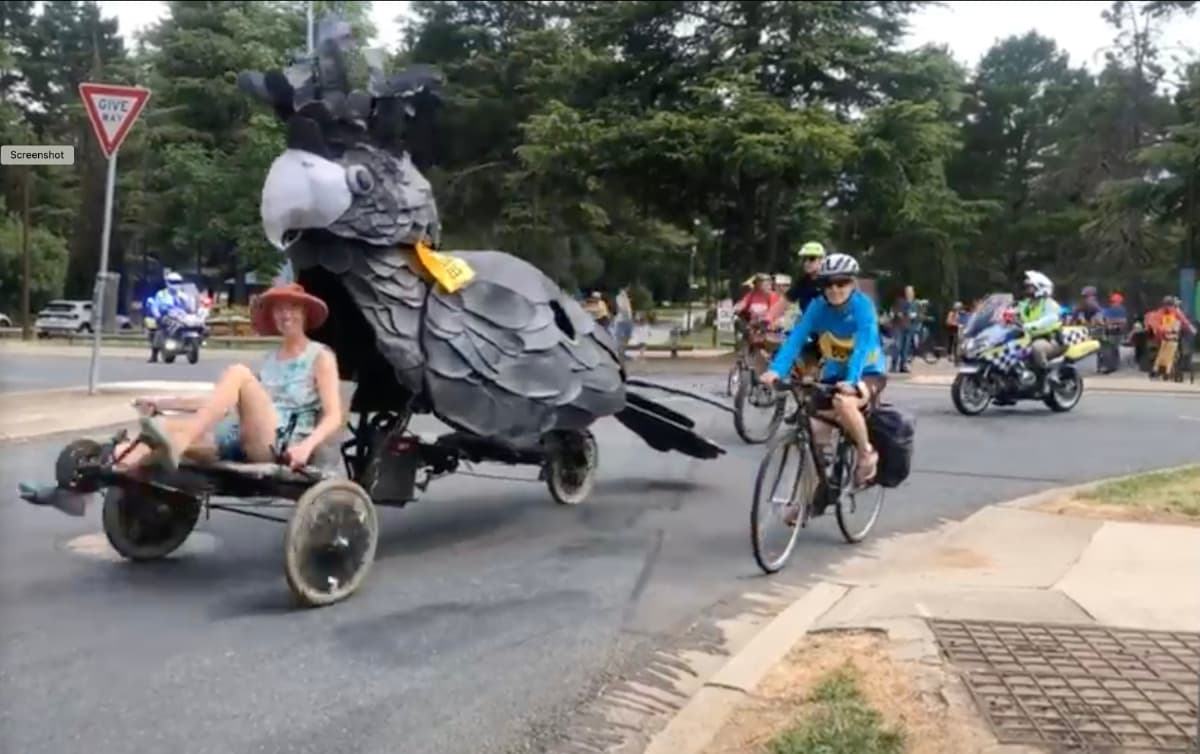 Bicycle swarm in Canberra
Government representatives and monopoly news corporations have tried to create a smoke screen by claiming the protests are against the bike race, but nobody is protesting about the TDU.
The protests are about the sponsor, Santos: the world's third largest fossil fuel company, gouging massive profits from Ukraine war, callously opening new gas and oil wells, lying about emissions levels, ignoring UN warnings, and hiring the SA Premier's brother as a senior adviser.
Speaking to ABC News, Chris Johnson emphasised that "The focus of these protests is directed at the government, who are allowing Santos to sportswash and greenwash this event."
He said Extinction Rebellion were not against the Tour Down Under race. "I think people are smart enough to understand that we are targeting Santos at this race, and if we're there with a presence and we have banners that say 'dump Santos' or 'disrupt Santos', then it's pretty clear that we're targeting Santos," he said.
Anna who, glued themselves to their bicycle on the road outside Santos HQ, said: "I'm disgusted that sporting events such as the Tour Down Under can be used in this way."
Dharma, who is also glued herself to her bicycle, said: "Ordinary people like us must now keep taking action for the future of this planet and for generations to come. It is irrefutable. We are fast approaching tipping points that will make climate chaos irreversible. Fossil fuel giants like Santos are responsible for this."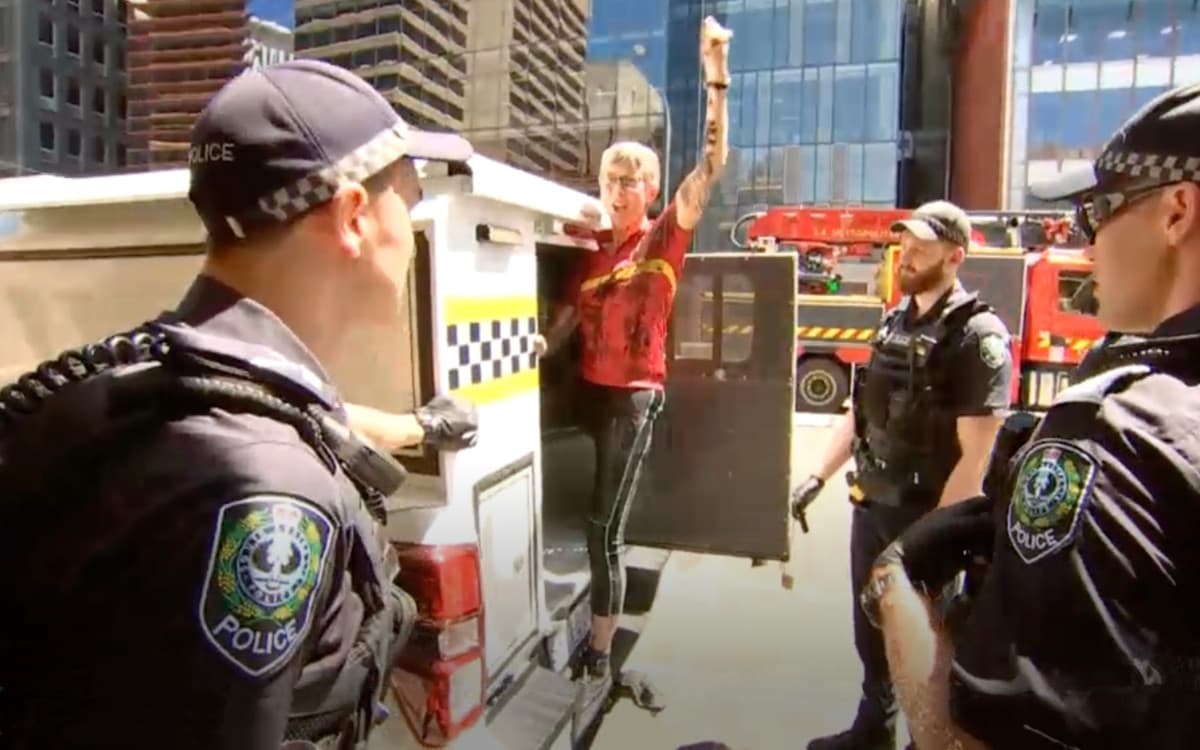 Courageous XR SA rebel arrested at the protest outside Santos HQ
In an article in the Canberra Times 'As Santos sponsors the Tour Down Under, it's time to ban fossil fuel advertising' Kate Wylie explained why, as a doctor, she cannot celebrate Santos' sponsorship.
"These sponsorships are helping fossil fuel companies pretend they are good corporate citizens. They are providing a reputational fig leaf for our most polluting companies to hide behind while they damage our health, environment and climate.
"Climate change is affecting the health of South Australians now and these effects will only get worse as global warming increases. It is unconscionable that Santos, and other fossil fuel companies, are allowed to peddle their destructive products by sponsoring sporting and cultural events."
Kate points out that it's not just sport. She says:
"Our Royal Flying Doctor Service promotes oil and gas giants Beach Energy and Senex Energy. BHP sponsors the Art Gallery of South Australia. Ironically, Santos sponsors the Nature Foundation and Adelaide Koala Rescue.
"These sponsorships are helping fossil fuel companies pretend they are good corporate citizens. They are providing a reputational fig leaf for our most polluting companies to hide behind while they damage our health, environment and climate."
XR SA's first wave of action began in October 2022 and centred on a blockade of the Asia Pacific Oil and Gas Conference and Exhibition (APOGCE) at the Adelaide Convention Centre. Actions as part of Wave 2 will continue during the Tour Down Under. Wave 3 actions will take place during May 2023. Check the Rebellions page on this website or follow this link to join Wave 2.
---
Get involved