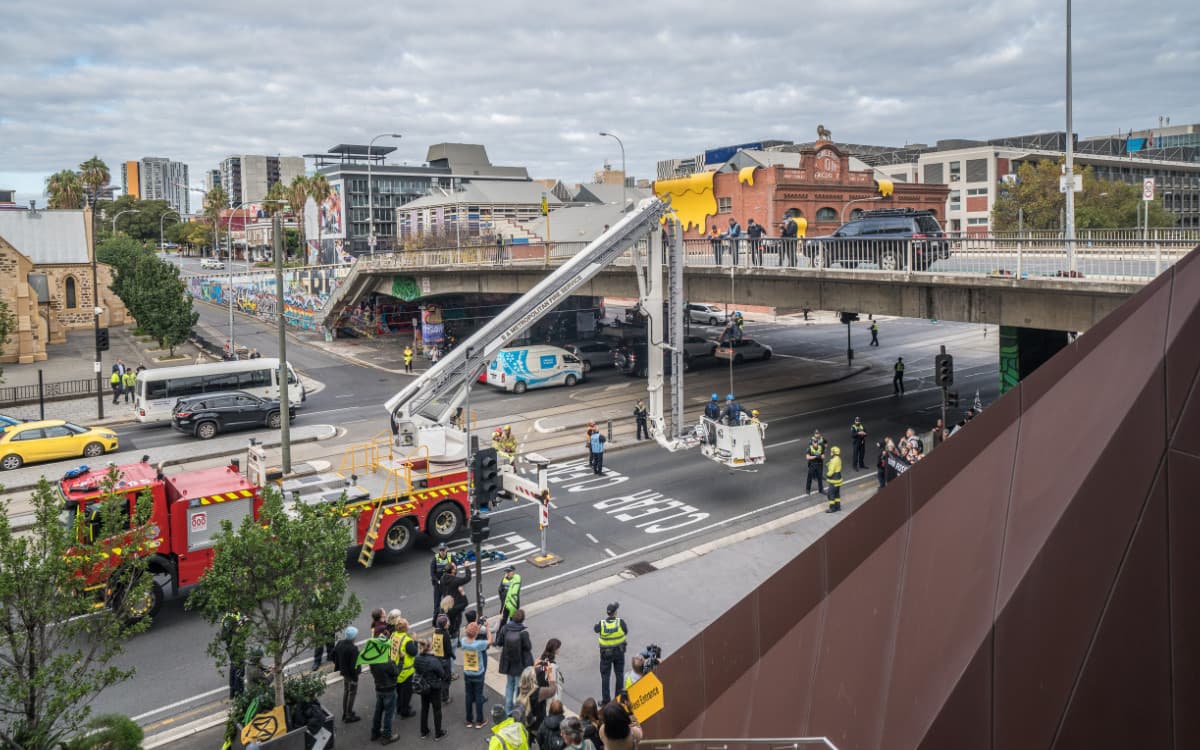 XR SA at APPEA: a week protesting state sell-out to oil and gas corporations
Extinction Rebellion Australia, 20 May 2023
The Australian Petroleum Production and Exploration Association (APPEA) Conference in Adelaide was the trigger for five days of Climate protests by Extinction Rebellion, Scientist Rebellion and other groups.
Major oil and gas corporations at the conference declared they are 'Accelerating to Net Zero' but the conference focus was actually on finding and selling off new fossil fuel discoveries as well as promoting expensive and ineffective Carbon Capture and Storage technology.
The South Australian Government welcomed the conference, in spite of last year's warning from UN Secretary-General António Guterres. He said: "The truly dangerous radicals are the countries that are increasing the production of fossil fuels. Investing in new fossil fuels infrastructure is moral and economic madness."
In an address to the conference, SA Energy Minister Koutsantonis welcomed further gas production. This contrasts shamefully with the SA Parliament's declaration of a Climate Emergency and with the world-leading record of this state in renewable energy production, see the Guardian Article 'South Australia tells gas industry the state is at your disposal.'
Protests began on Sunday 14 May with a banner forest giving unwelcoming messages to delegates arriving from the airport. Contributing groups included Extinction Rebellion, the Australian Religious Response to Climate Change, Scientist Rebellion, the Romero Community, No Nuclear SubsSA, Wage Peace, and Fossil Free/350.org.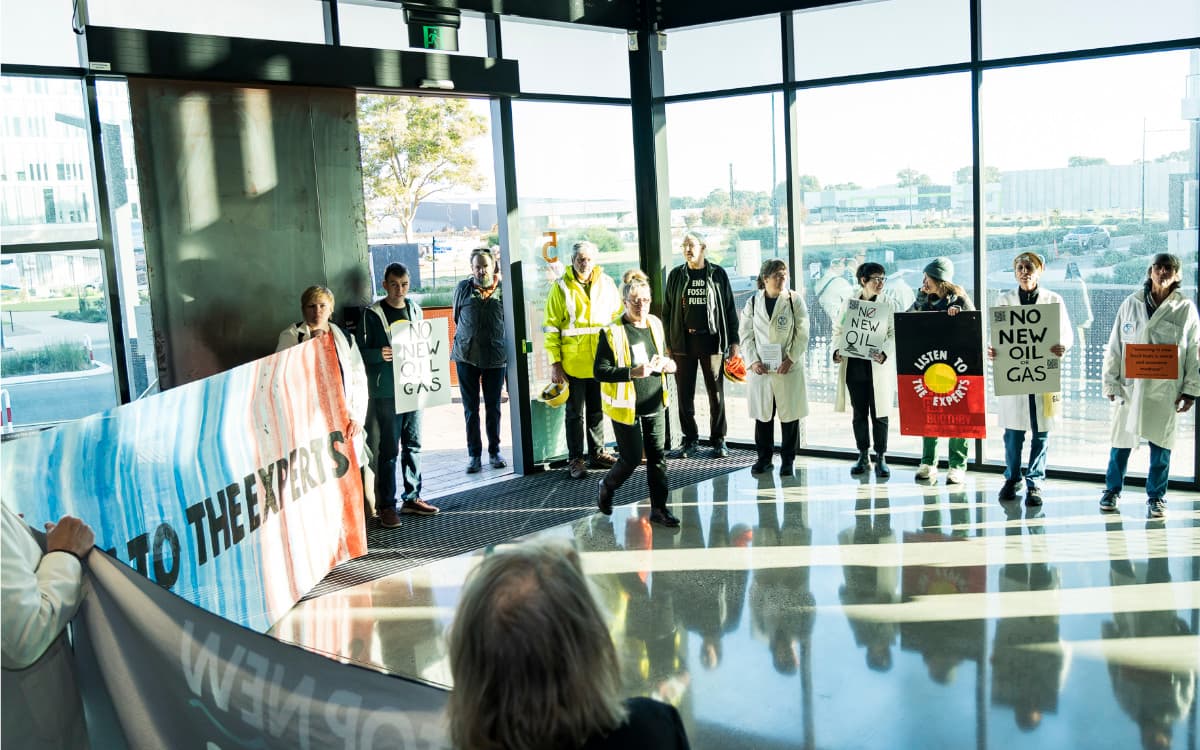 On Monday a group of conference delegates visited the SA Drill Core Reference Library in Tonsley to study coal-seam rocks. They were met by activists occupying the reference library foyer. Two protesters blocking a doorway were arrested and charged with loitering and failure to give identification.
Activists in party costumes greeted delegates and heads of corporations attending the National Wine Centre for a Welcome Reception, interviewing them as they alighted from their bus.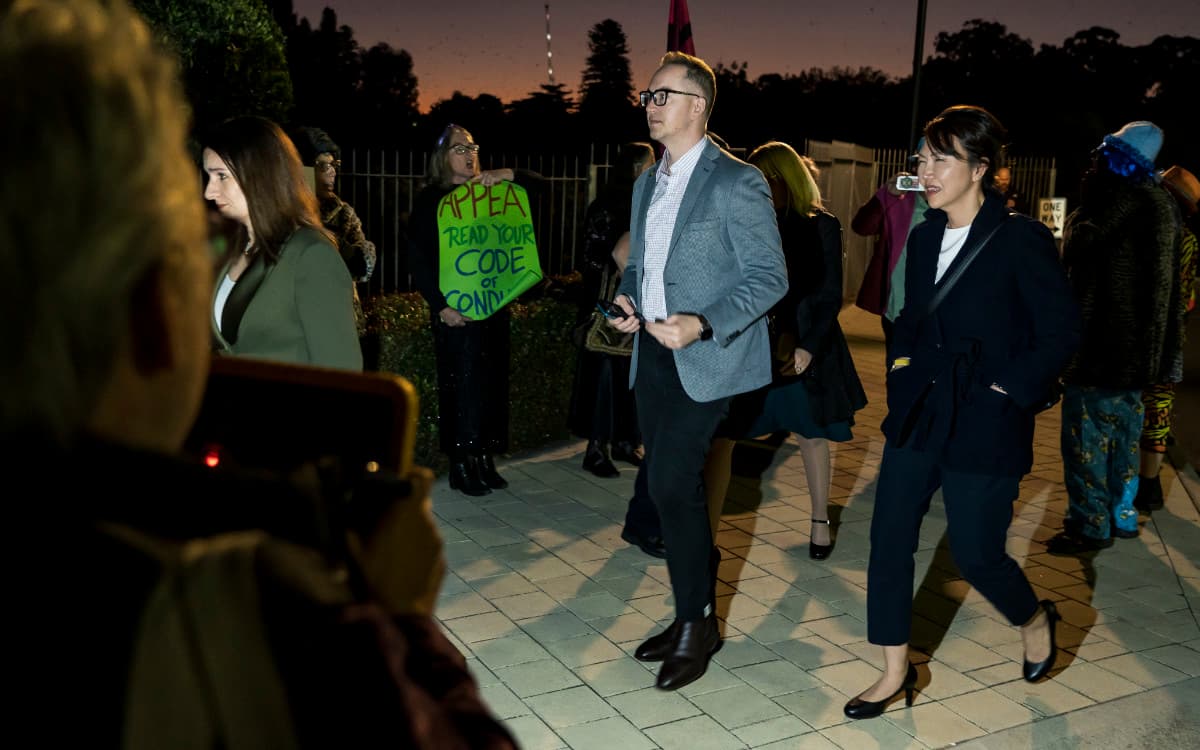 Tuesday actions included hanging large protest banners on the Morphett Street Bridge railing and on the Adelaide Convention Centre plaza.
Protesters blocked three car park entrances under the Adelaide Convention Centre Building for nearly two hours by gluing themselves to the road. Three rebels were arrested and charged with unreasonable obstruction of drivers.
In another Tuesday event, a theatre troupe presented 'the frack'd', an original silent performance about Climate Grief, in the Japanese Butoh tradition which developed after the trauma of Hiroshima.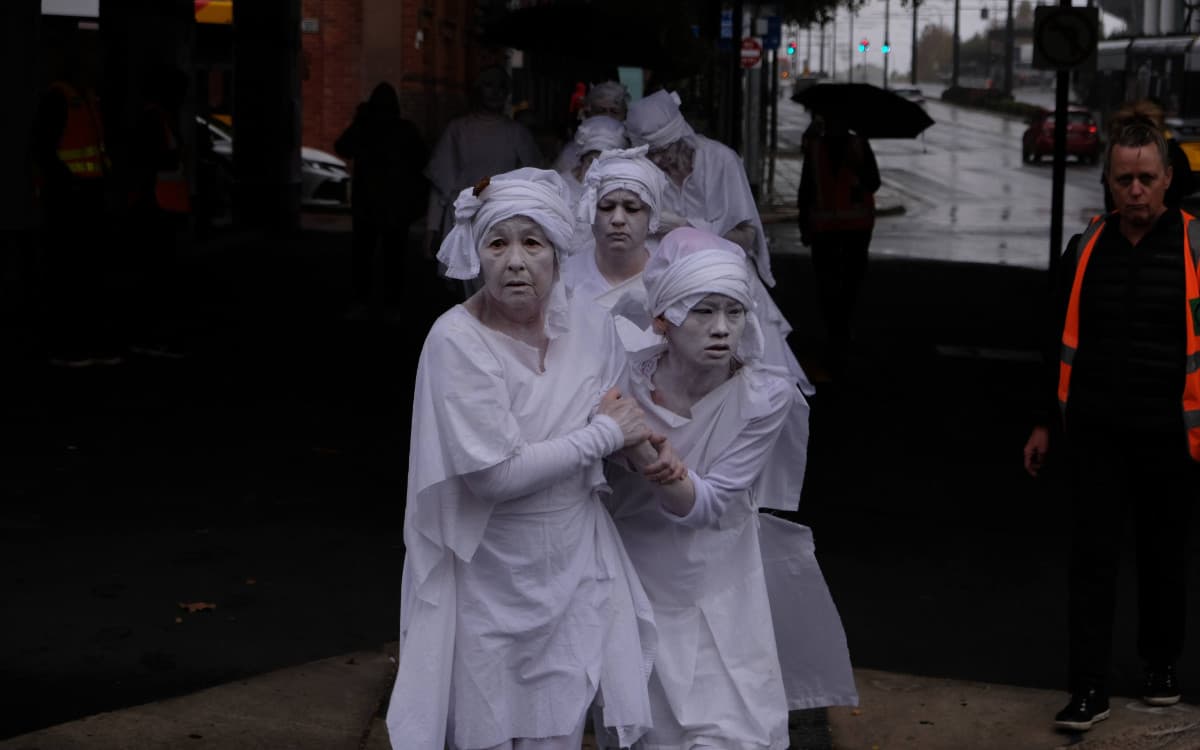 On Wednesday an activist abseiled from Morphett St Bridge, which cause the closure of the bridge and parts of North Terrace (also see top photo in this article). Activist Mémé was arrested and charged with 'Obstructing a Public Place and Disturbing the Peace'. A safety marshal was also arrested and charged with loitering.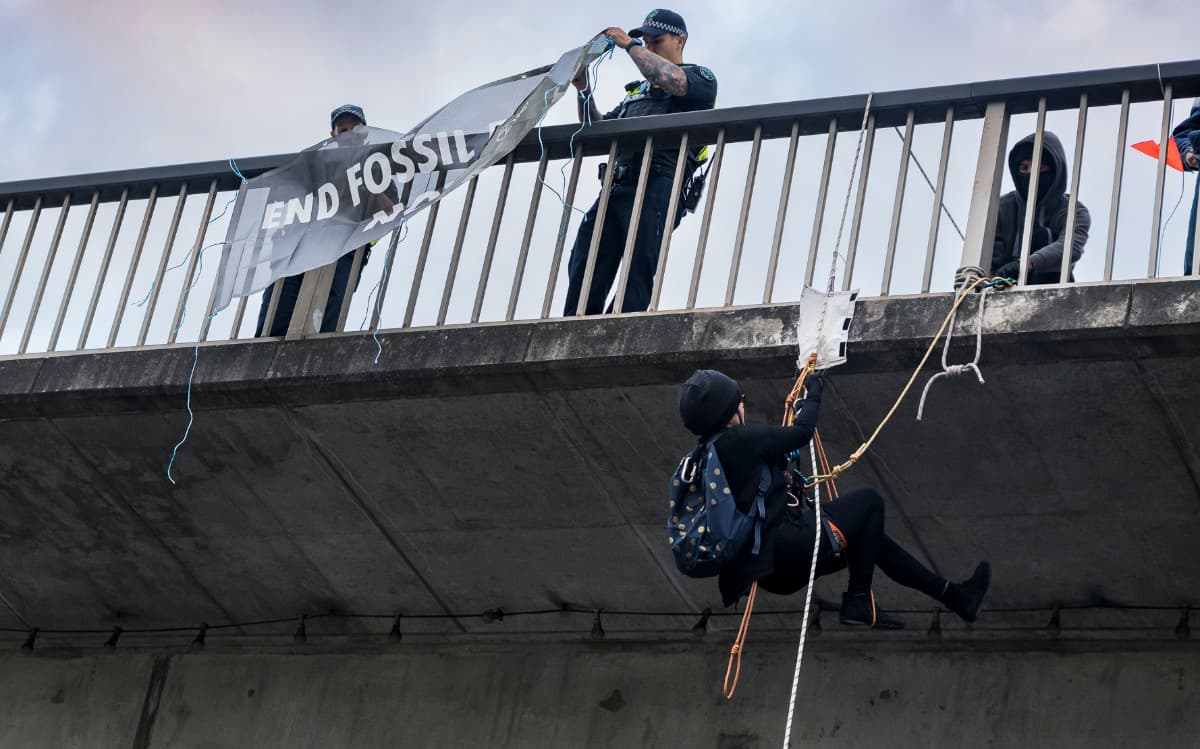 An ABC News article reported commuter frustration at delays and XR SA spokesperson Mary Heath's apology for the inconvenience to the public. Mary said that XR was taking "civil disobedience" action because "our leadership is not acting" on scientific advice regarding climate change.
The APPEA Climate Criminals Awards – a spoof Oscars-style presentation on the plaza featuring actors and musicians saw wooden-spoon awards presented to corporations attending the conference for achievements in ocean pollution, green-washing, damaging farmland and more.
Wednesday also saw activists including the Wage Peace group protest excessive military spending and environmental damage at the American Chamber of Commerce lunch. Guests included Federal Minister for Defence Richard Marles and former Defence Minister, Christopher Pyne, now a defence industry consultant.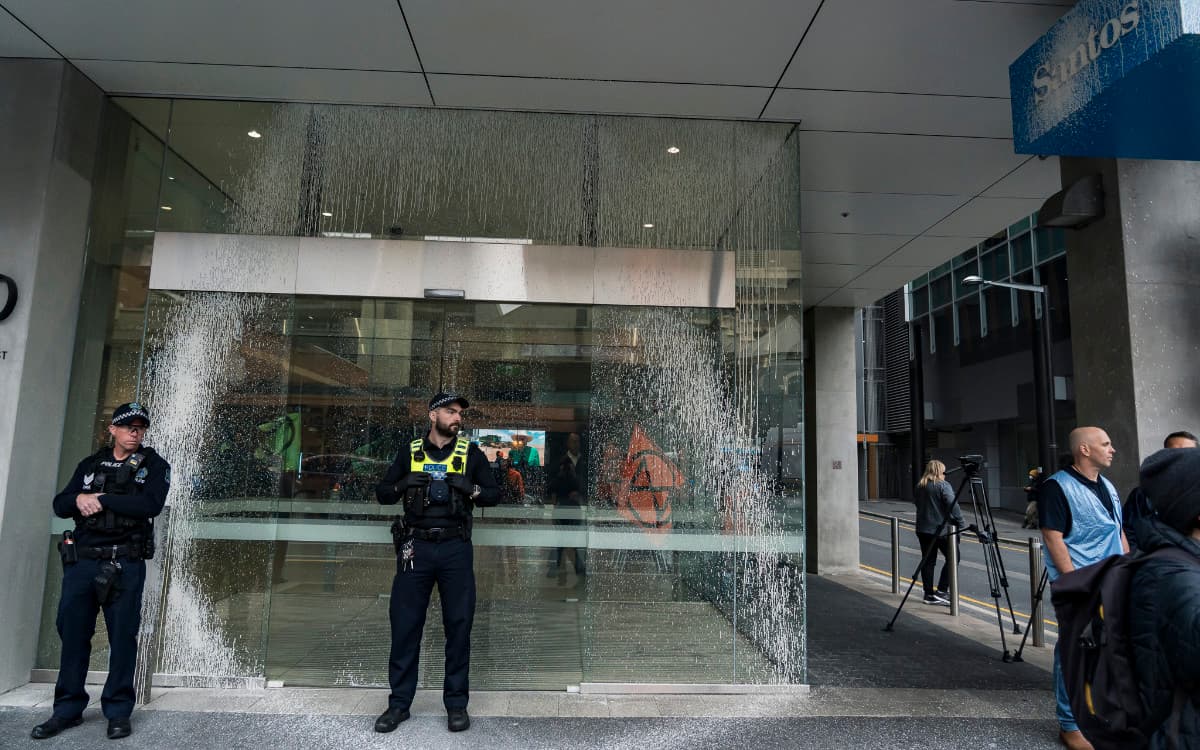 On Thursday activists used water-soluble paint at Santos HQ to protest untreated environmental damage and new oil and gas developments by the corporation. Four activists were arrested and charged, imprisoned overnight and given fines with costs.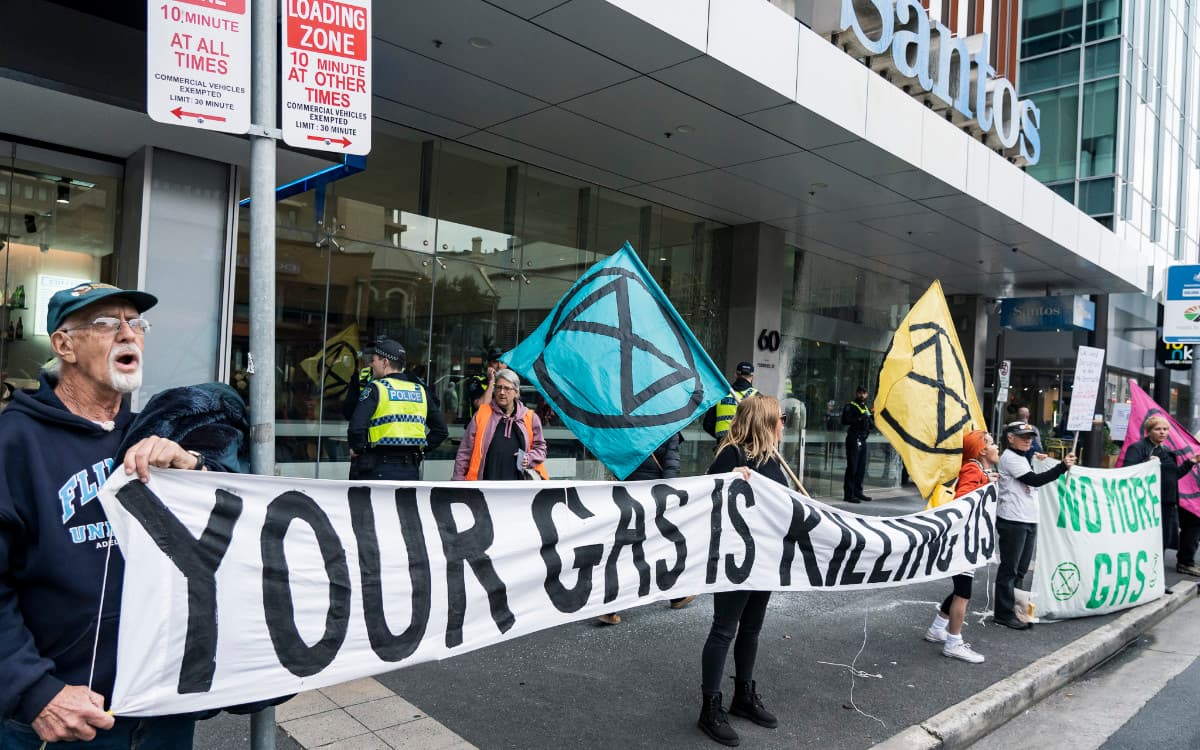 The 'Good Riddance Climate Criminals Rally' at Parliament house was attended by a number of community and student groups. Speakers included Greens Senator Sarah Hanson-Young, Greens MLC Robert Simms, and student Anjali Beames of School Strike for Climate.
An energetic Climate Rave dance, organised by SA Grassroots Ecosystem on the Convention Centre plaza wound up the week.
On the same day, the SA Labor government rushed through changes to the Summary Offences Act to increase penalties for protest.
The Bill that passed the lower house on Thursday 18 May 2023 would see people peacefully exercising their right to protest risk a fine of up to $50,000, up from the current $750 penalty, or jailed for three months.
Commentator Royce Kurmelovs said "I'm not a lawyer, but this looks like a bill built to paralyse social movements. Right now it's Extinction Rebellion, but under another government that may be a union, a pro-choice rally, even an anti-vax rally if that's your thing –take your pick." See Royce's first impressions of the drastic changes brought in by the bill.
An item on Channel 10's The Project covering the APPEA protest included Journalist Sophie McNeill of Human Rights Watch explaining how protests play an important role in social change and why she thinks the new punishments are so dangerous.
Amnesty International Australia have condemned the move by the SA Government, saying "South Australia's anti-protest bill will have a chilling effect on the right of people to peacefully protest and on South Australia's democracy. The South Australian upper house must reject the Bill."
---
Get involved