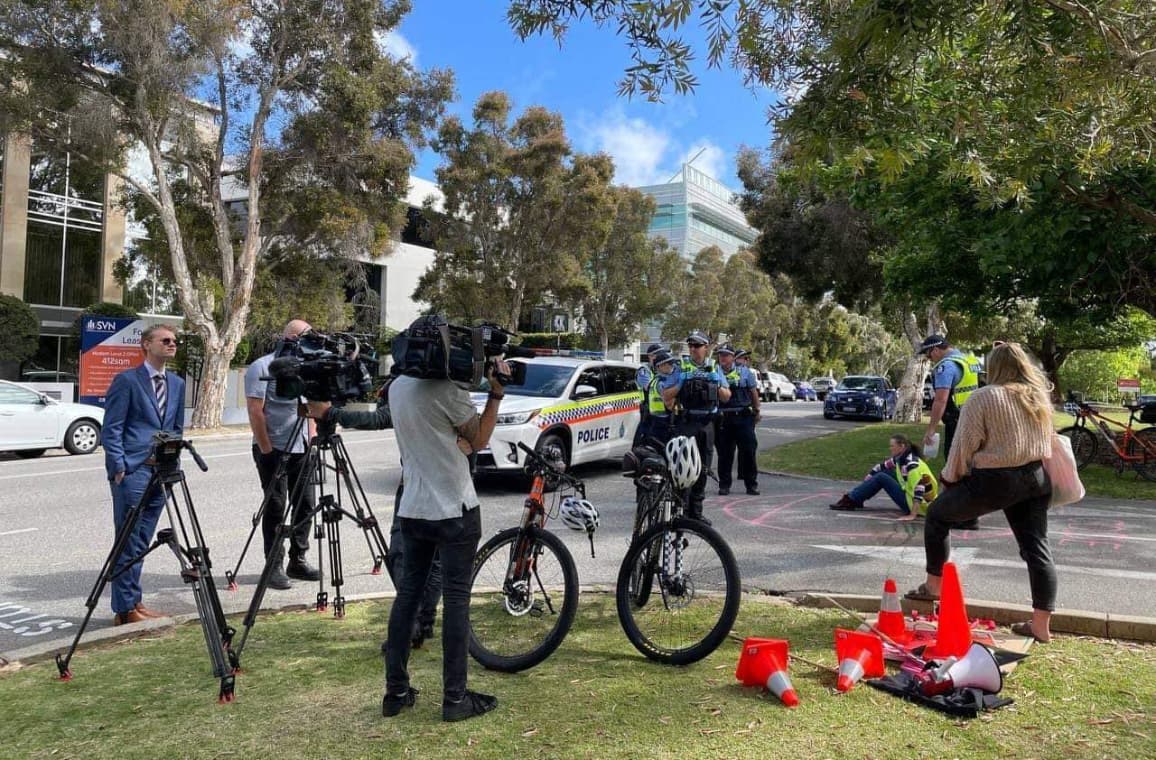 Why WA rebel Jenny took on a single-person roadblock
Extinction Rebellion Australia, 5 Apr 2022
Fear for our collective future led to Jenny's Rebellion of One action in Perth in Nov '21, and a subsequent court hearing last week.
At the end of 2021 lone rebels took part in synchronised actions at significant locations across Western Australia, New South Wales and Victoria. Jenny was one of these rebels, blocking Havelock St with a truck and the driveway to Dumas House in Perth with her body.
Jenny sat down in the road, alone, in front of traffic wearing a sandwich board with messages such as "2050 is too late" and "Cop Out". She remained sitting in the road until moved by the police. A Rebellion of One is a symbolic political action, aimed at creating a psychological disruption to observers and a broader audience through the media. When one person acts in this way, their vulnerability and bravery and sacrifice are very apparent and hard to ignore.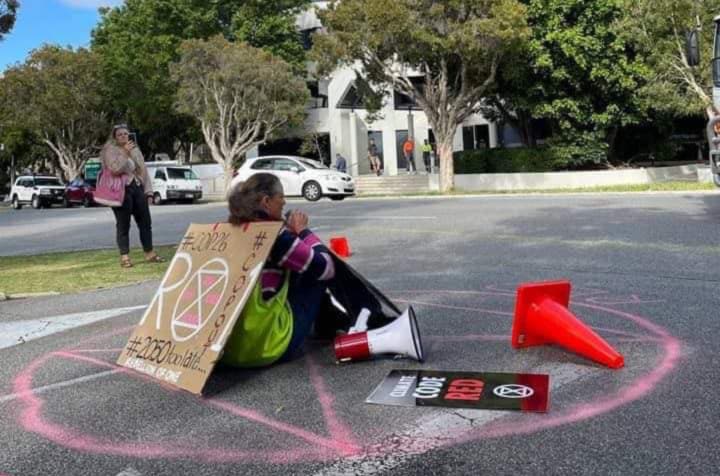 This action isn't to be taken lightly – but neither is the climate catastrophe we face. Although it's called a Rebellion of One, this action is not done alone. Like larger actions involving a number of rebels, it is a team effort, and those who take it on prepare for the emotional and physical reality of road-blocking (in Jenny's case, solo road-blocking) including measures to make sure that nonviolence is maintained throughout the action.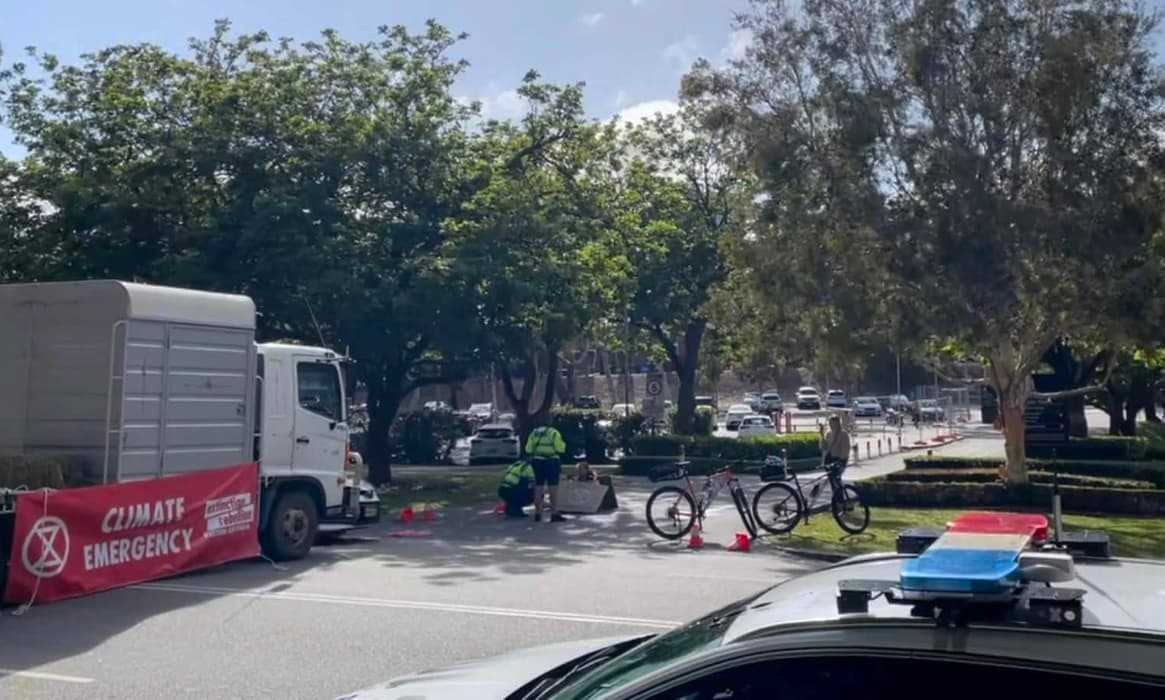 Jenny's testimony, 29 March 2022:
Today I faced the magistrate in Perth following a Rebellion of One action on Nov 1 last year
At the time of this action a UN Code Red for humanity had just been issued and the bleakest IPCC report yet had just been published. Subsequent reports paint an even bleaker picture in terms of the anticipated impacts and our vulnerabilities to the climate crisis.
At the time of my action the horrific and destructive NSW fires were still front and centre in our minds. People had lost their lives…
At the time of my action our state government was giving preliminary approval to the Scarborough gas project with estimated total cumulative emissions from the project until 2055 being 1.37 billion tonnes, equivalent to 18 years of WA's 2005 emissions, a substantial increase not decrease.
At the time of my action the federal Environment minister had just appealed a duty of care ruling in the federal court to young people in the Sharma case, choosing to shirk her duty of care and approve four new coal mines and in turn increase not decrease our emissions.
At the time of my action our PM was attending the COP 26 without an effective emissions reduction plan. The Conference went on to be hamstrung by fossil fuel dependence intricately interwoven into an endless growth model on our finite planet. It is worth noting that at this conference, the biggest single representation was from fossil fuel companies.
The injustice of it all was more than I could bear. I felt the social contract between myself and the government was broken. I had been paying my taxes and abiding by the law but the government was not upholding its part in the deal to in turn look after mine and Kate's and all Australians' best interests.
So, terrified about our collective future I took my truck and blocked Havelock Street opposite Dumas House where our state politicians have their offices and then superglued my hand to the entrance road opposite. I was arrested for obstructing a carriageway and taken to the Perth lock up and released some hours later with other charges that were later dropped.
This was just one action of many that happened globally that day.
I am pleased to say that the magistrate, police prosecutor and charging officer treated me with respect and I felt that they supported me to the best of their ability under the circumstances
I am incredibly grateful to the special people who have supported me in taking this action before during and afterwards and most of all today You know who you are. It meant the world to Kate and to me.
---
Get involved