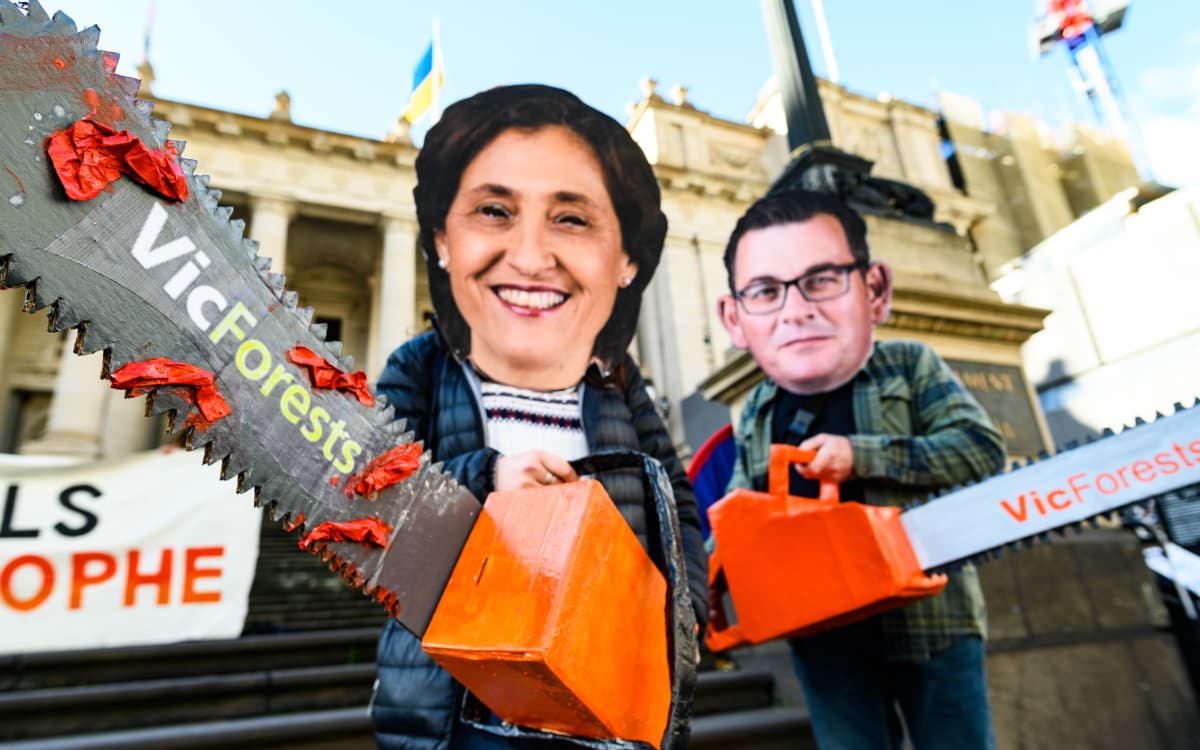 We have the right to protect our forests
Extinction Rebellion Australia, 21 June 2022
Snap Rally in Melbourne against draconian anti-protest laws
A coalition of groups including the Victorian Forest Alliance and Extinction Rebellion rallied this morning at Victorian Parliament calling on MPs to reject proposed new laws that include harsh penalties for citizens who enter a logging coupe. The rally featured an appearance by the Red Rebels and Blinky the giant koala.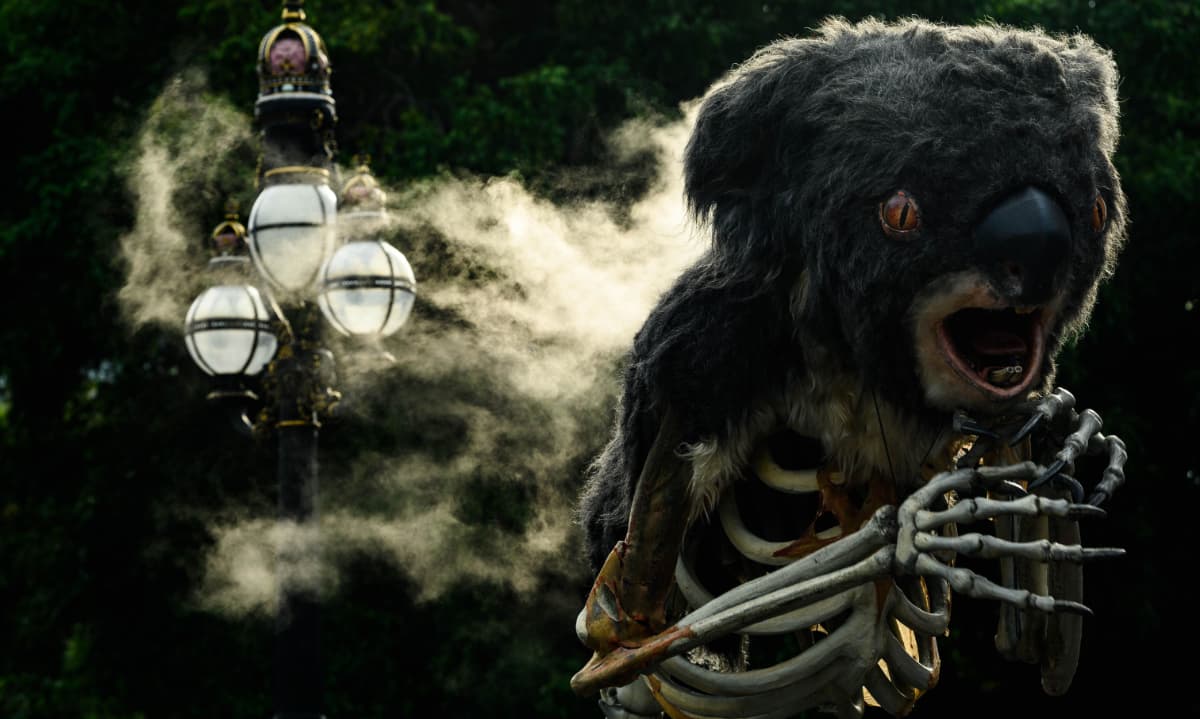 The Victorian Government unveiled a plan in May this year to increase penalties for citizens wishing to protect our forests from often unlawful logging practices by VicForests. The so-called '*Sustainable Forests Timber Amendment (Timber Harvesting Safety Zones) Bill 2022*' would mean potential fines of $21,000 or one year's prison for anyone entering a logging 'coupe'.
The reason given for this is the safety of workers, however there is no evidence that the safety of loggers has ever been compromised by protest actions in forests. Time and again citizens observing the actions of VicForests have prevented unlawful activities and protected precious wildlife. This new law seeks to prevent that.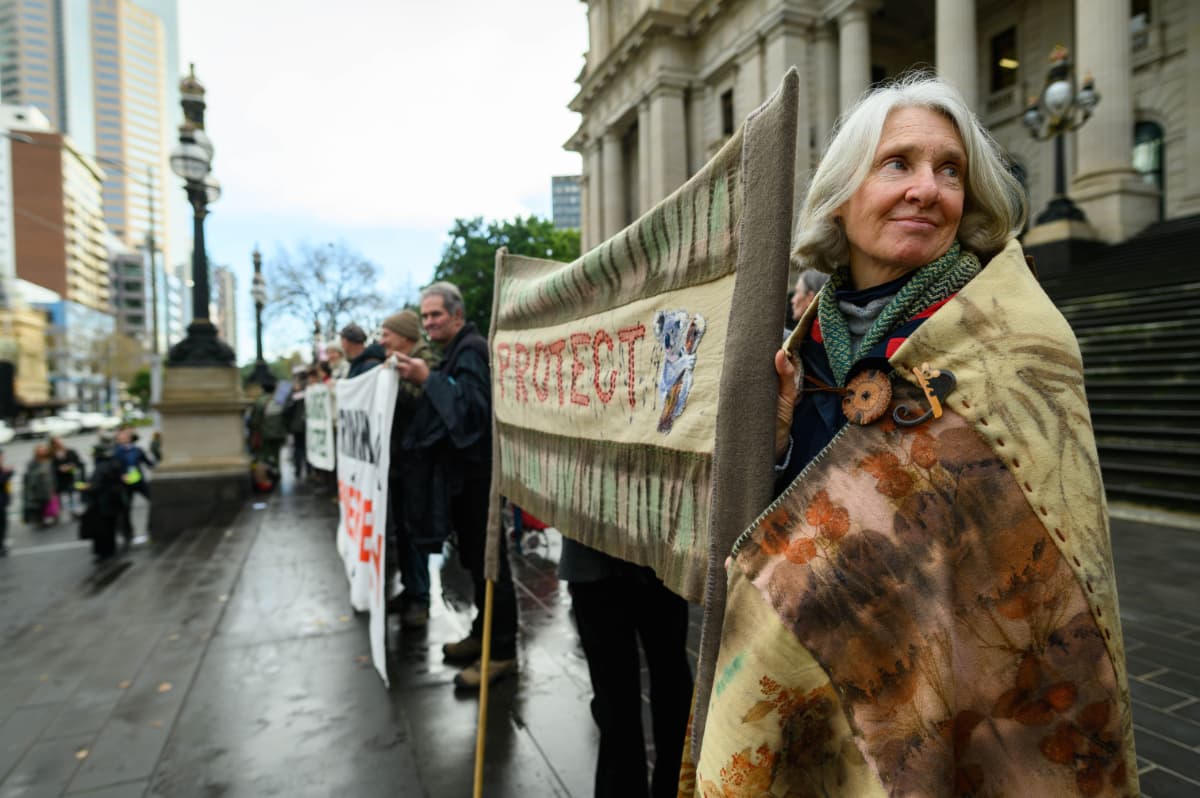 New South Wales and Tasmania have recently increased penalties and restrictions on protests. Now, Victoria is following suit. This is a terrible response to the climate and ecological emergency; choosing to attack the messengers, rather than tackle the real issues of deforestation and habitat destruction and state-sanctioned protections for business as usual.
Victorian Forest Alliance spokesperson Nic Fox said: "Victorians have a long and proud history of peaceful protest. The freedom to protest sits at the heart of our democracy. In the context of a climate crisis, continued destruction of First Nations Country, and collapsing ecosystems, we need to protect this right more than ever. This Bill is not only unnecessary; it is undemocratic and undermines critical civil and political rights."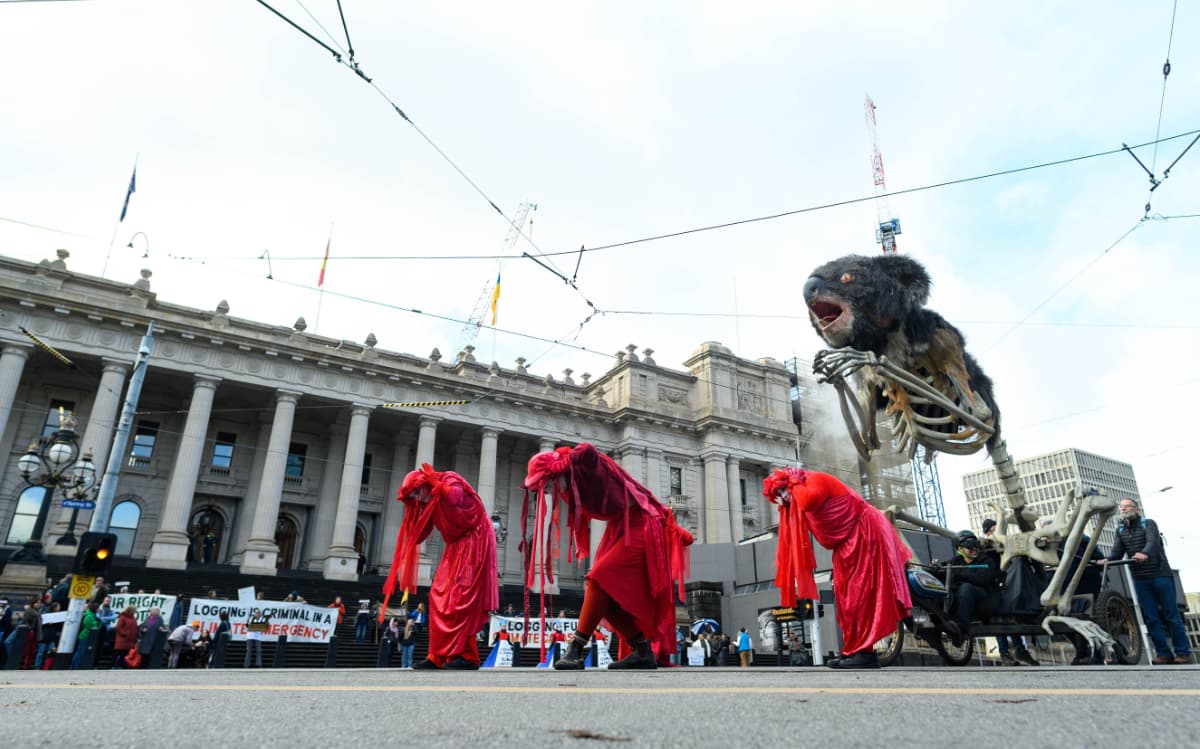 Extinction Rebellion spokesperson Miriam Robinson said: "VicForests is currently facing nine different legal cases for unlawful actions in our forests. They are well known to overstep what they are permitted to do and fail to do what they are supposed to be doing, which is why concerned citizens often seek to highlight and photograph their activities in the forests.
"This is what these new laws are seeking to prevent, allowing VicForests open slather to do as they wish with little or no effective oversight. Victoria's environment and wildlife protection laws are woefully weak and out of date. Our elected representatives would be doing us a far greater service if they reviewed and strengthened those laws, rather than trying to clamp down on citizens desperately trying to save forests from mindless destruction that costs us millions of dollars a year to add insult to injury.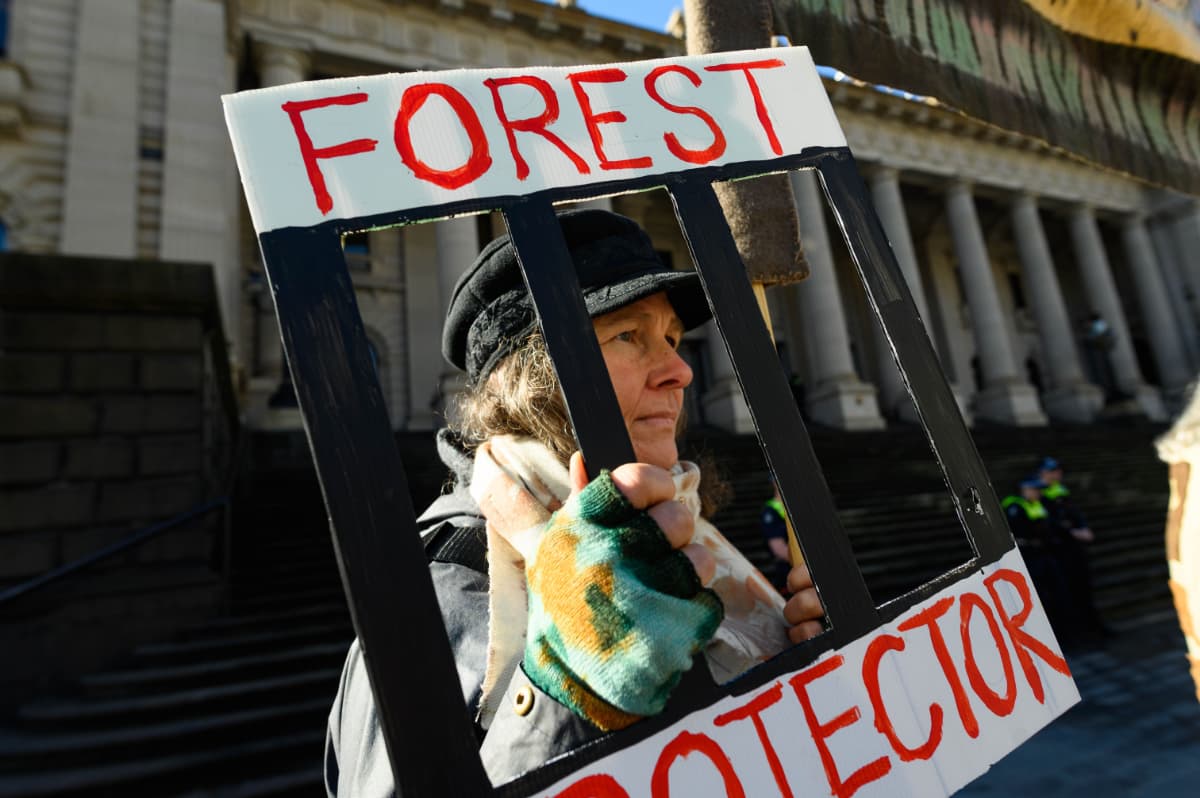 "We need our precious forests more than ever. We must protect our wildlife from habitat loss, climate change and direct injury during logging activities. There are alternatives for paper products, firewood and building materials. There is no alternative to our forests. Forests left undisturbed are far less prone to fire than logged forests. We know we desperately need to be drawing down carbon as fast as we can. Tearing down our forests is the exact opposite of what we need in a climate emergency.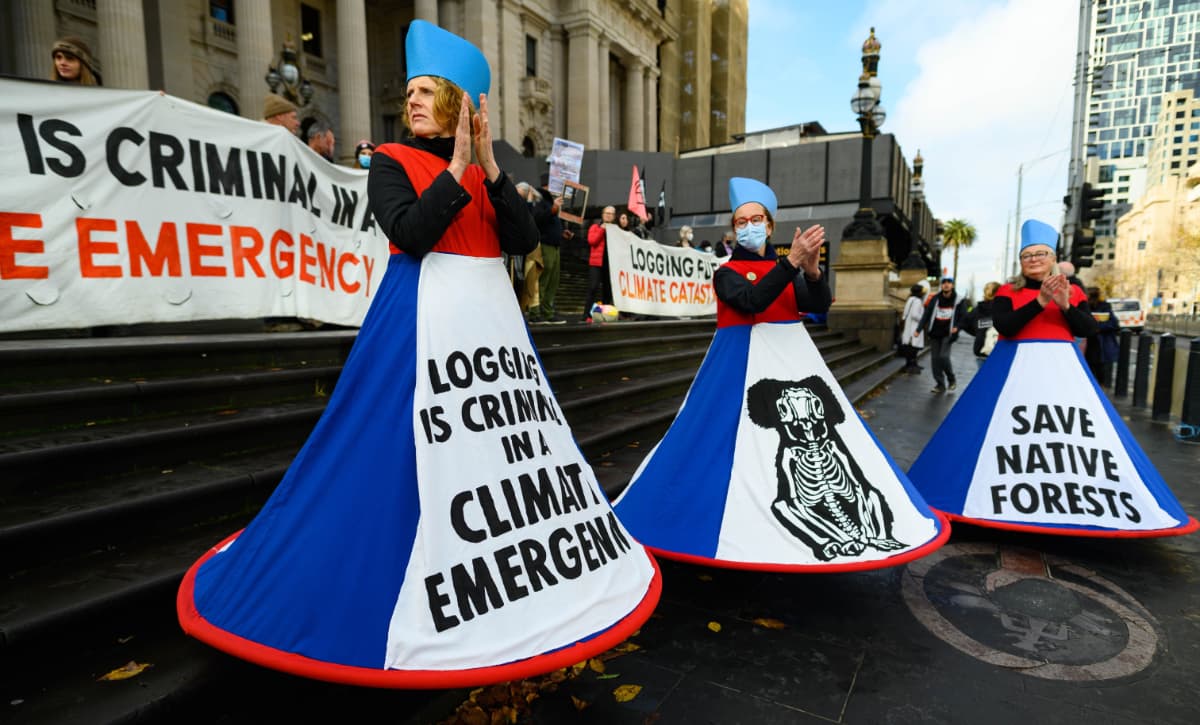 "Forests will be a key election issue in Victoria this year. We must stop this destruction while there is still time. The forests do not belong to the government. They certainly don't belong to VicForests. They belong to everyone, now and into the future. We have the right to protect them. That is what we are doing today and will continue to do."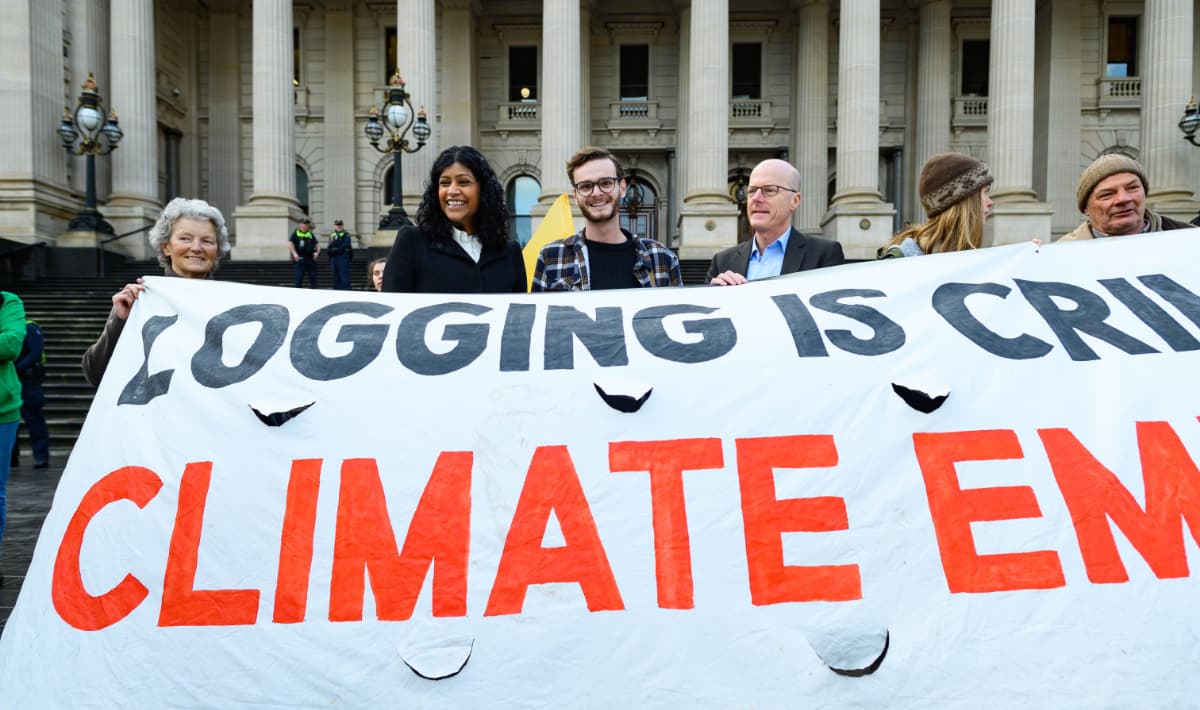 Greens Parliamentarians lend support: second from left - Samantha Ratnam, fourth from left - Dr Tim Read
Greens parliamentarians including Samantha Ratnam (member of the Victorian Legislative Council and leader of the Victorian Greens) and Dr Tim Read (member for Brunswick) took time out of their parliamentary duties to attend the rally and discuss issues with protesters. You can find Tim Read's excellent speech in the Hansard online record of the Bill's second reading.
---
Get involved