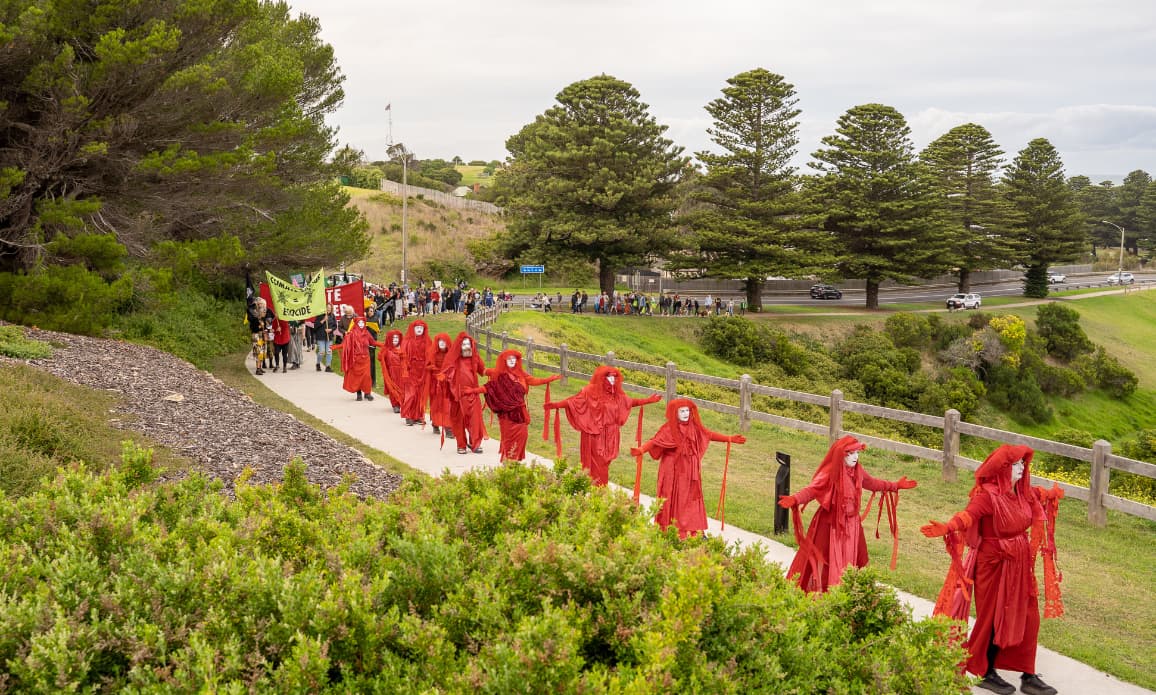 'Warrnambool Wants Action' Climate Rally
Extinction Rebellion Australia, 10 Apr 2022
Blinky the XR Bushfire Koala and XR Red Rebels helped create a spectacle that drew hundreds to an April rally at the Civic Green in Warrnambool, Victoria.
Organised by Climate Action South West Victoria, the rally brought together the local community and climate activist groups including XR Warrnambool, Lock the Gate, Stop Adani, Friends of the Earth and others. Blinky's outing was supported by XR rebel puppeteers from Warrnambool, Ballarat and Melbourne.
Blinky represented the terror our animals are facing in the climate emergency. Billions of native animals, including roughly 60,000 koalas, were killed, injured or displaced by catastrophic bushfires in Australia in 2019/2020. Billions more animals will die in future fires caused by lack of action on Climate Change. (The photograph above is by Shaw McLeod).
The rally began with a walk led by Red Rebels that went from Lake Pertobe, up to Cannon Hill then on to the Civic Green where participants listened to speeches and live music.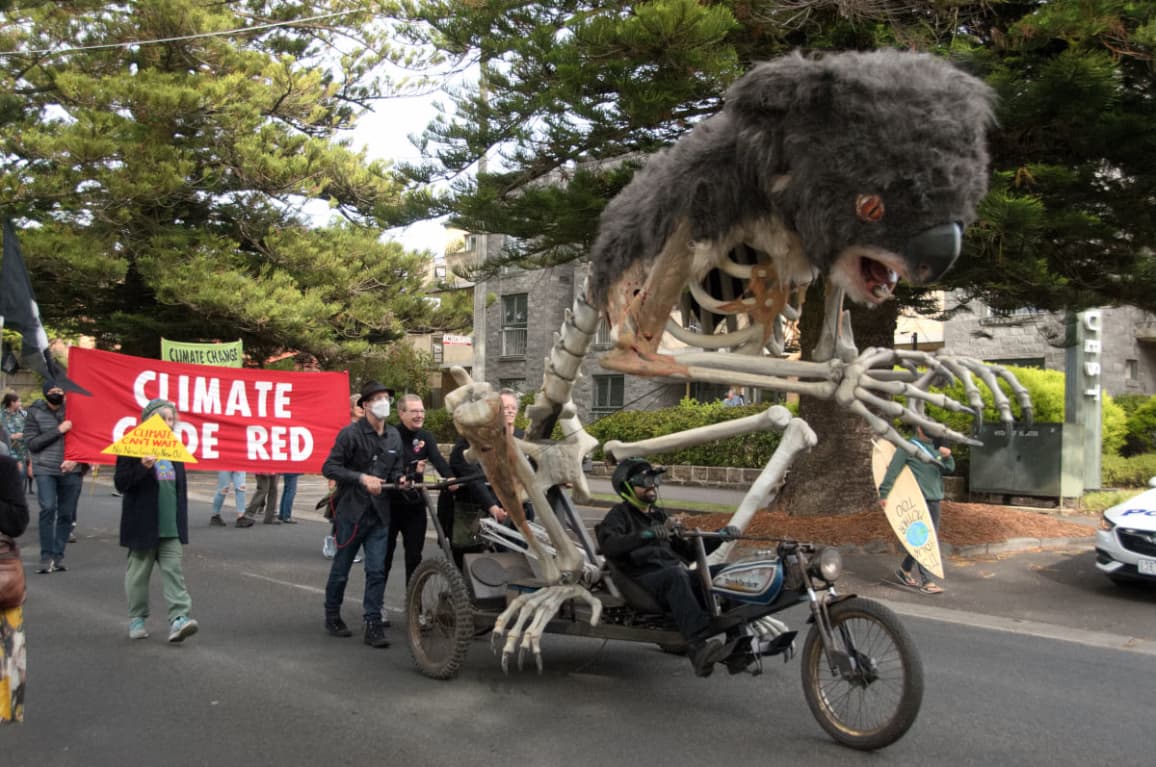 Photo by Alan Northey
Young indigenous woman Yaraam Couzens-Bundle, spoke of her concerns about the harm caused by oil and gas exploration in sea country and the impact on whales and whale dreaming along the south-west coast.
Extinction Rebellion national spokeswoman Miriam Robinson talked about the significance of the Red Rebels and the Bushfire Koala and what they represented as part of the day's march.
As the rally wound toward its destination on the Civic Green, Miriam said: "The Victorian government recently lifted the moratorium on gas exploration. Since then there has been seismic testing, which is terrible for marine life and for whales, which come past Warrnambool and are a tourist attraction. Drilling and methane gas are dreadful for the environment – the last thing we need to be doing. We need to be shutting down the gas industry not opening up new gas fields"
Rally spokesman Bruce Campbell said the event was organised as a result of Australia's inadequate response to the climate crisis. Bruce said that all political parties needed policies "that will tackle the climate crisis urgently - not by 2050. That's nearly 30 years away".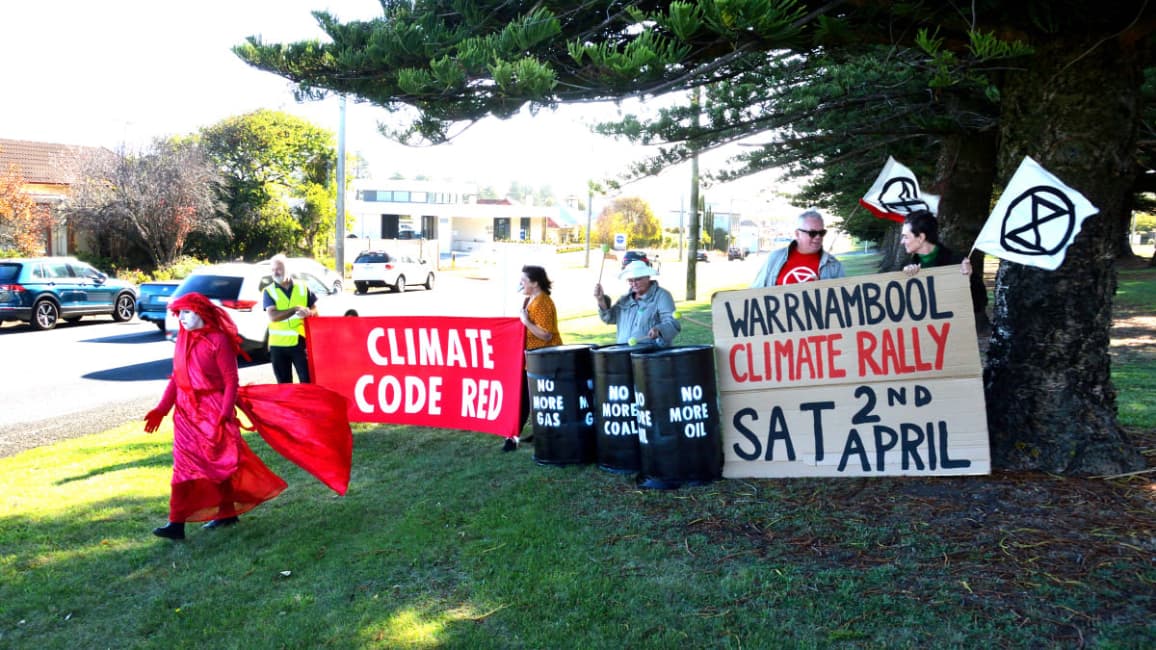 XR Warrnambool's 'Signs in the Pines' actions helped promote the rally in the weeks beforehand. The fun and eye-catching Friday actions are a regular feature in Warrnambool and have been running for 77 consecutive weeks at the latest count, through rain, sun and lockdown. Check the Extinction Rebellion SW Victoria facebook page for images and their latest video.
---
Get involved