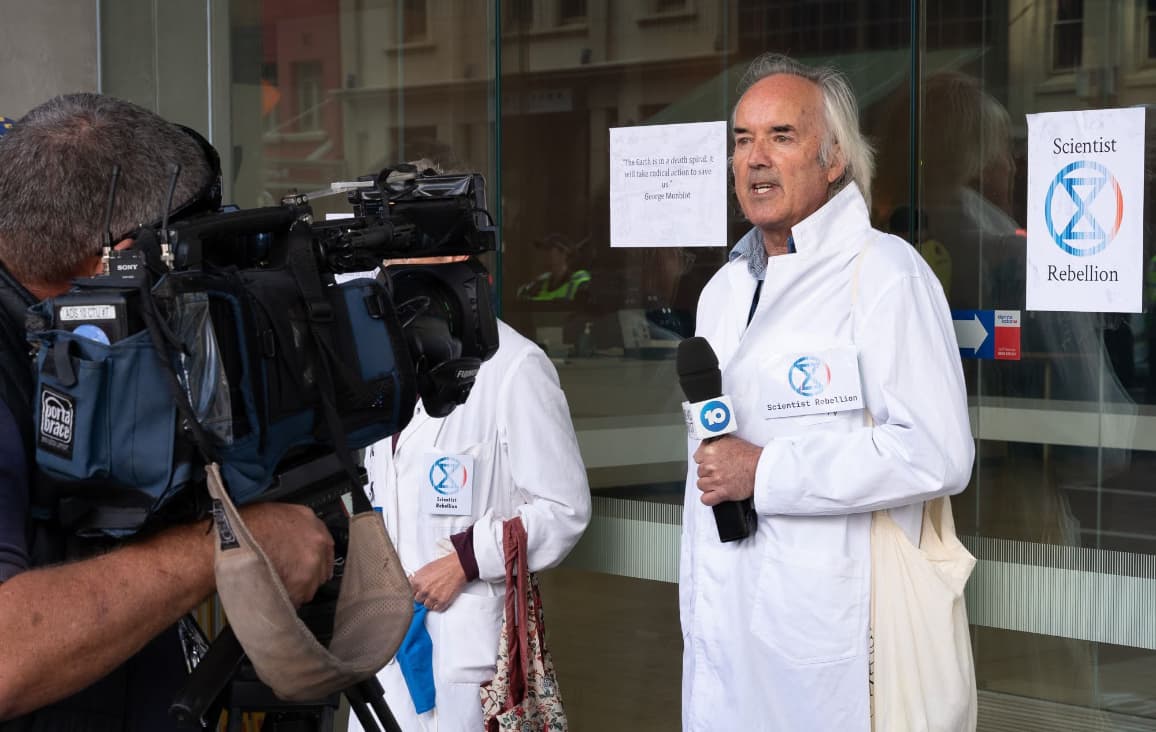 Scientists glue onto Santos HQ in Adelaide
Extinction Rebellion Australia, 5 May 2022
Rebels joined over 1,000 scientists in 25+ countries who are resorting to civil disobedience as part of Scientist Rebellion.
"As scientists we've told the world about the climate crisis for decades - but almost nothing has changed. We therefore call on all scientists to join us in non-violent direct action, to lead by example and to embody the truth." —**Scientist Rebellion**
Climate Researcher and Meteorologist Darren, and Ecologist Annie glued themselves to the Santos building entrance during a non-violent protest by scientists and XR SA Rebels on 4th May at the Santos Flinders Street HQ.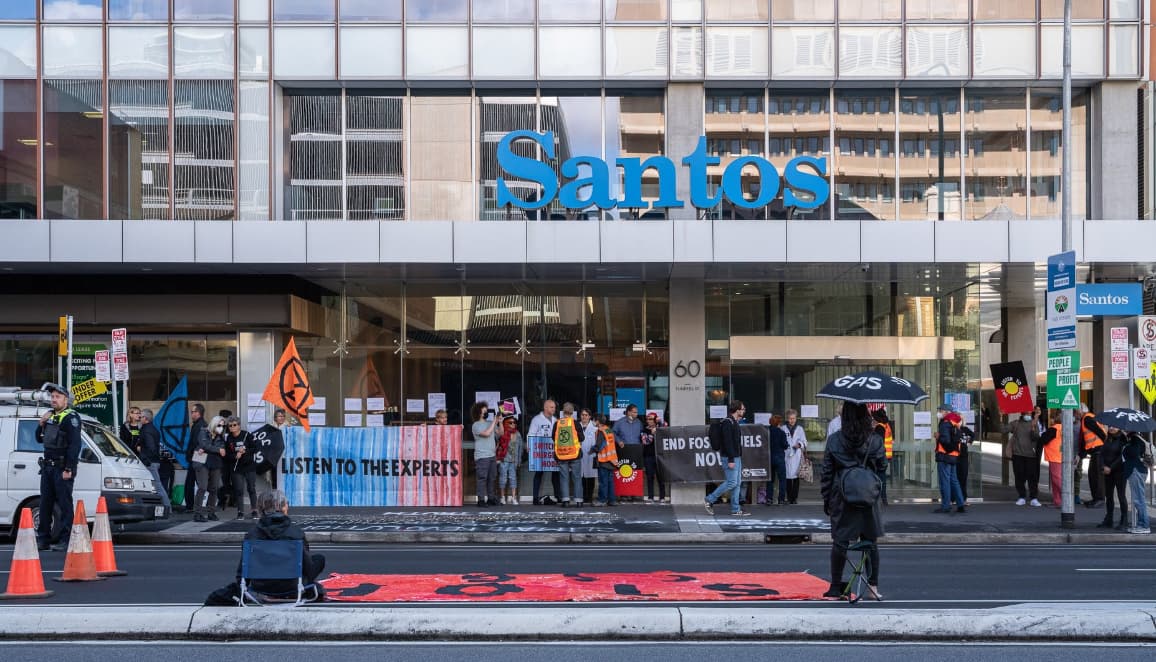 Darren said:
"The strong, clear and urgent message is that the window is rapidly closing to minimise climate change and avoid crossing thresholds and critical tipping points, and there are companies like Santos actively looking for more fossil fuels.
"The latest science is showing that we're very close to setting off up to 10m of sea level rise unless we take urgent action."
Annie said:
"I'm here because I want all children, all people, all species in the world to have a liveable planet. I feel a strong sense of responsibility to do everything I can to make this possible."
Annie pointed out that Santos CEO Kelen Gallagher had just been awarded a $6million bonus. "With that money they could easily start a program of retraining and repurposing. Their employees need a just transition to a better energy source."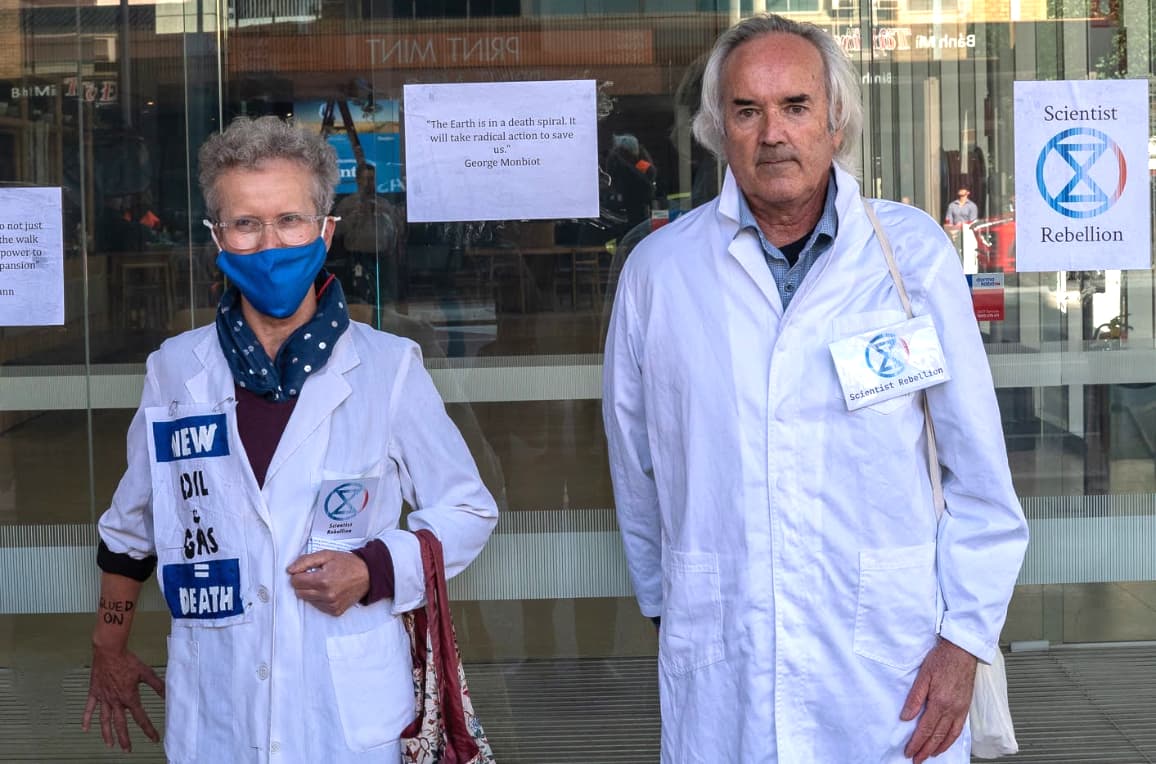 Ian Fox, retired Ecologist, said:
"Santos is one of Australia's largest fossil fuel companies. They're patting themselves on the  back for their big profits.  But what they're doing is peddling death. We know that new oil and gas equals death.
 "We need a clear indication from governments that they will not approve any more fossil fuels. We need a clear indication from corporations like Santos that they're going to switch and develop a new   business model."
Photos of the Scientists' action are by Peter Barnes and Jordan Ellis.
It's time to listen to these experts and end the fossil fuel industry.
Listening to the experts means listening to Climate Scientists AND Traditional Owners.
The May action by scientists followed events reported by NITV, where dozens of people travelled thousands of kilometres across the country to protest outside the Santos AGM.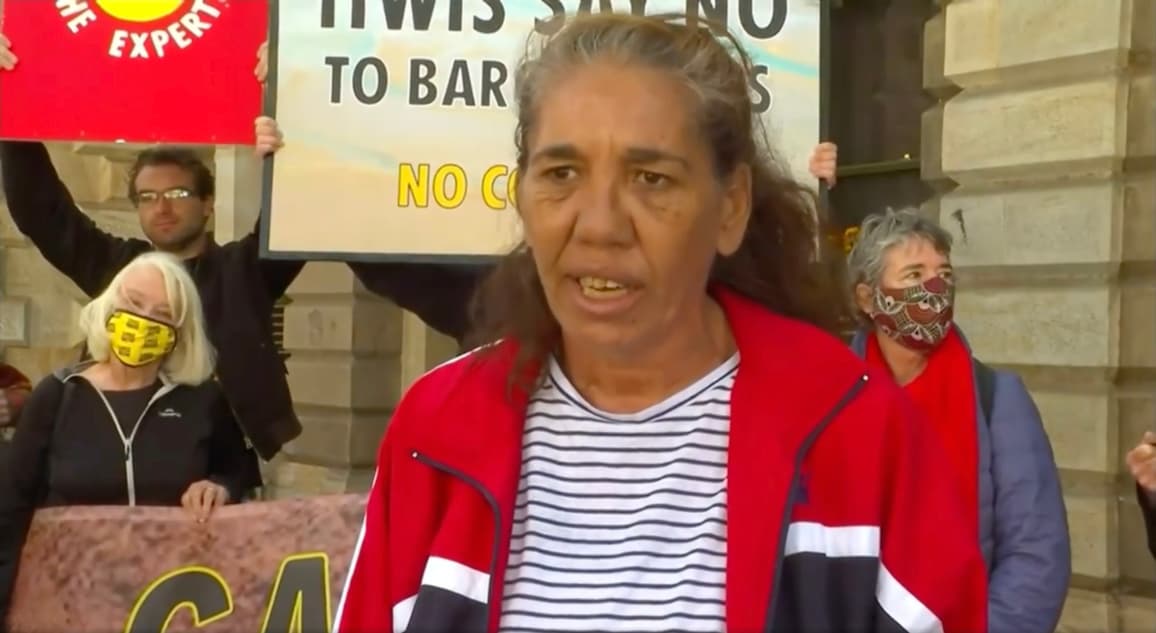 Gomeroi woman Dorothy Tighe
This NITV video was filmed outside the Santos AGM and posted on facebook by XR South Australia.
Gomeroi woman Dorothy Tighe served a notice of trespass order at the AGM to Santos CEO Kevin Gallagher. Dorothy said that the Gomeroi people haven't been consulted and haven't given consent for Santos Narrabri Gas Project.
The project involves clearing parts of the Pilliga forest to make way for 850 gas wells. It will put at risk the country's largest underground water source, the Great Artesian Basin.
Also joining the protest were Tiwi people who were concerned about Santos' plans for a multi-billion project off the top end coast which would involve the development of a massive pipeline through their sea country to the Barossa-Caldita offshore gas fields.
Tiwi Island man, Craig Winston said that Santos had bullied their way through the approvals process without asking all tribes for consent.
Outside the AGM XR rebels joined Gomeroi Traditional Owners, Tiwi Islanders and local Kaurna mob in solidarity
---
Get involved