Santos Adelaide HQ painted black
Extinction Rebellion Australia, 23 Jan 2023
Moments before the Santos 'Tour Down Under' Criterium race, XR SA rebels threw black paint and wrote 'Dump Santos' across the building frontage. Their demand: The SA Government must dump Santos as TDU sponsor! No social consent for climate destruction!
Rebel Louis Umlauf glued his hand to the Santos building while Claire glued her foot to the floor. XR South Australia is demanding that the SA Government dump Santos as a sponsor of the Tour Down Under. Santos leverages its many sports sponsorships to create social consent for the climate destruction that its projects cause.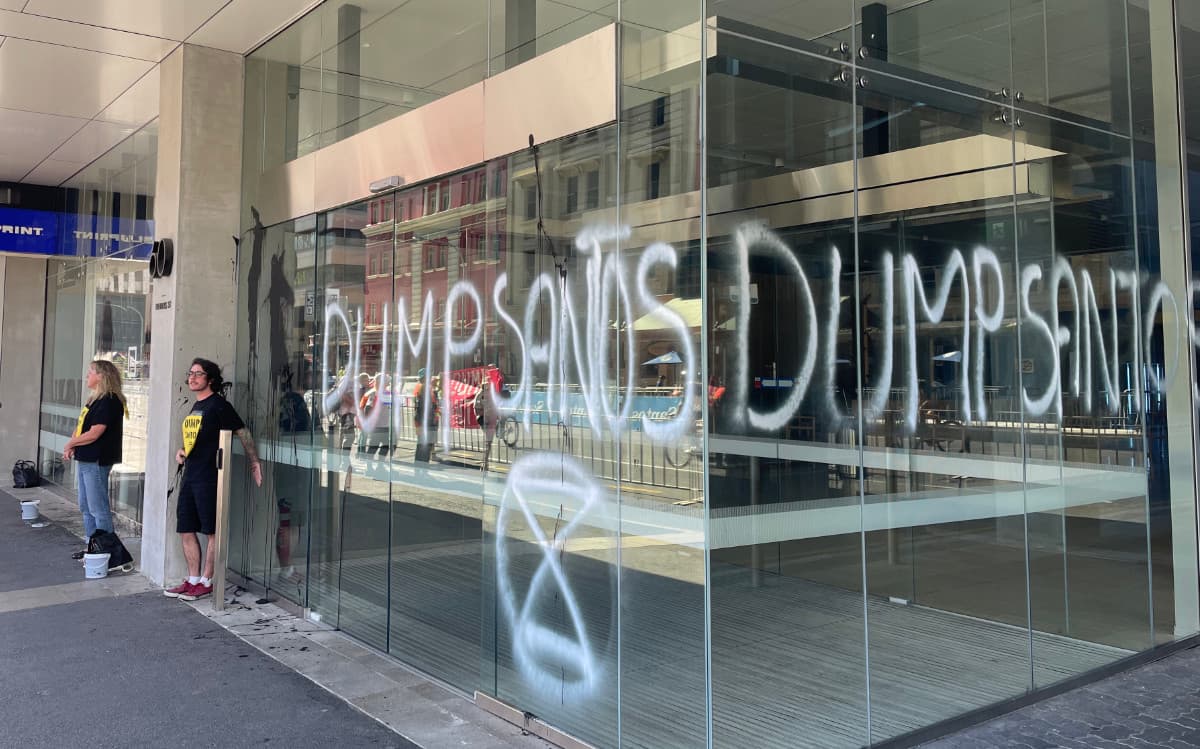 Rebels glued on and message sprayed on Santos HQ
Extinction Rebellion SA spokesperson Chris Johnson said: "Rebels are taking action today against the vandals at Santos. Roughly 10 years ago Santos went unpunished after spilling 250,000 litres of oil, narrowly avoiding widespread water contamination in Queensland. Now they want to rip up the Pilliga Forest to establish 850 gas wells which would put the Great Artesian Basin and climate at risk."
Louis said: "The government and fossil fuel companies like Santos are putting our lives in jeopardy for the sake of their profits. We are acting in self defence and are criminalized for it. But as terrifying as a prison sentence sounds, fossil fuels are a death sentence.
"There is no carbon budget left. The science is extremely clear: stop fossil fuels, or face hell on Earth in our lifetimes. Fossil fuels must be left in the ground if we want any chance of a liveable future."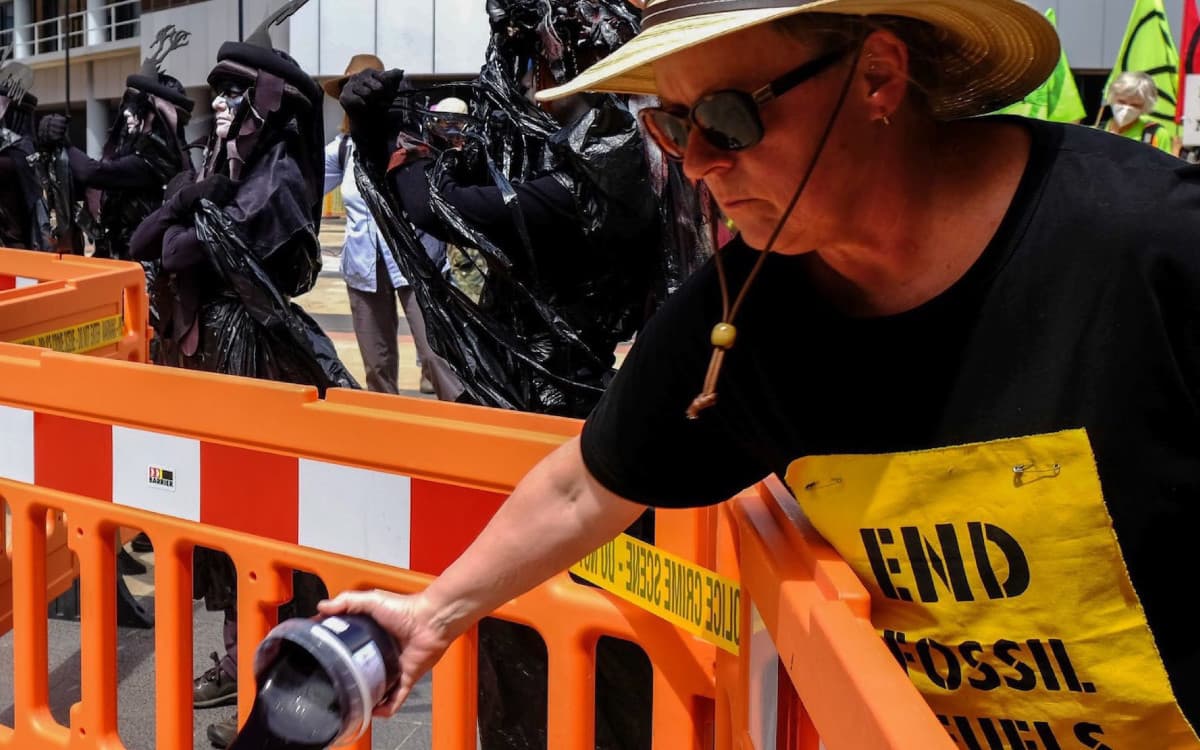 XR SA Rebel in action
Photographer Peter Barnes who sprayed 'Dump Santos' across the building earlier, said:
"The crisis we face demands more than the nice, polite activism which has not worked. Our governments still encourage the gas and oil industry to produce even more polluting fossil fuels. They ignore the science.
"Santos should not be allowed to buy its way into our acceptance of its damage to our planet with its greenwashing sponsorship."
Grandmother Claire Astill, who also chucked black paint, said:
"We have known about climate breakdown for so long now and the devastation it will cause. Governments have done effectively nothing to halt or stall our decline into environmental and social collapse.
"I am so angry, frustrated and upset that this has been allowed to happen by greedy fossil fuel companies and our captured governments. I am prepared to take any non-violent civil disobedient action I can to bring pressure on the powers that be to take urgent action."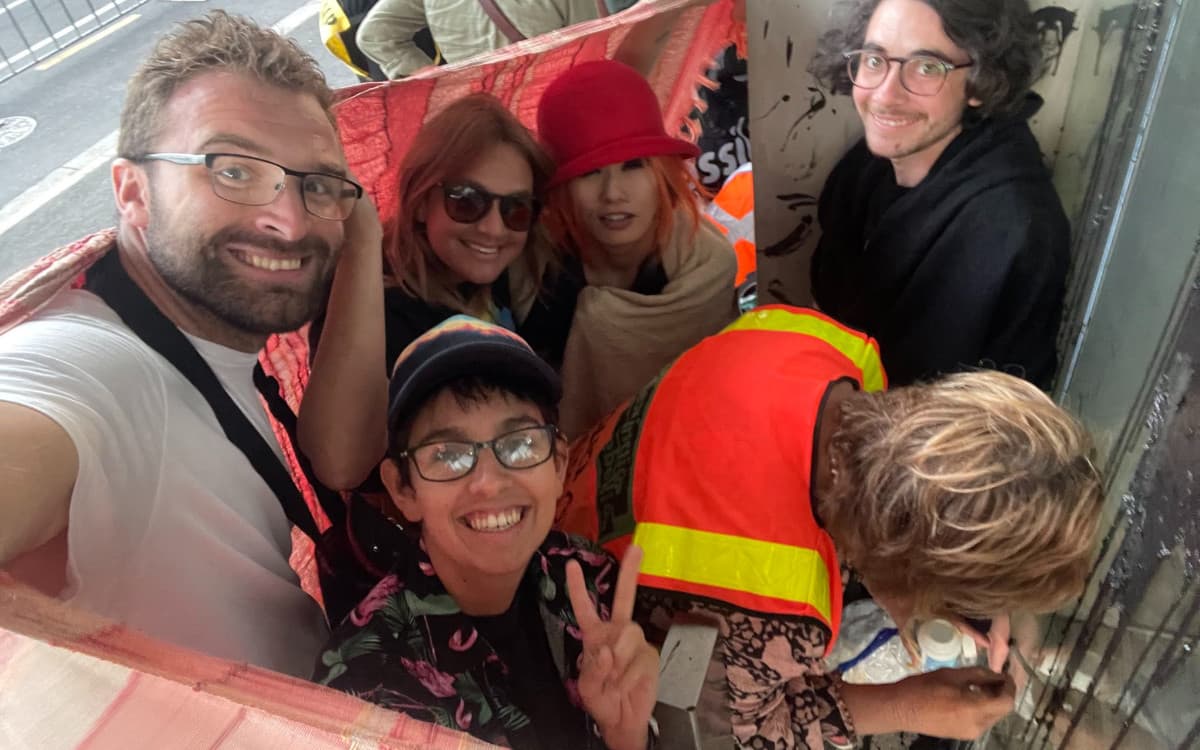 Rebels working together during the action
---
Get involved