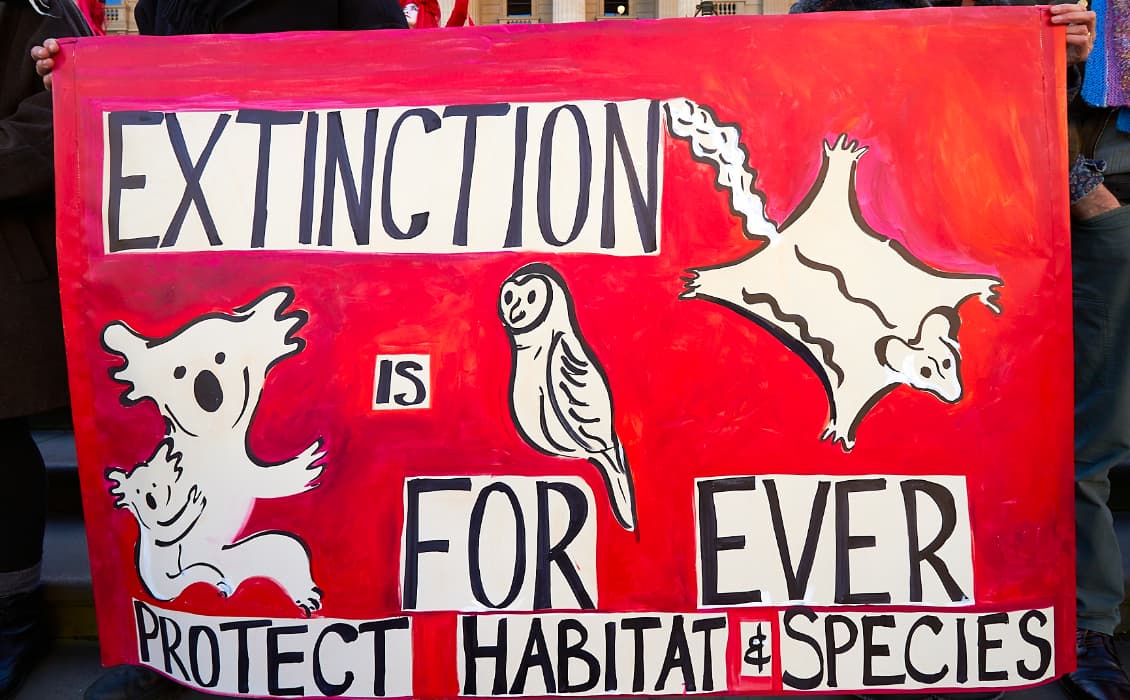 Release of State of the Environment Report triggers actions across Australia
Extinction Rebellion Australia, 19 July 2022
"Environmental degradation is now considered a threat to humanity, which could bring about societal collapses with long-lasting and severe consequences" the report said.
The Federal Environment Minister, Tanya Plibersek, has released the latest national State of the Environment Report. The report holds terrible evidence of the worsening extinction and climate crises. The report was controversially suppressed by the former government during the pre-election period.
Actions were held in in Canberra, Adelaide, Melbourne and Sydney to highlight the need for emergency action. XR ACT and XR Sydney members joined in a protest action outside the National Press Club today with the Bob Brown Foundation for the State of the Environment address. In Adelaide, XR SA rebels installed replica tombstones on North Terrace as part of a public mourning for the loss of biodiversity in 'Australia'. XR Vic rebels brought banners, costumes and songs to an action at Victoria's Parliament building in Melbourne (photo above by Danielle Judd).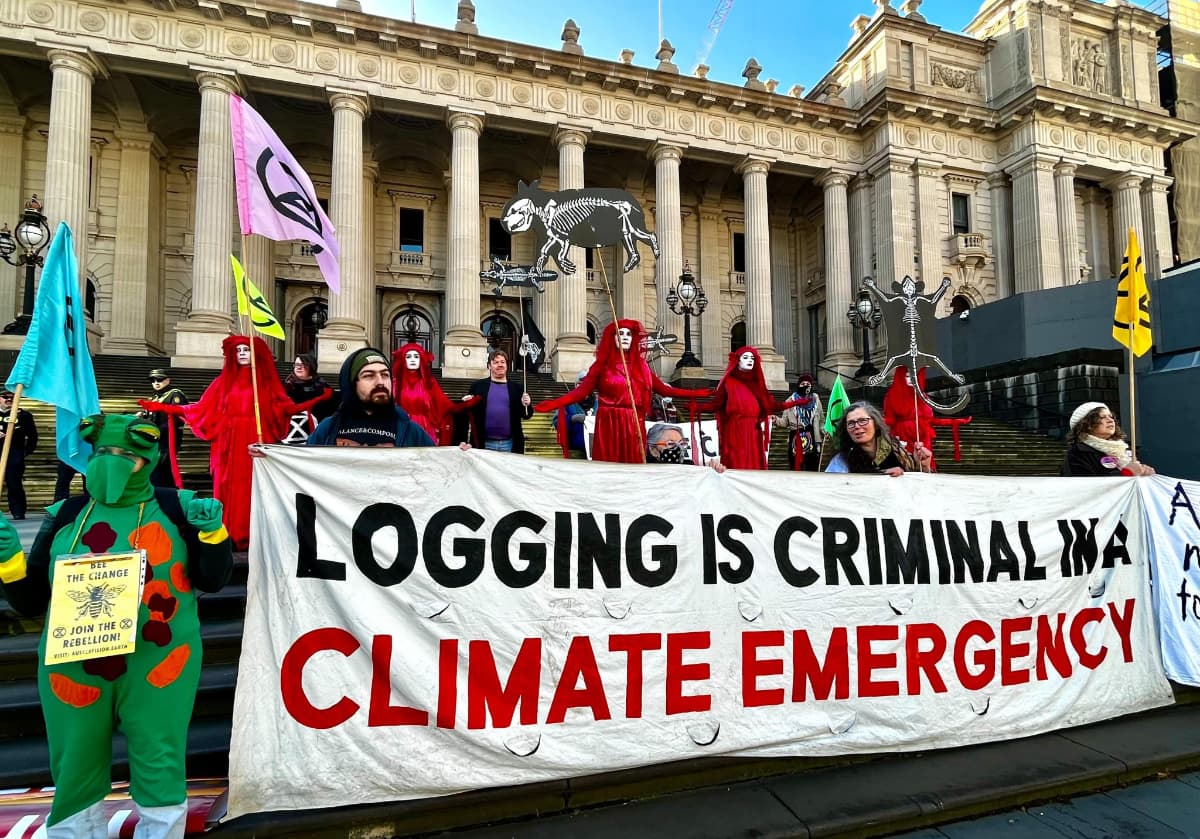 Rebels at Victoria's Parliament building. Photo by Matt Hrkac
XR Victoria spokesperson Miriam Robinson said:
"The previous report, released in 2016, showed many worsening signs for our environment since 2011. The news today was about years of neglect under the previous government and there was some political point-scoring and a lot of finger-pointing. But today we to urge our governments, at state and local level, as well as Federal, whatever party you represent, to step it up. There is no more time to play political games.
"We need to get beyond politics and start saving the furniture. Even if, by some miracle, we manage to lower global greenhouse emissions and temperatures start to come down in the next few decades, it will mean little if we have lost huge chunks of our natural world. As the climate becomes more unstable, we need to do everything we can to preserve what we still have left, while we still can.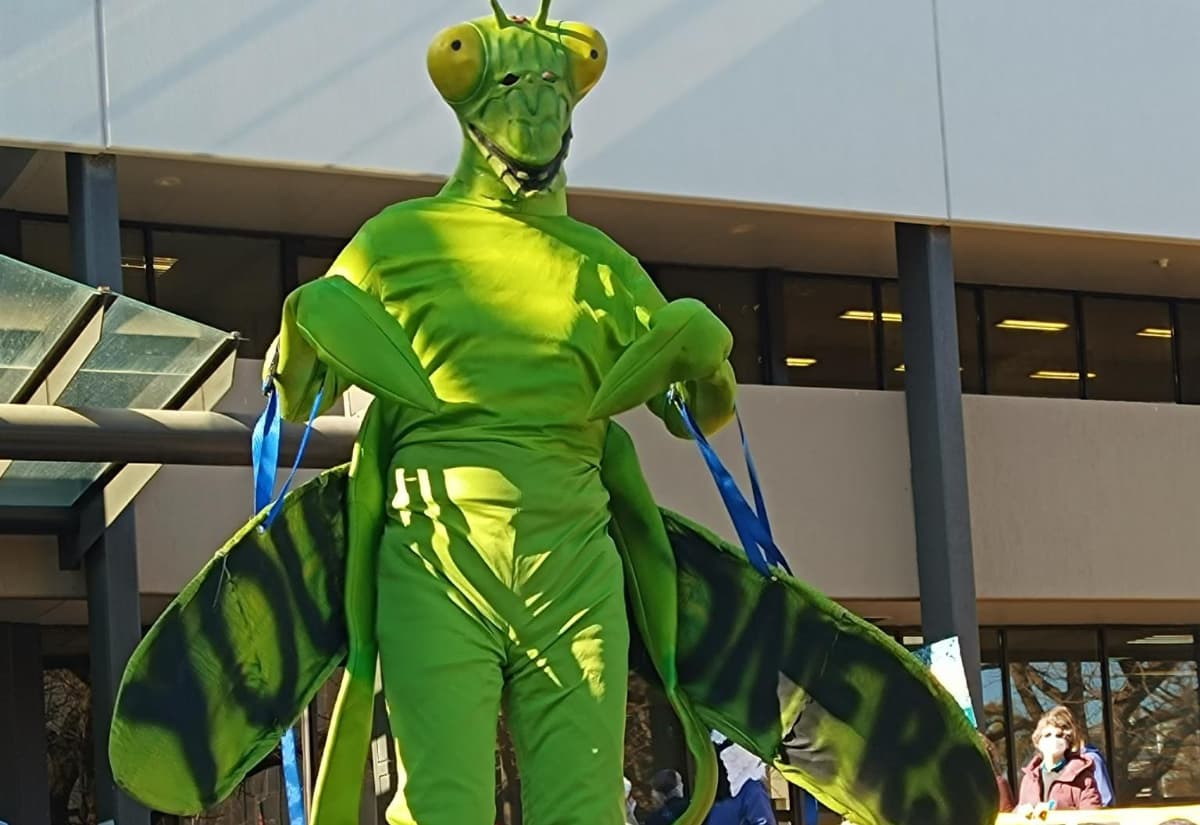 Protester in a fabulous costume. Photo by Rigmor
"Australia has the worst record for extinctions in the world. We are seeing the koala and the greater glider slide towards extinction, on the way to joining the more than 100 species we have lost since colonisation. Under current policy Victoria's native forests will continue to be logged until 2030, despite the terrible damage from the 2009 and 2019 bushfires. Most of the logging is for paper pulp that goes overseas and 'disposable' timber pallets. Damaging forests in a climate and ecological emergency is insanity.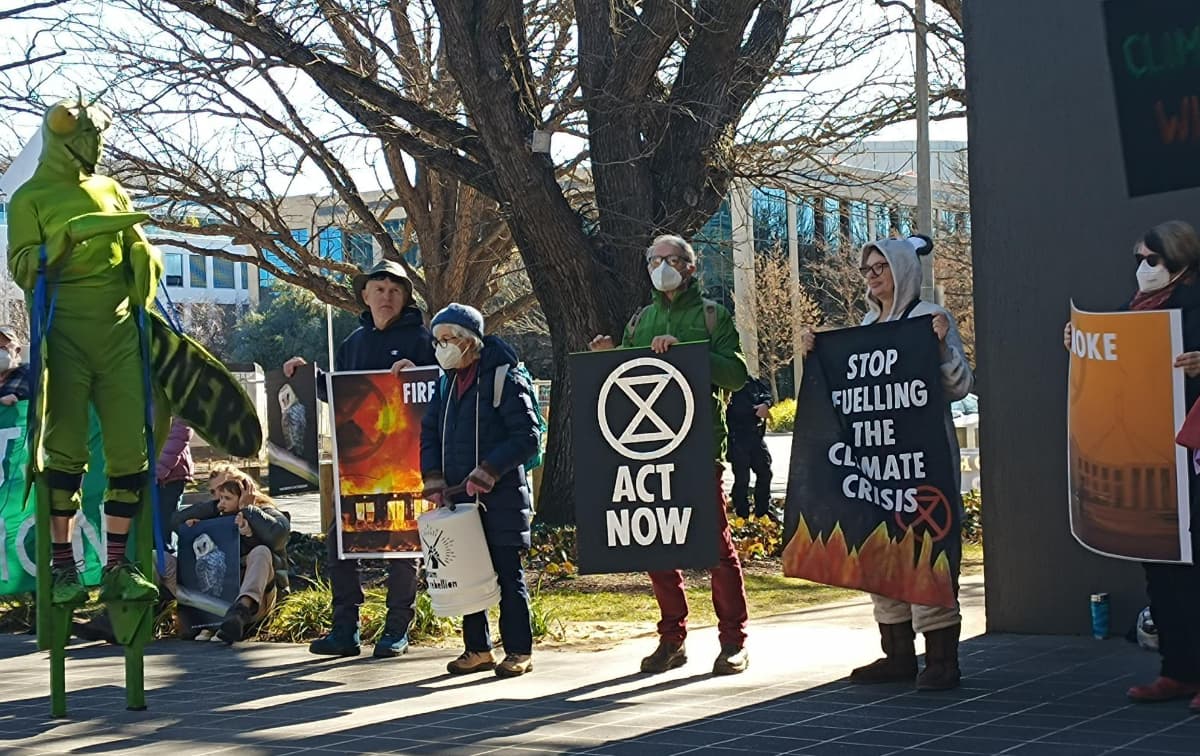 Protesters from Sydney and Canberra gather. Photo by Rigmor
"One thing the Environment Minister could do right away is adopt all the recommendations of the Samuel Review of the Environment Protection and Biodiversity Conservation (EPBC) Act. She has said the Act will be reviewed, but we don't know when that will be or how many of the recommendations will be adopted. Strengthening that important legislation would go a long way towards improving the way we care for our precious natural world. In the Act as it stands, the word climate is not even mentioned. Our government needs to be doing so much more. We need urgent action now far more than we need nice words."
Felicity Law from Kinglake Friends of the Forest said:
"Regional Forest Agreements must go. These dubious legal agreements between successive state and federal governments, from both major parties, give logging a special exemption from federal environment laws. They have facilitated the killing of threatened species and the loss of our carbon stores."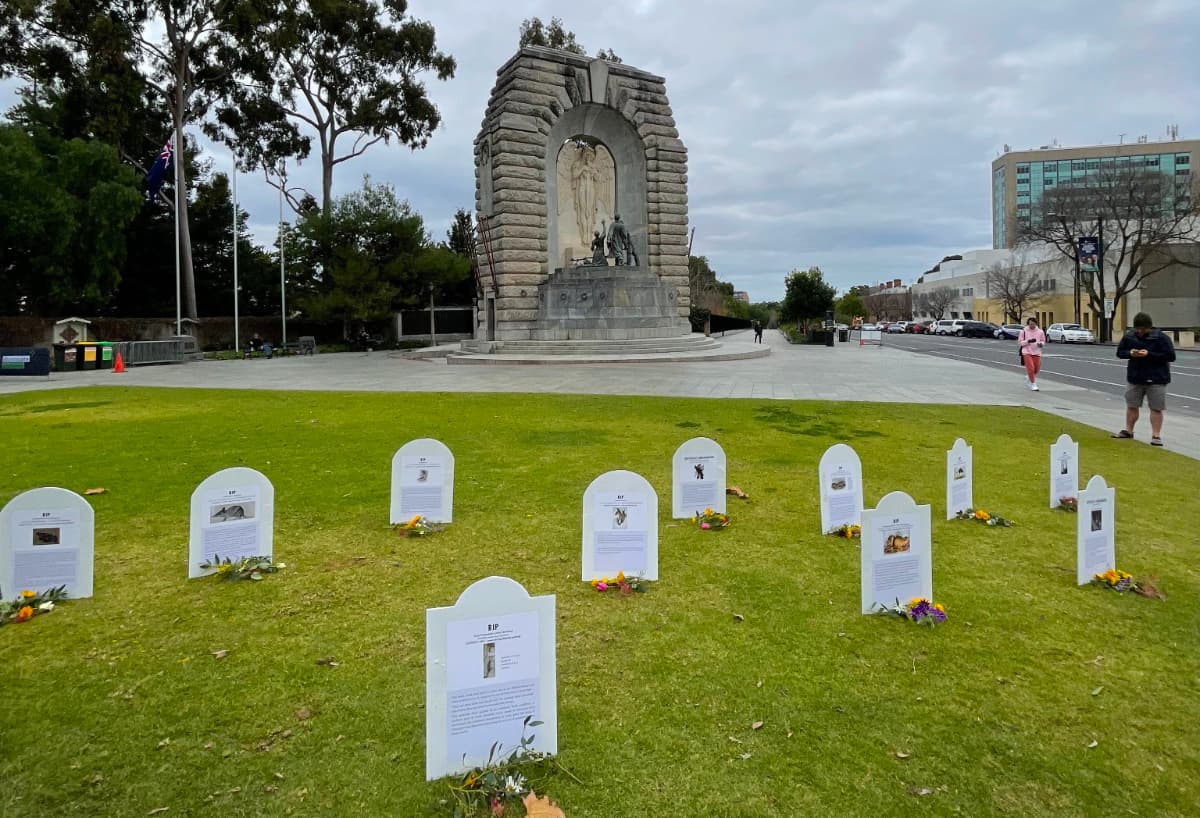 Replica tombstones on North Terrace, Adelaide. Photo by Jordan Ellis
Every ecosystem is threatened by climate breakdown. The breakdown of the environment is not just impacting human health but also our mental health and well-being. Indigenous knowledge and well-coordinated environmental management are crucial in responding to this crisis. We must stop the harm by ending fossil fuels along with other key drivers of climate breakdown.
Extinction Rebellion demands that the government acts now to reach net zero emissions and halt biodiversity loss.
---
Get involved