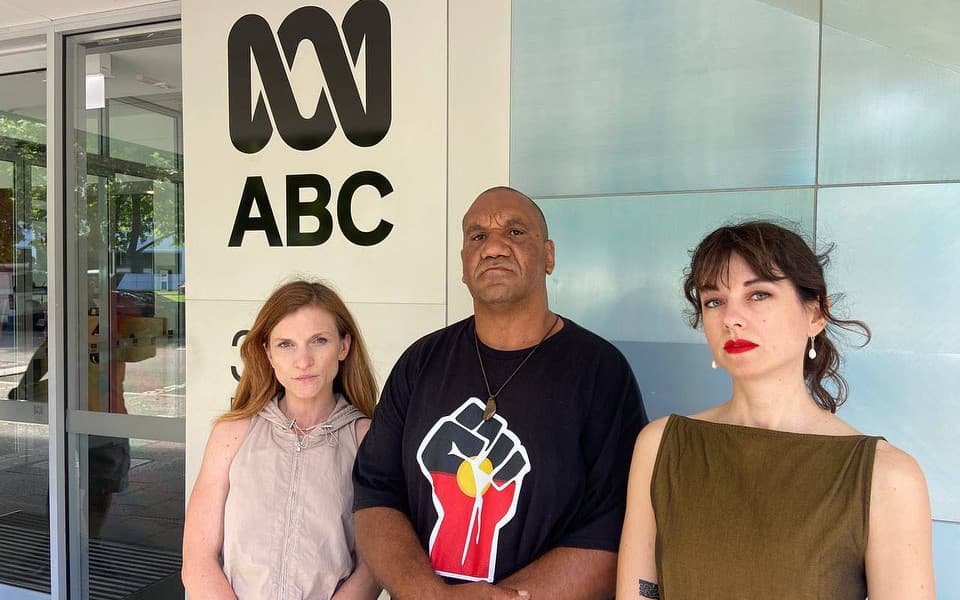 Protesters tell ABC: protect your sources - not Woodside!
Extinction Rebellion Australia, 28 Oct 2023
ABC studios in Melbourne, Sydney and Perth heard from XR and Disrupt Burrup Hub protesters this week after reports the broadcaster would pass on confidential footage to WA Police.
The 'Escalation' episode of ABC's Four Corners investigative program aired earlier this month and featured Disrupt Burrup Hub (DBH) as they planned a protest against Woodside Energy's enormous gas project on the Pilbara's Burrup peninsula.
The action never took place because police were waiting. Disrupt Burrup Hub has been criticised by some for targeting a private home, with more backlash against the ABC coming from the obvious quarters.
The ABC crew was later cleared by an internal ABC inquiry of colluding with the protesters or trespassing on O'Neill's property.
WA police demanded the ABC provide them with all footage shot for the program, which dozens of organisations declared an "alarming overreach" that undermined press freedom.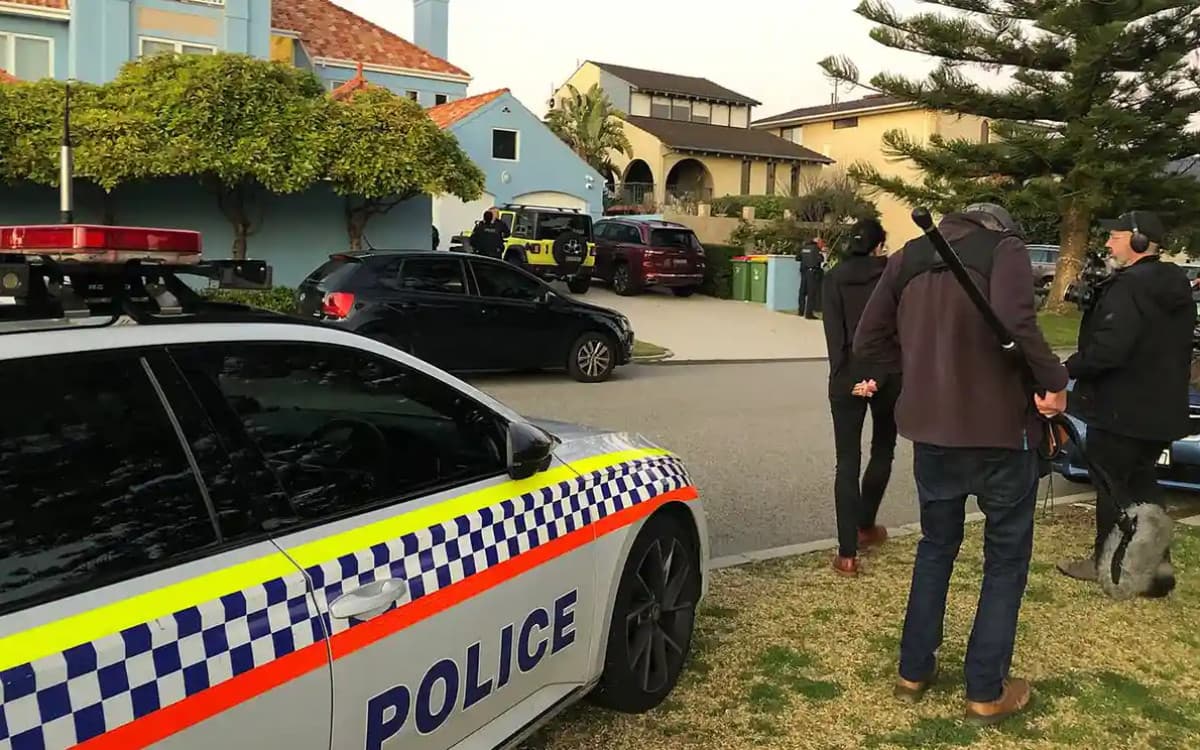 In Boorloo/Perth, Disrupt Burrup Hub activists Des, Tahlia and Joana were at the ABC's studios in East Perth to make their voices heard, while other protests took place in Sydney and Melbourne.
Des said: "As a First Nations justice campaigner with lived experience of incarceration, I am deeply concerned that the ABC may cause the imprisonment of vulnerable people by surrendering source material to police."
Tahlia said: "I have not been charged in relation to this incident, but Four Corners captured footage of police raiding my home and I am concerned about reprisals from the WA government."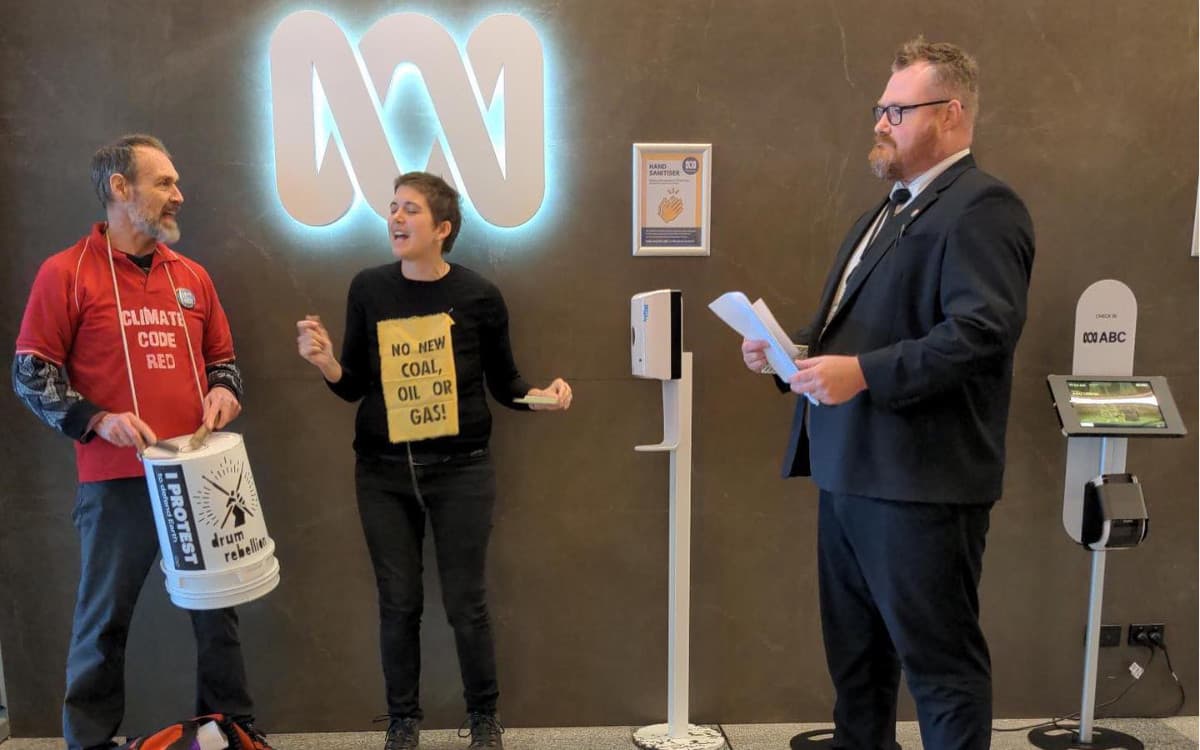 Meanwhile XR Vic rebels were at the ABC in Naarm to say 'Stop acting for Woodside! No collaboration with WA Police! Do what the public interest demands and protect your sources!
Speaking for the XR Vic protesters, Brenda said: "The right to peaceful protest is fundamental in this country. That's how we bring social change. Also, a free press is fundamental to our democracy.  At the moment that's being challenged in a number of States around Australia. We're here today to demand that the ABC NOT hand over footage to the police in Western Australia." 
The group was asked to leave by ABC Security, but chose to remain. Excellent acoustics in the foyer carried chants of "ABC protect your sources" and "Not Woodside's ABC" to ABC staff watching on the balconies around the atrium.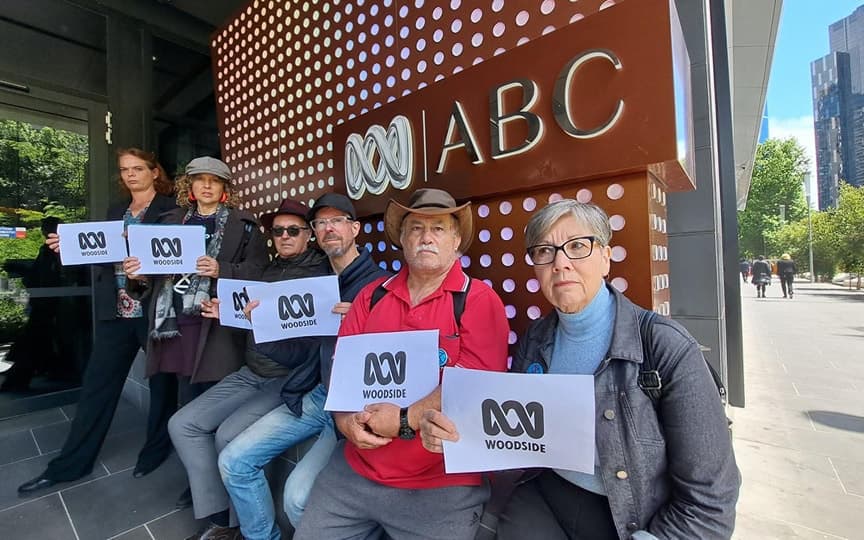 The Four Corners Program has analysed arrest data and found that climate activists across the country are being charged with serious offences in unprecedented numbers.
Evidence shows that Governments are going to extreme measures to stifle the right of communities to protest. An example is the proposal to charge hundreds of dollars to challenge WA mining activities.
Groups like Extinction Rebellion and Disrupt Burrup Hub are pushing the boundaries of activism to save our environment - chip in to the Disrupt Burrup Hub crowdfunder.
Anyone can join a group and help take back power through direct action. Nonviolent interventions have brought us most of the civil liberties we currently have. Now we need nonviolent direct action to protect those same rights. And our planet.
---
Get involved