Police arrest three older rebels after they expose breasts and bums to passing cyclists at the TDU
Extinction Rebellion Australia, 15 Jan 2023
In a women-focused protest during the Women's Stage One race at the Tour Down Under, XR SA rebels made the point that they will do ANYTHING to protect the people they love. "SANTOS SUX" they say. "It is prepared to destroy future life on Earth in order to make profits."
Spokeswoman Nicky Page said the protesters ranged in age from 58 to 78.
"We care directly about dozens of children and young people" she said.
"Beyond that we care about all people and all living things. We care about Earth's biosphere, the thin layer of life that supports us all."
Protester Mag Merrilees said the group had tried to have Santos dumped without disrupting the event. "We are baring our ageing breasts and our wobbly bums in the hope of shocking,'' she said. "Polite pleas and submissions have not been enough.
"Companies like Santos pretend to be generous benefactors to hide the fact that they are making squillions of dollars out of destroying the climate.
"We want people to see that this company is not benevolent. It is prepared to destroy future life on Earth in order to make profits."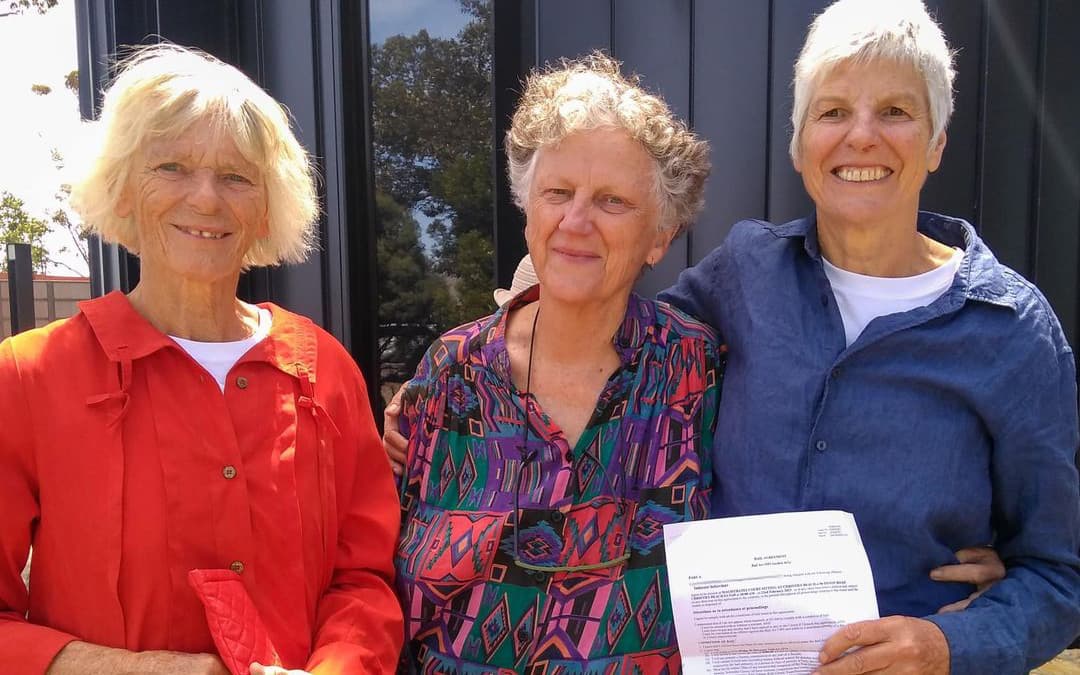 Rebels Beatrix, Mag and Jayn after their release on bail
The live-stream commentary during the protest by Extinction Rebellion South Australia made the issue very clear.
"The women in the protest have between them about 1000 years' experience in caring for other people. That is characteristic of the climate movement – it is very women-focussed. There are people from all walks of life – people who are refugees, in our movement, men of course too. But often women, and often older women. Because they've seen life. Many can remember wars and conflicts. And they can remember the threats. They know how fragile our existence is. How much we depend – even on going to the supermarket getting food.
"They know that a climate crisis will become a life crisis – it will become a crisis where you can't get food for small children, where hygiene and sanitation services go out the window. People understand this. And once they understand the danger that comes with floods, fires, and other natural disasters, they start to worry. If they can't find a way to face those fears, then they become really frightened. But if they CAN face the fears, and take action – that's what we're hoping people will do – then good things start to happen. People start to collaborate to oppose the fossil fuel companies.
"You may have seen recently that the acting prime minister Jim Chalmers (our Treasurer) has been talking about the amount of money it takes to remediate climate change damage. We already know that floods along the Murray, here in South Australia, floods in the North of Western Australia, floods in places like Lismore, have caused billions of dollar's worth of damage. Much more money than it takes to reduce carbon damage, to move to renewables.
"Here in South Australia we are blessed with sun and wind and we have world-class renewable energy. We produce more renewable energy, per capita for our needs than anywhere in the world. We're a world leader. We produce more than 100% of our energy needs through renewable energy on many days of the year. We actually export renewable energy to other States in Australia. We're proud of this record, but not that many people know that it's true.
"With careful management, with innovation, we can all become much more focussed on renewable energy. We don't need oil. We don't need gas, we don't need the lies that go with companies like Santos."
---
Get involved