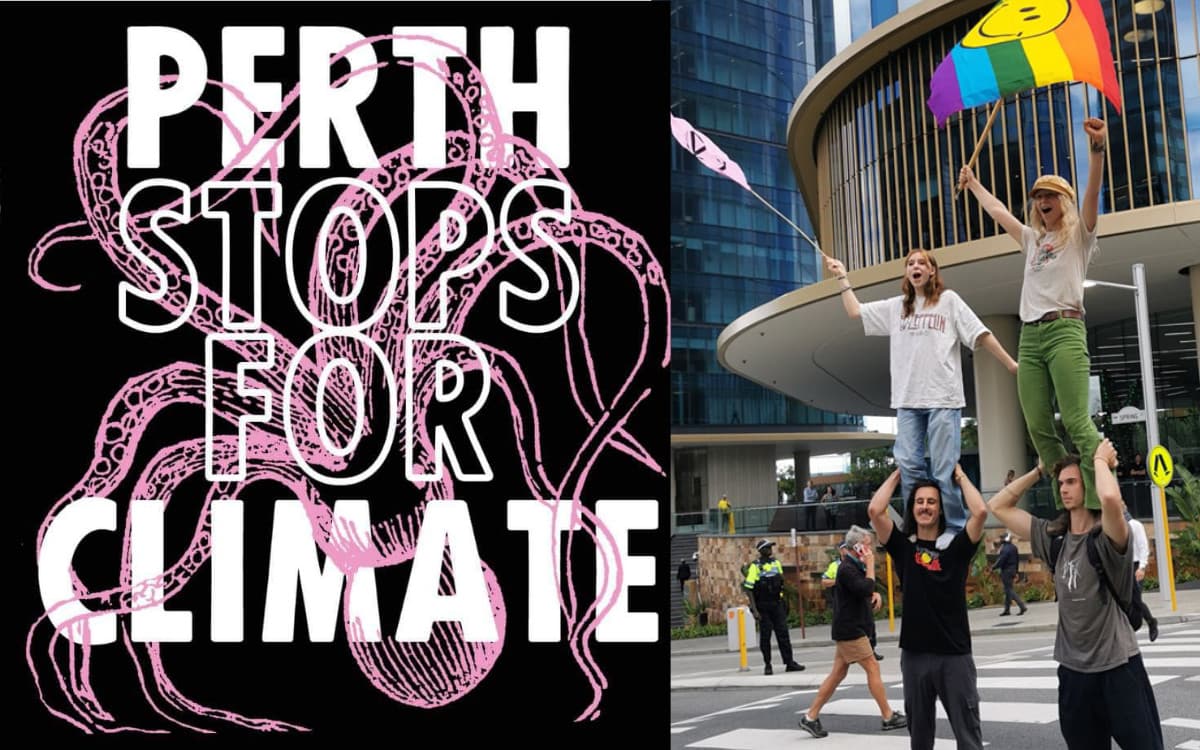 Perth Stops For Climate
Extinction Rebellion Australia, 19 Apr 2023
XRWA hosted a rally in the CBD of Perth, Western Australia, against fossil fuel subsidies and the relentless destruction caused by fossil fuel giants such as Woodside.
The Channel 9 report said that the protest brought parts of Perth CBD to a standstill and that it was "Shutting down St George's Terrace in a bid to save the planet." The report continued "These climate change activists are demanding three things, no new fossil fuels, an end to fossil fuel subsidies and a just transition to a sustainable future for people and the planet."
Speakers at the rally called on everyone to stand up and fight back against Woodside and state capture to protect the future for everyone and everything we love.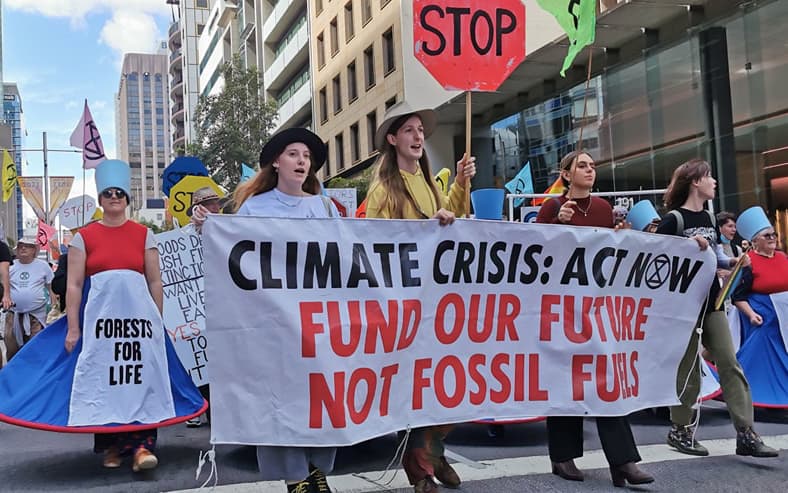 XRWA protesters told reporters:
"The future of humanity is at stake."
"It's basically the option of a liveable climate or continue with fossil fuels"
"We need to disrupt business as usual, because the government is insisting that we're NOT in an emergency."
The rally's key demands were: No New Fossil Fuels, Stop Fossil Fuel Subsidies and A Just Transition to a Sustainable Future for People and Planet.
Banners read:
'Woodside profits and we die'
'The future of humanity is at stake'
'Gas Transition???'
'Stop new gas'
'Climate crisis: Act now'
'Fund our future, not fossil fuels'
'Fight Gas-led Extinction'
'Woodside don't cook our kids'
'Woodside Homicide? – Stop Now'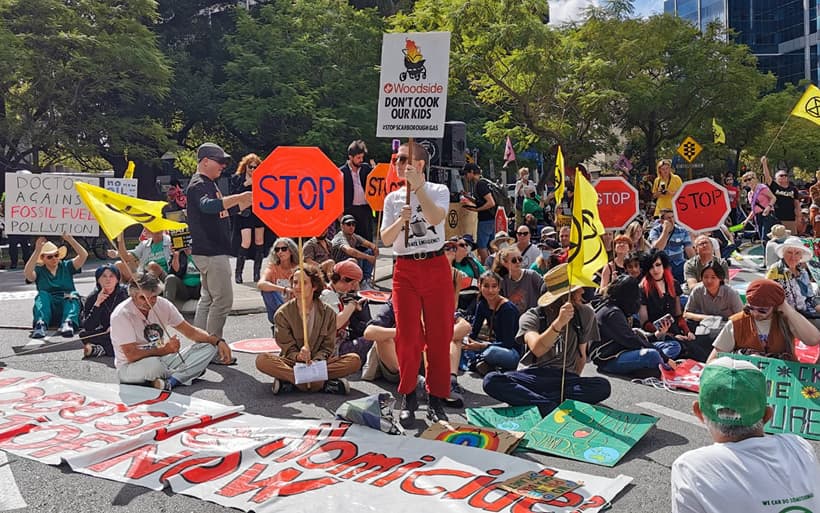 Dr Brad Pettitt MLC said in an online post:
"On Monday I joined Extinction Rebellion Western Australia, XRWA Grandparents, Doctors for the Environment Australia and hundreds of community members to march against major companies' ramping up of fossil fuel extraction in WA. On the same day ABC analysis showed that local greenhouse emissions from these companies continues to rise. Today the Clean Energy Council's annual report showed that despite record investment – of which only a tiny amount occurred in WA – renewable capacity in Australia needs to double to meet legislated emissions targets."
The WA Labor Government has been dragging their feet on reducing emissions, but this latest evidence should spur them to get serious about its net zero target by reining in the big emitters, and to improve WA's pitiful share of the renewable energy generation boom."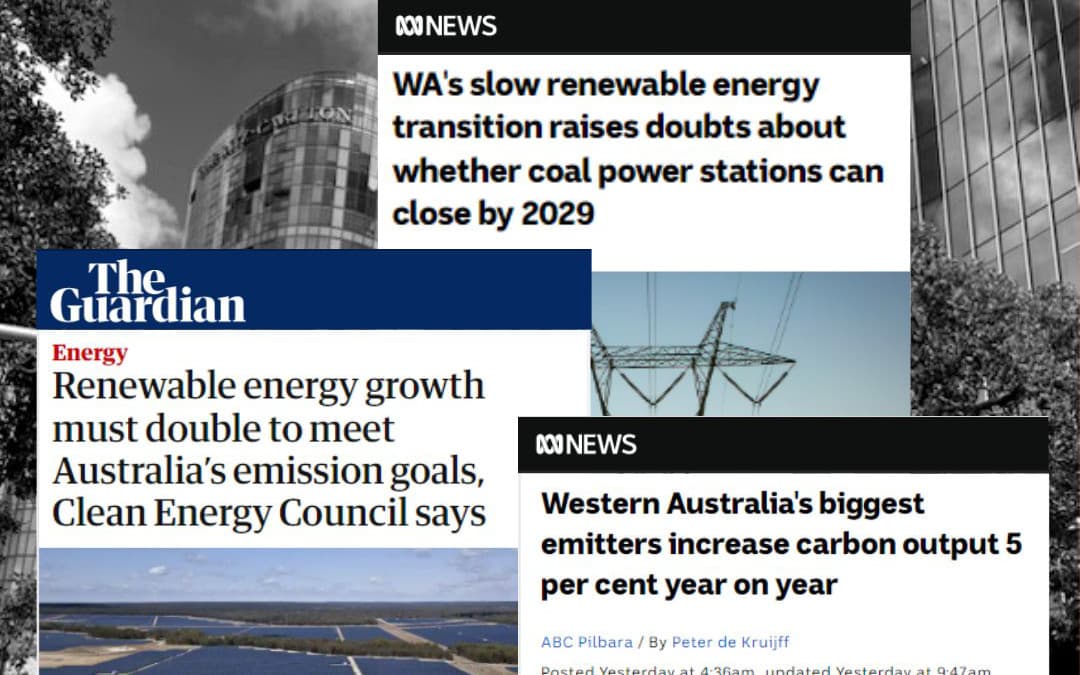 WA is one of the world's biggest exporters of Gas. The WA government has approved a massive new gas extraction project (Scarborough gas) despite the scientific fact that we must stop all new fossil fuel extraction.
It is obscene that state, territory and federal governments hand out $11.6 billion a year in tax payer funded subsidies. That's $22,000 per minute of our money handed to fossil fuel corporations! It has to end - the only way left is to disrupt business as usual, over and over again.
---
Get involved