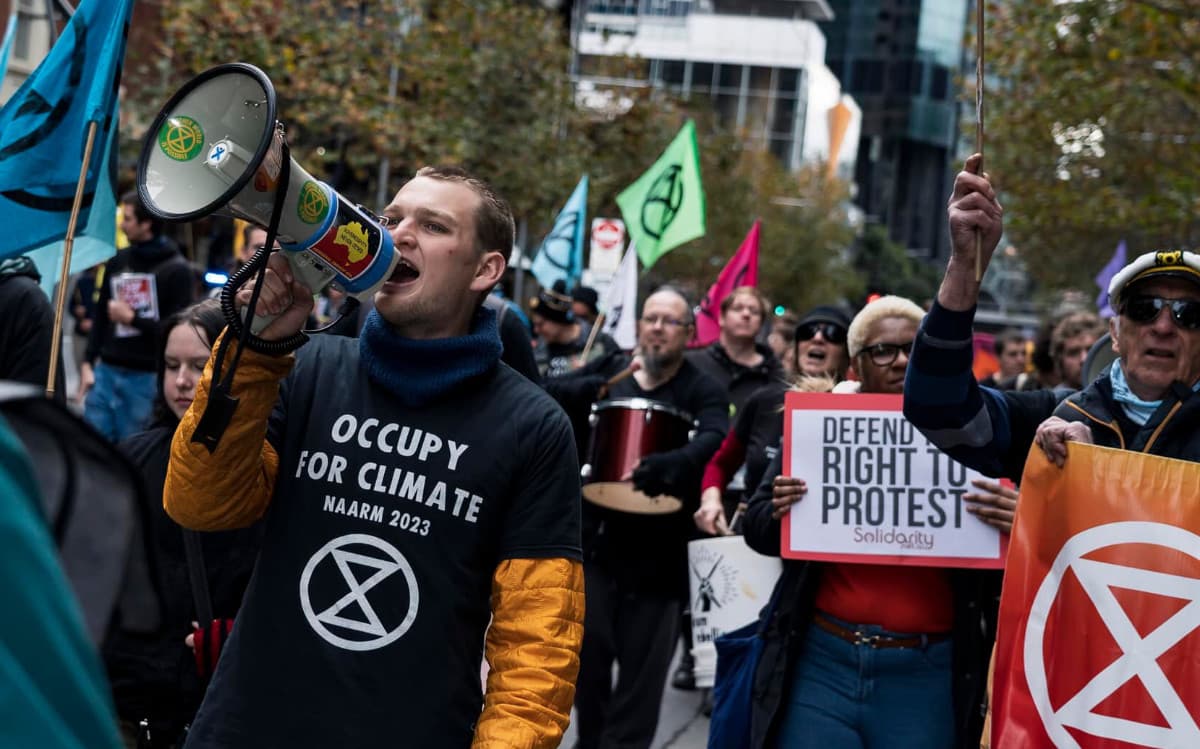 Occupy for Climate: a monumental few days fighting for climate justice
Extinction Rebellion Australia, 30 May 2023
'Occupy for Climate' was organised by XR Vic in Melbourne/Naarm at the end of May as a series of actions to get the message across about runaway warming and societal collapse. A camp-out in the gardens near Victoria's Parliament House continued throughout, in spite of council objections.
Events kicked off on 25th May, with a colourful protest at the intersection of Latrobe and Queen Streets. Each quadrant of the intersection was filled with specific messages, the first about the risk of catastrophic fires and opposing fossil fuels, the second about conflict and mass forced displacement, the third about sea-level rise and flooding, and the fourth with messages about the collapse of forests and other eco-systems.
A combined action by Scientist Rebellion, Extinction Rebellion, Move Beyond Coal and School Strike 4 Climate took scientific evidence to the National Australia Bank. Banners spelled out the message Stop Funding Fossil Fuels. No More Coal, No More Oil, Keep the Carbon in the Soil - that includes Gas.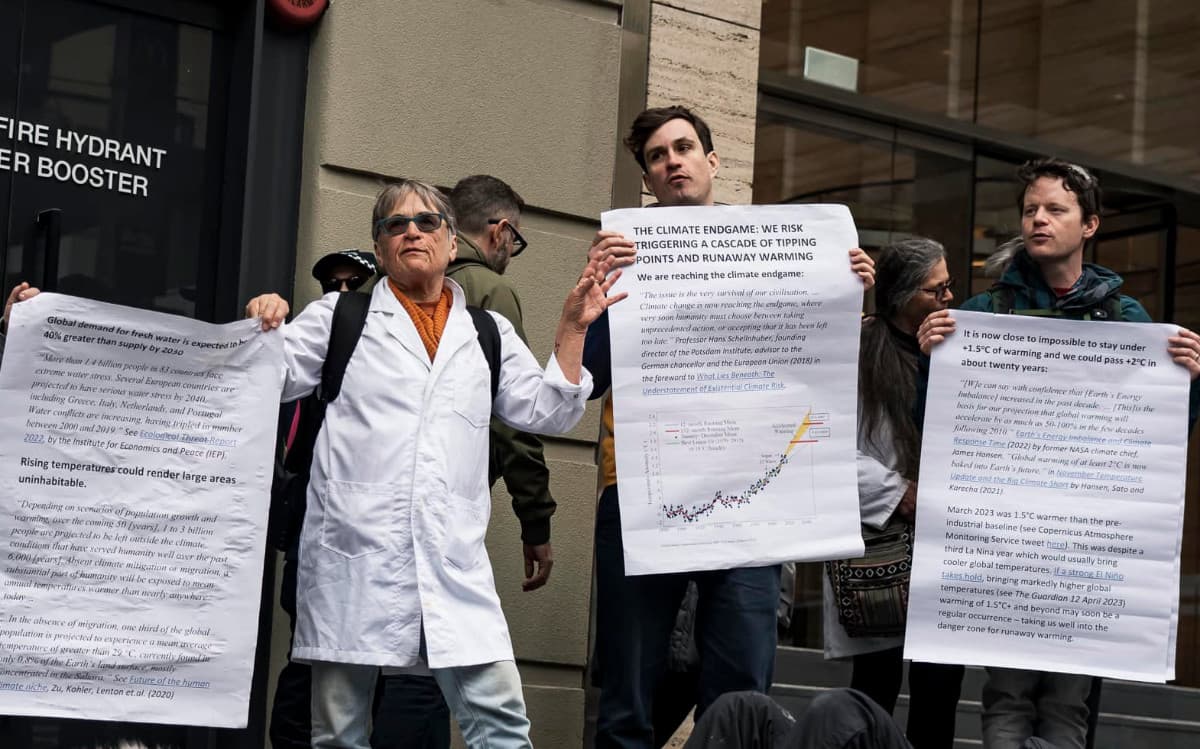 Meanwhile Parliament Gardens was the location for workshops, talks and a camp kitchen for hungry protesters as well as the starting point of disruptive actions over the next few days.
The second day of Occupy for Climate was National Sorry Day. In recognition of the Stolen Generations, Extinction Rebellion did not conduct disruptive actions in Melbourne's CBD in the morning. Instead a series of workshops and Non-Violent Direct Action (NVDA) training was held in Parliament Gardens in the morning and later that evening.
Climate activism is not just about protesting against what we don't want; it's also about articulating a vision for a better world – a world where we care for our planet and each other, uplift the voices of everyday people and share in creativity and community. This was the theme for Friday's Resistance is fertile pop up protest - highlighting the possibilities of living in a world that prioritises regeneration over extractivism.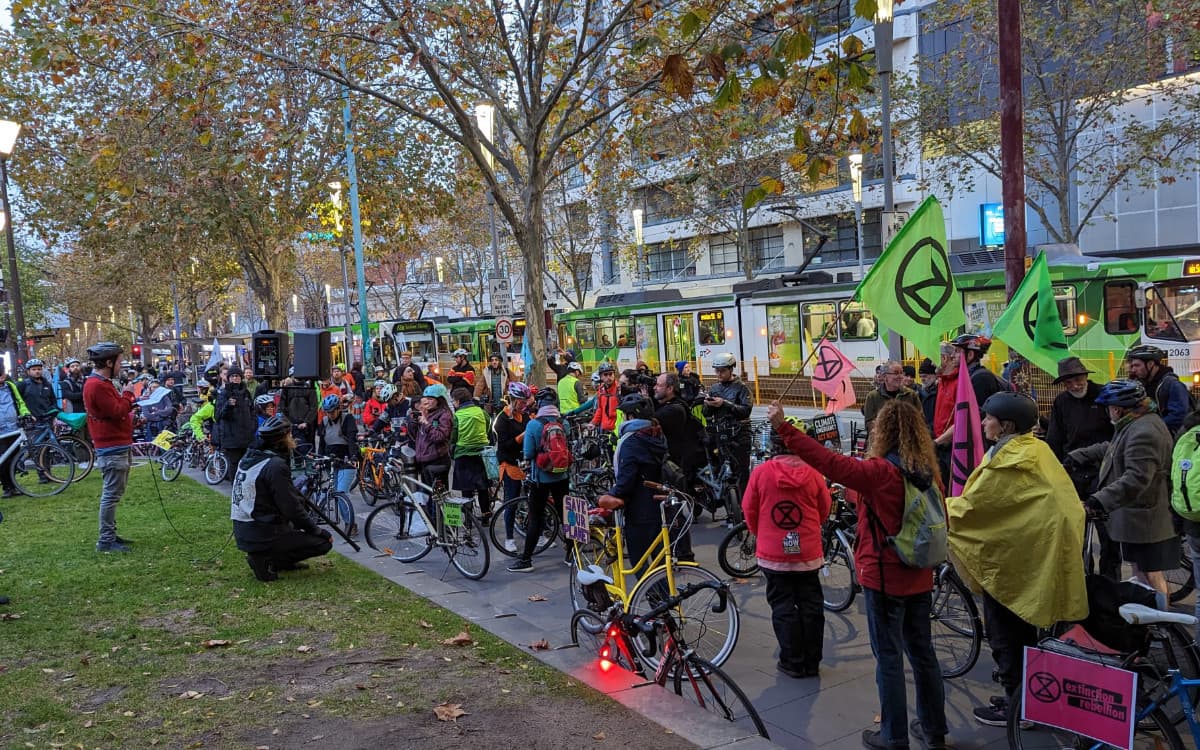 We know that 'business as usual' cannot continue in the way it has since the industrial revolution. It is a dead end and we are about to hit the wall, where things will start to collapse, unless we make deep and rapid changes to the way we live on this planet. It's time to start imagining alternative ways of living in healthy harmony with the natural world and each other.
Also on Friday, XR Pedal Rebels combined with Stonnington, Merri-bek and Bike West Bicycle User Groups for the latest Critical Mass community bike ride in the Melbourne CBD. The event, covered by Channel 9, drew attention to the impact of transport on the climate and ecological emergency. Hundreds of cyclists rode together to protest the lack of safe cycling infrastructure in our city, and the need to decrease the emissions caused by transport.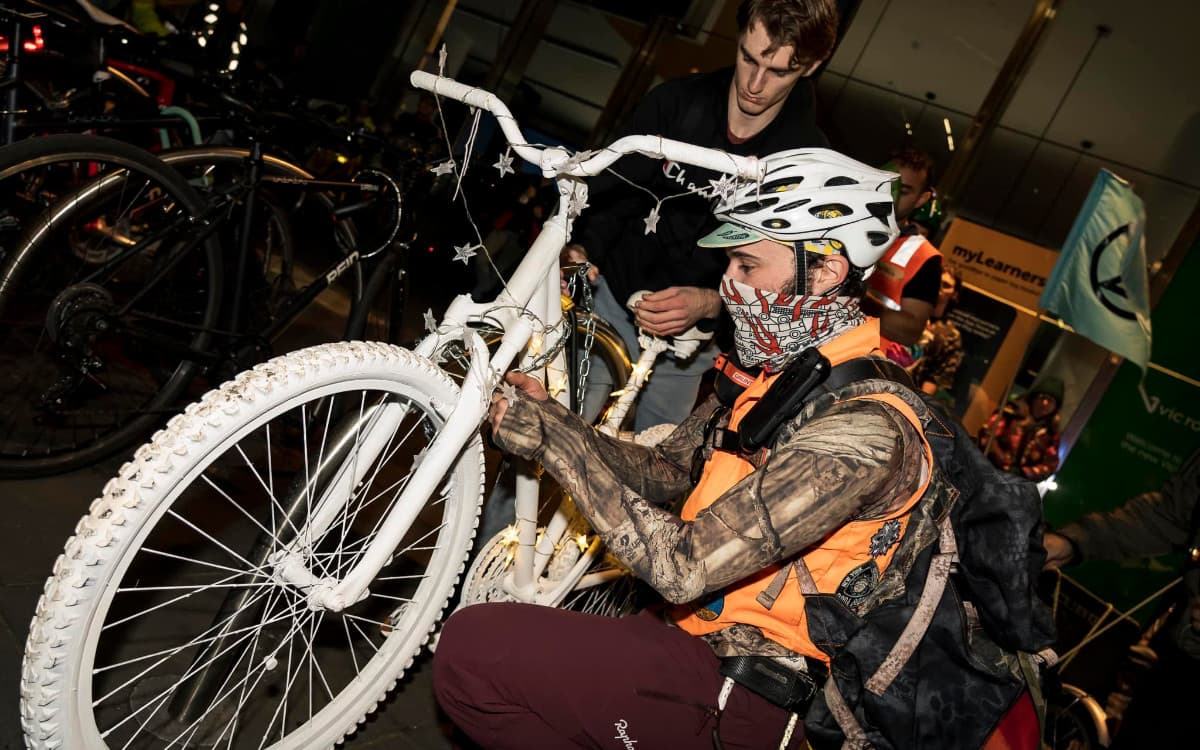 While it was an overall a very joyful event, a solemn moment was spent in front of VicRoads, where a ghost bike was installed. Riders attached five padlocks to the bike, in memory of the five cyclists killed in Victoria this year.
The third day of Occupy for Climate included a flotilla of canoes on Birrarung (the Yarra), each with a sheet of corflute, 'rafted up' and displayed two messages – CLIMATE ACTION NOW then WE'RE UP SHIT CREEK.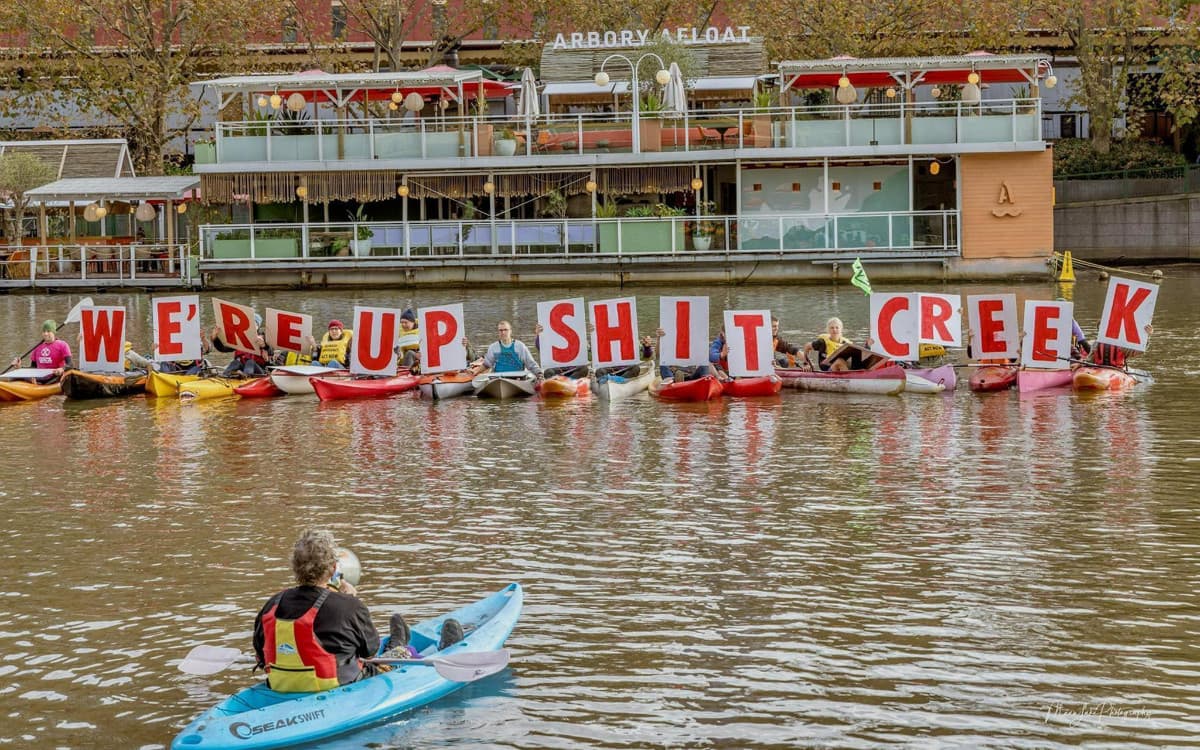 Later in the day, a very Slow March for Climate Justice through the city disrupted the CBD for over two and a half hours. Blinky the burnt koala, Miss Beehave, the Red Rebels and the Sybils accompanied hundreds of rebels and supporters through the streets.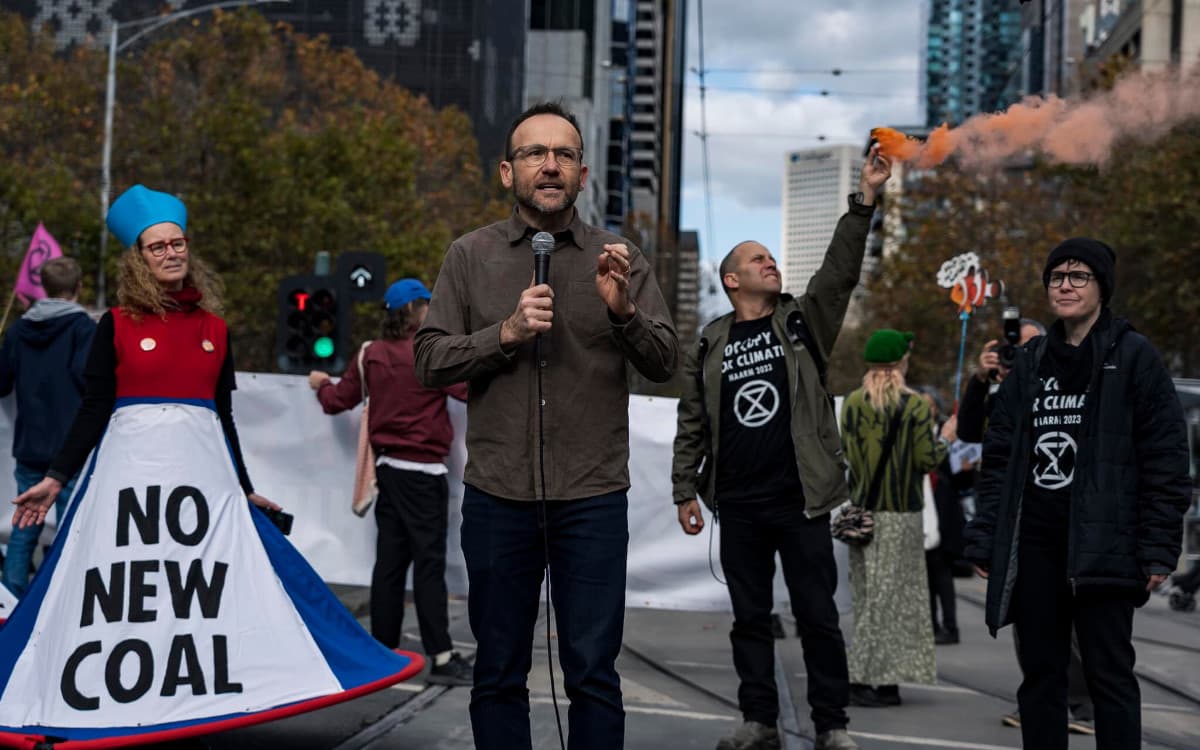 Speakers Adam Bandt (leader of the Australian Greens and federal MP for Melbourne), Tami Gadir (Solidarity Melbourne), Jacob Andrewatha (Socialist Alliance Melbourne), Alex O'Connell (XR Vic), Joey Thompson (School Strike 4 Climate), Flick Law (Kinglake Friends of the Forest Inc) and Xavier Dupe (Uni Students for Climate Justice) gave rousing speeches along the way. Photos of the Slow March are by Matt Hrkac.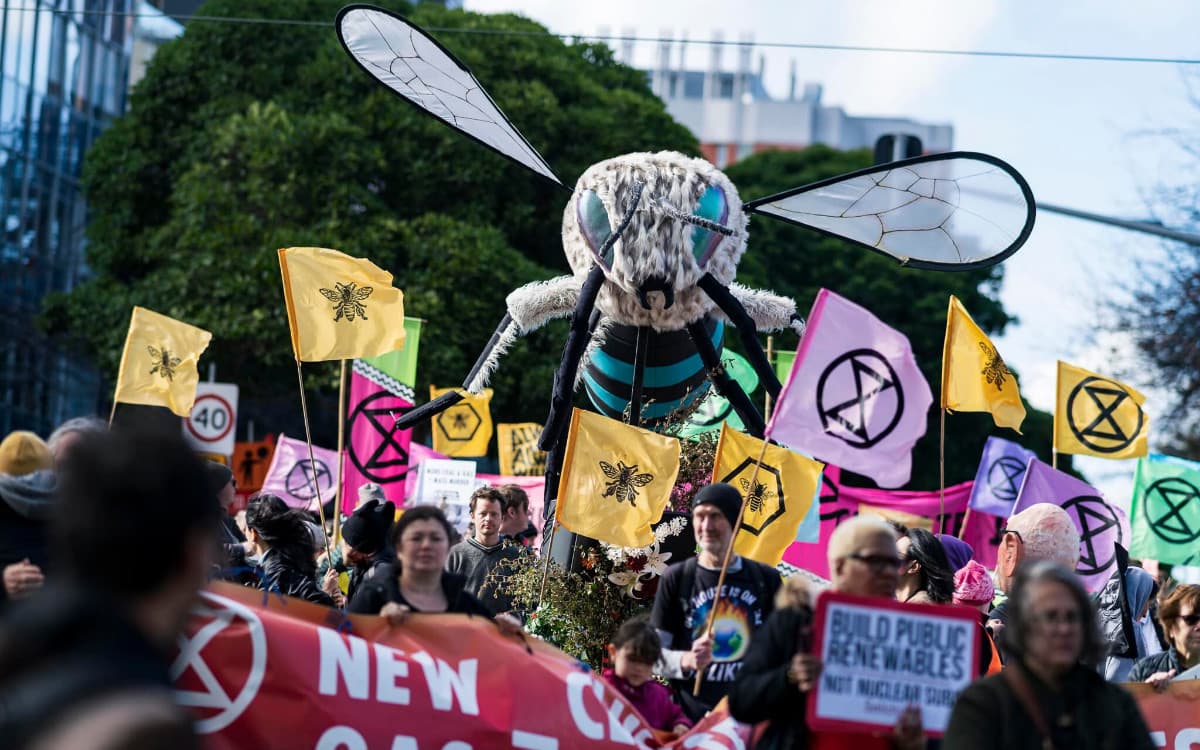 Slam on the brakes! We're on a Highway to Hell! Extinction Rebellion rebels took to the streets on Friday evening in an Oz Rock Block Party calling for immediate action on the climate emergency.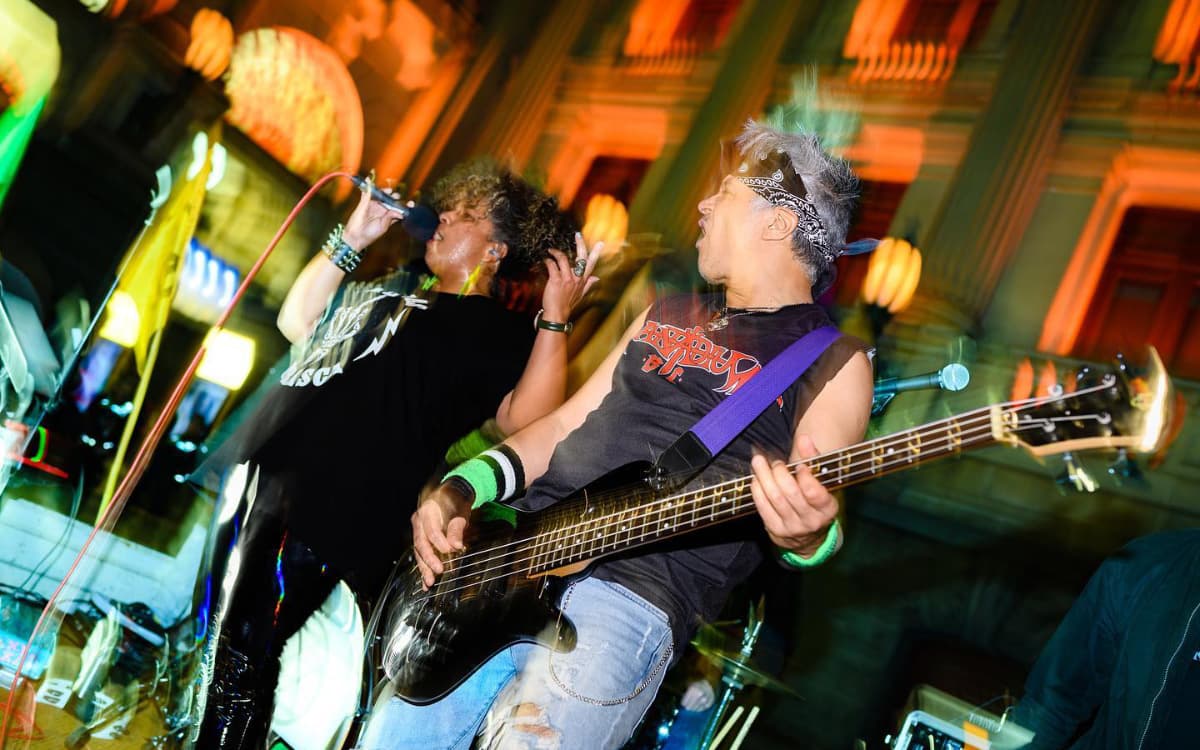 Extinction Rebellion rocked their way from Parliament Gardens into the middle of Melbourne CBD where they were met by band X-GENZ on the back of a truck for an Oz Rock mosh pit. See the live footage of the action. Photos of the Oz Rock Block Party are by Julian Meehan.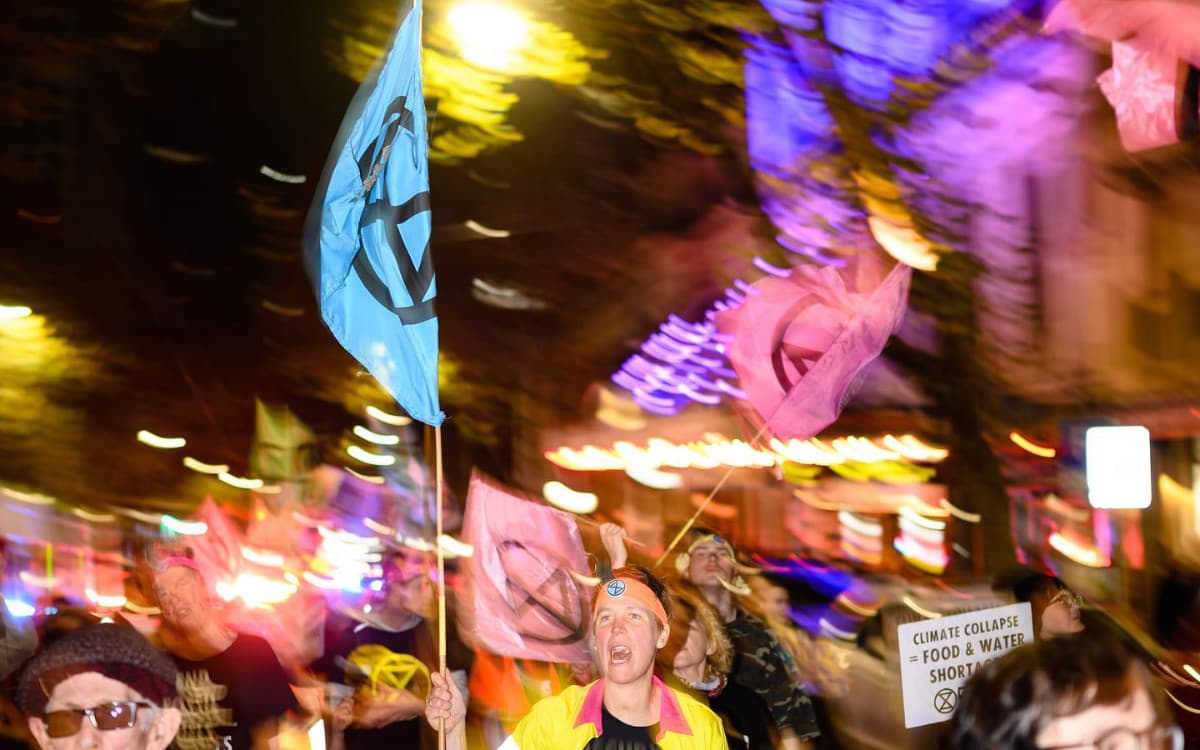 Climate chaos equals societal collapse! On Sunday morning a courageous Extinction Rebellion activist was hanging from Princes Bridge with a rope across the bridge stopping traffic.
Life as we know it is hanging by a thread so that is how XR Vic wound up Occupy for Climate - an exceptional effort by rebel Sam and all involved considering how tired and everyone was after a massive few days, and months of preparation.
This is what it takes to draw attention to the climate emergency. It's not democracy when fossil corporations fund our major parties and call the shots.
Miriam Robinson from Extinction Rebellion said: "We are in the climate 'endgame' now. The disruption we saw during two years of COVID lockdowns, isolation, home schooling and shortages, was just a little taste of what is to come if we let the climate run out of control. The disruptions will be far more severe, and the shortages won't be temporary. Yet, our governments, at all levels, continue to treat the 'hyperthreat' of climate collapse as a side issue. They responded with urgency to the COVID pandemic and took scientific advice, but continue to dawdle and squib and make excuses on climate action.
"We know that business as usual is a dead end, yet we continue to expand fossil fuels. We are already seeing a reduction in food production yet we frack good farming land. We know fresh water is becoming scarce globally, but we use gigalitres of it to wash coal.
"Governments need to start listening to the experts: First Nations people who cared for this land sustainably for tens of thousands of years, and the scientists who have been patiently telling us for decades that our future is not safe unless we wake up and save ourselves.
"While some people may criticise XR for being annoying and interrupting their daily commute, we say to them: one day you will thank us. For those who say it's the wrong way to go about things, we say at least we are doing something. If you have better ways to get the urgent change we need, we are happy to hear them."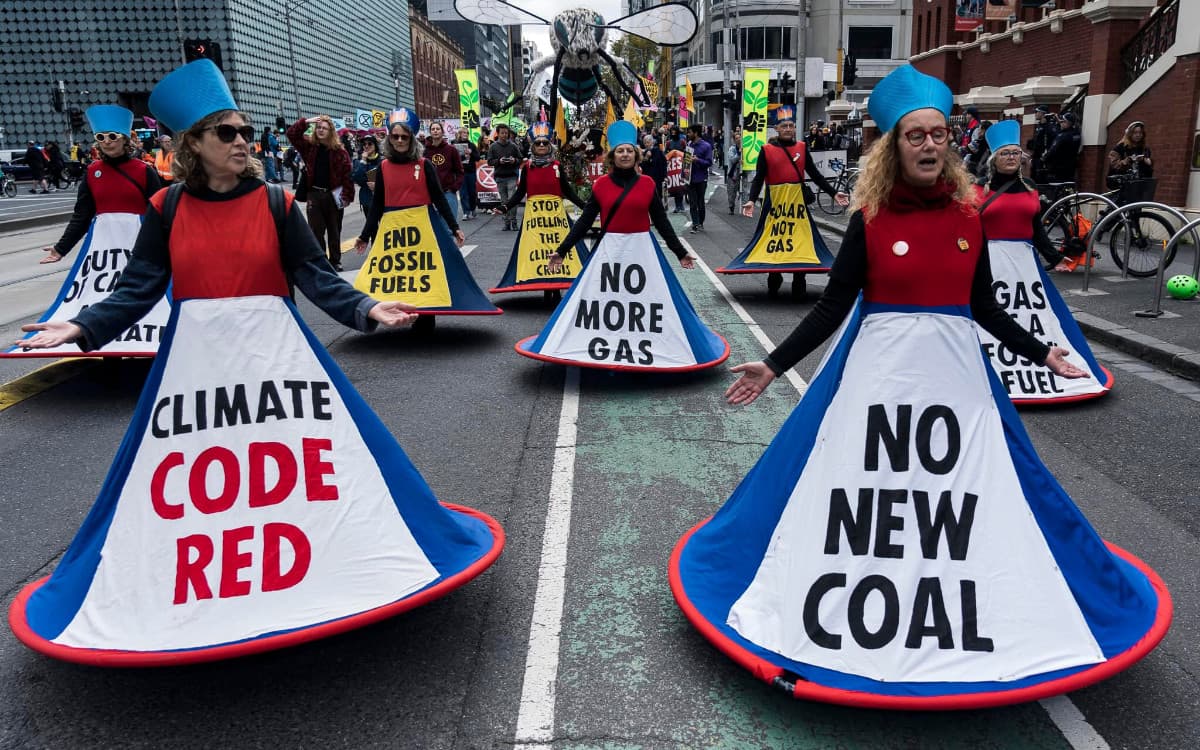 ---
Get involved