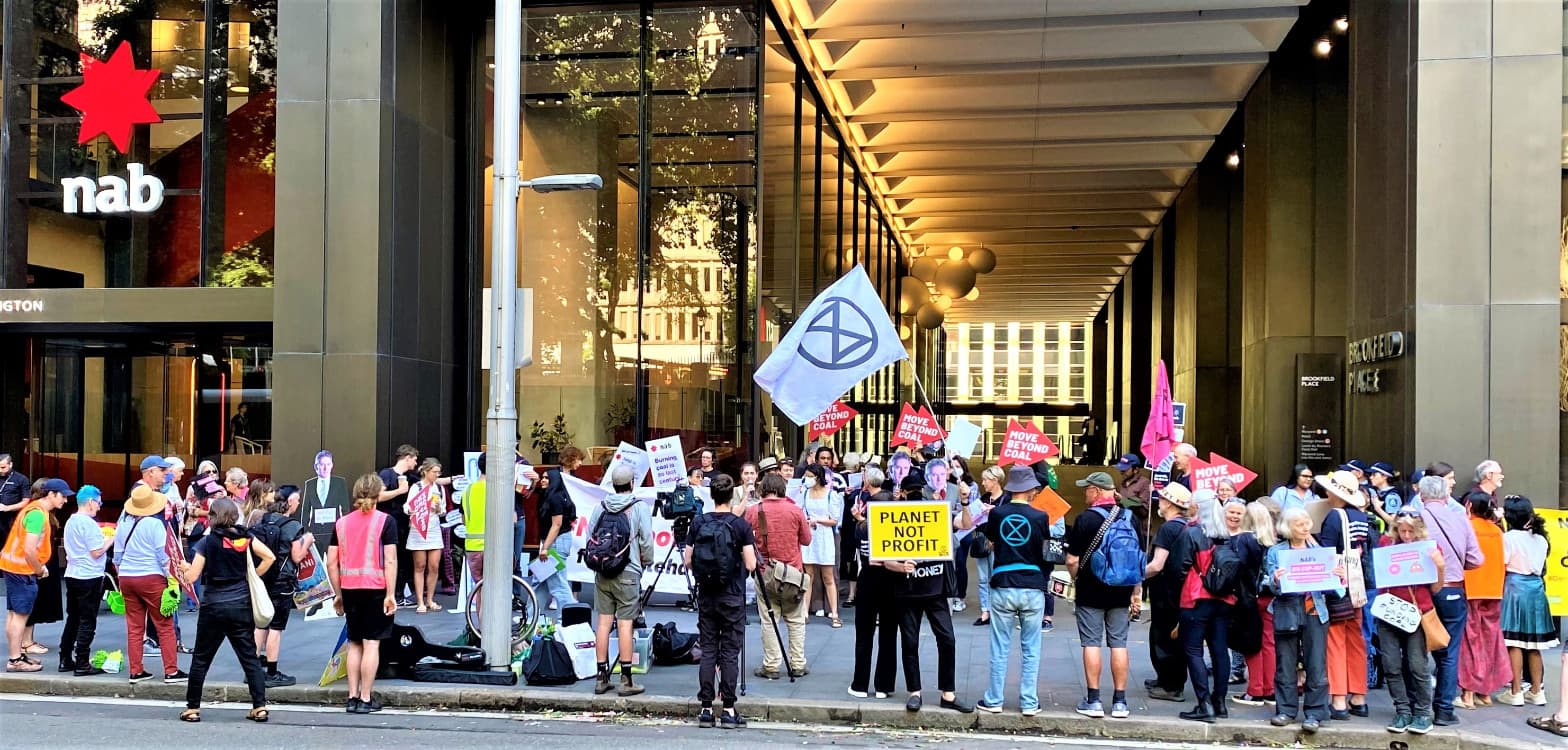 NAB - stop funding expansion of coal
Extinction Rebellion Australia, 11 Nov 2022
Fridays for Future, Move Beyond Coal, Extinction Rebellion, Knitting Nannas and others gathered in Sydney today to expose NAB's climate hypocrisy and greenwashing.
Actions were held outside NAB HQs across Australia as part of a week of action initiated by the Move Beyond Coal campaign, and supported by other climate groups. Move Beyond Coal is a community campaign with roots in the #StopAdani movement.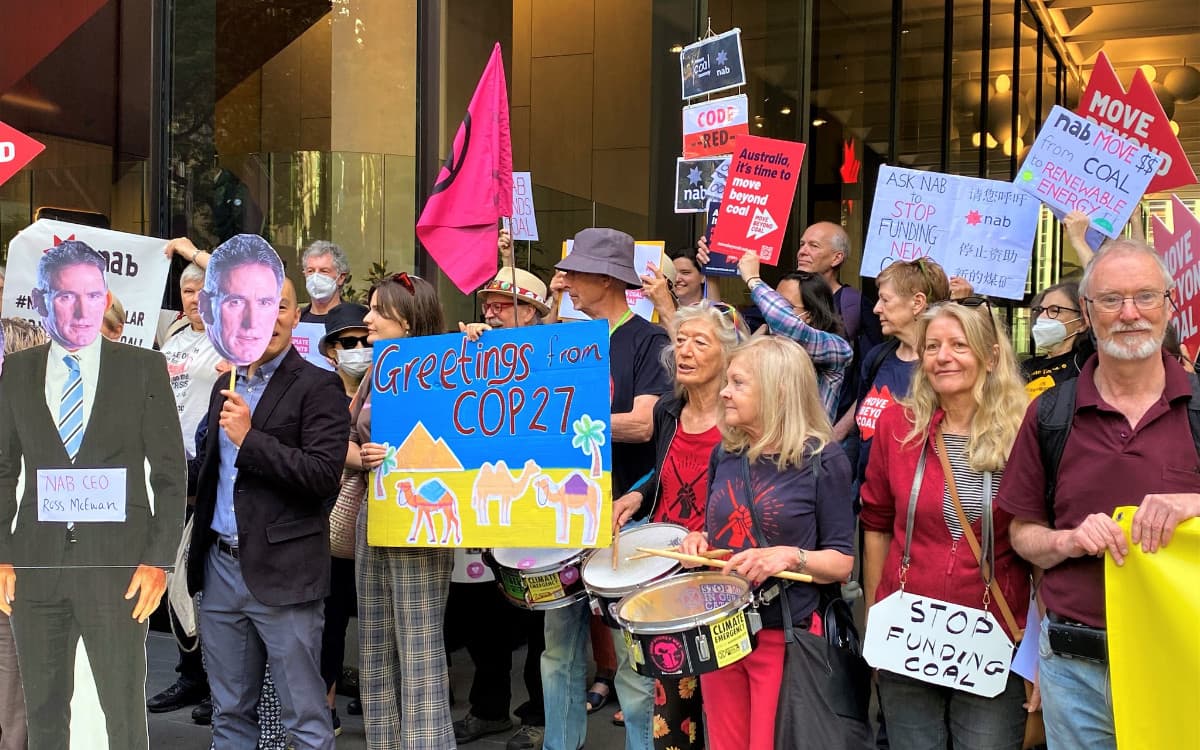 Activists from Climate Action Hobart, the Tasmanian Climate Collective and Move Beyond Coal were amongst those joining the week of action, in a protest outside the NAB Hobart Branch.
Susan Austin from Climate Action Hobart said "NAB are relying on loopholes in their policies to get away with this. We know that to avoid a massive escalation in climate catastrophes, like the droughts, fires and floods that have already been wreaking havoc in Australia, we need to leave fossil fuels in the ground and rapidly transition to renewables."
Susan Hoult, a local activist with Move Beyond Coal, said "Even the International Energy Agency says that there can be no new coal, oil or gas projects, from now, if the global energy sector is to reach net zero emissions by 2050, which NAB says they are committed to. Today we are calling on NAB to stop hiding behind spin and live up to their own declarations. NAB must stop funding Whitehaven Coal and other new fossil fuel projects"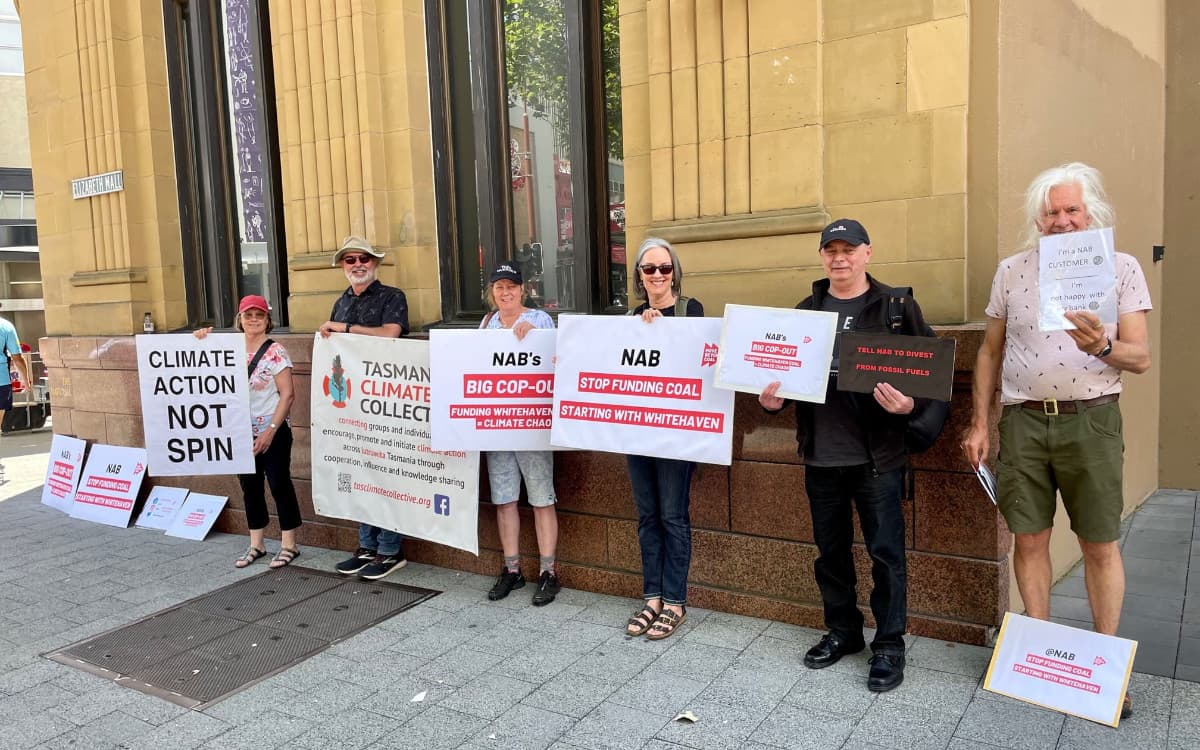 In the same week the UN Secretary General slammed companies and governments for greenwashing, NAB released a 2022 Climate Report that flies in the face of global efforts to protect people and nature from catastrophic climate change.
NAB are funding Whitehaven Coal Mining - a company with plans to double their coal production with three new projects by 2030 - while also spruiking their net-zero by 2050 commitments.
"Australia is one of the world's largest exporters of coal – the number one cause of climate change. Right now, corporations are planning to dig more new coal projects in Australia than anywhere else on the planet.
It doesn't matter where Australia's coal is burned, people everywhere are facing the impacts here and now, with catastrophic floods, bushfires, heat waves, droughts, and more extreme weather events. We have a responsibility to act." — Move Beyond Coal campaign website
---
Get involved