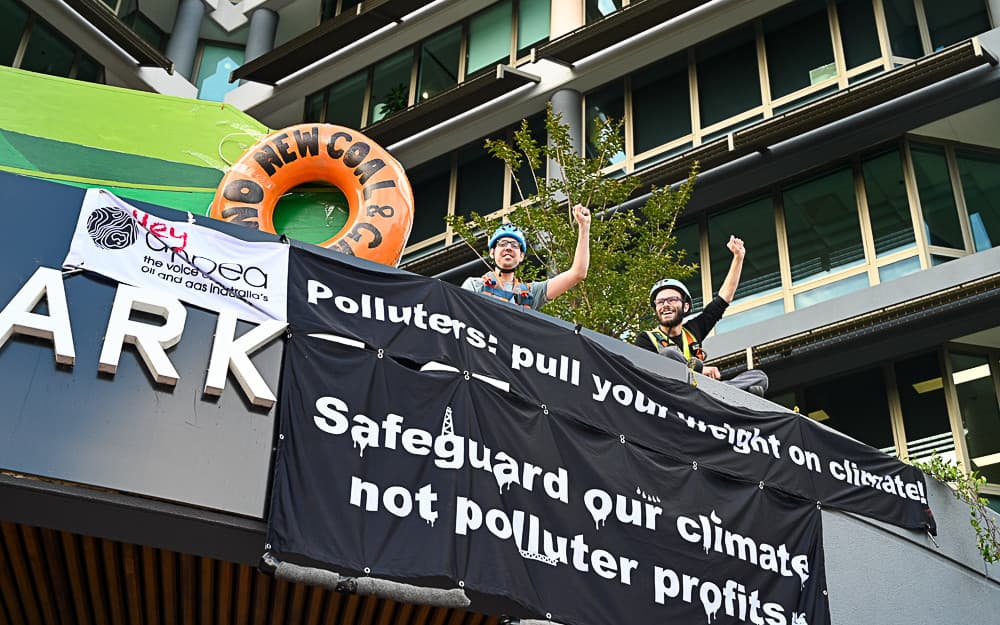 Lismore floods, one year on
Extinction Rebellion Australia, 1 Mar 2023
Extinction Rebellion actions across Australia commemorated the floods that devastated Lismore in 2022. We are in a climate emergency and our governments are fuelling the crisis.
In the ACT, XR activists blockaded the Canberra building that houses APPEA HQ, the mouthpiece of the gas and oil industry. Rebels blocked and glued on to the front entry to the building, and climbed onto the balcony for a banner drop.
Banners on display read:
Polluters pull your weight on climate
Clean up the dirty dozen polluters
Our future is floating away
Stop the lobbying
No more fossil fuels
Stop Fossil Fuel Subsidies - $22K per minute
We're drowning in Fossil Fuels
Safeguard our climate not polluter profits
Fossil Fuels cost the Earth
You can't "Offset" the climate crisis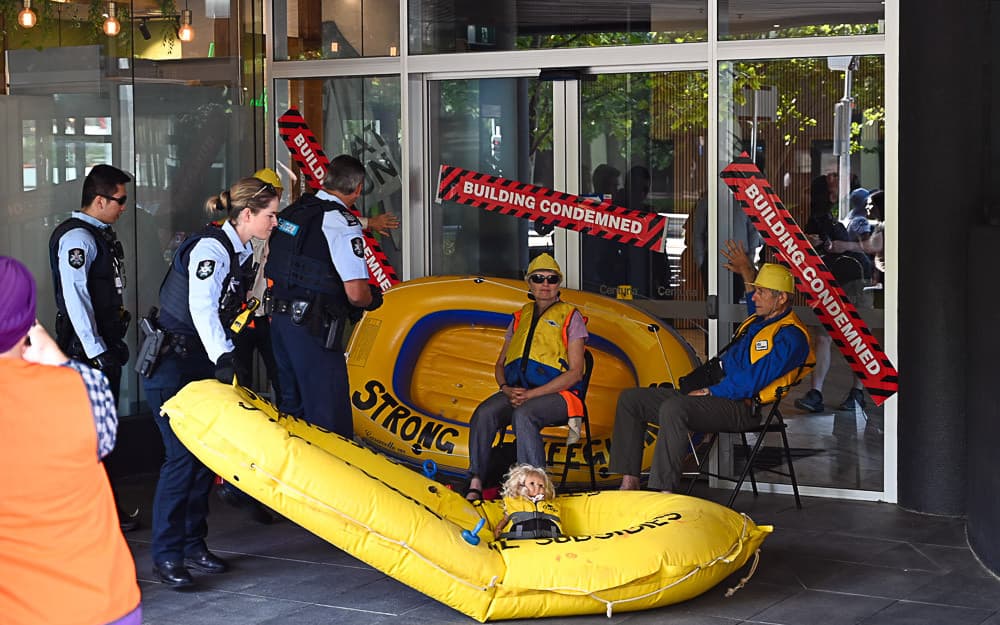 Five rebels were arrested, including grandparents, a climate research scientist and concerned citizens, all risking their liberty to disrupt the business of fossil fuels and show solidarity with Lismore's flood victims, especially the 6,000 who are still waiting to hear about rehoming.
Dr Nick said "I'm a grandfather and a research scientist in climate adaptation to sea level rise and river flooding with CSIRO and now the ANU, but as I'm reaching my eighties my main job has become civil disobedience. People criticise XR for being too disruptive, but polite does not work. We have tried polite. Over the past month, XR ACT worked alongside seven community climate organisations on the 'Dirty Dozen' campaign to directly deliver and publish open letters to APPEA and sought meetings with elected representatives, urging stronger policy on climate."
Another protester spoke on the social media live stream about aggression towards protesters from some people who were inconvenienced by the action. This clearly wasn't pleasant but she was undeterred and full of spirit. Participants in these actions find the bravery they need because it is indeed a matter of life or death. We cannot ignore the extreme crisis the world is facing.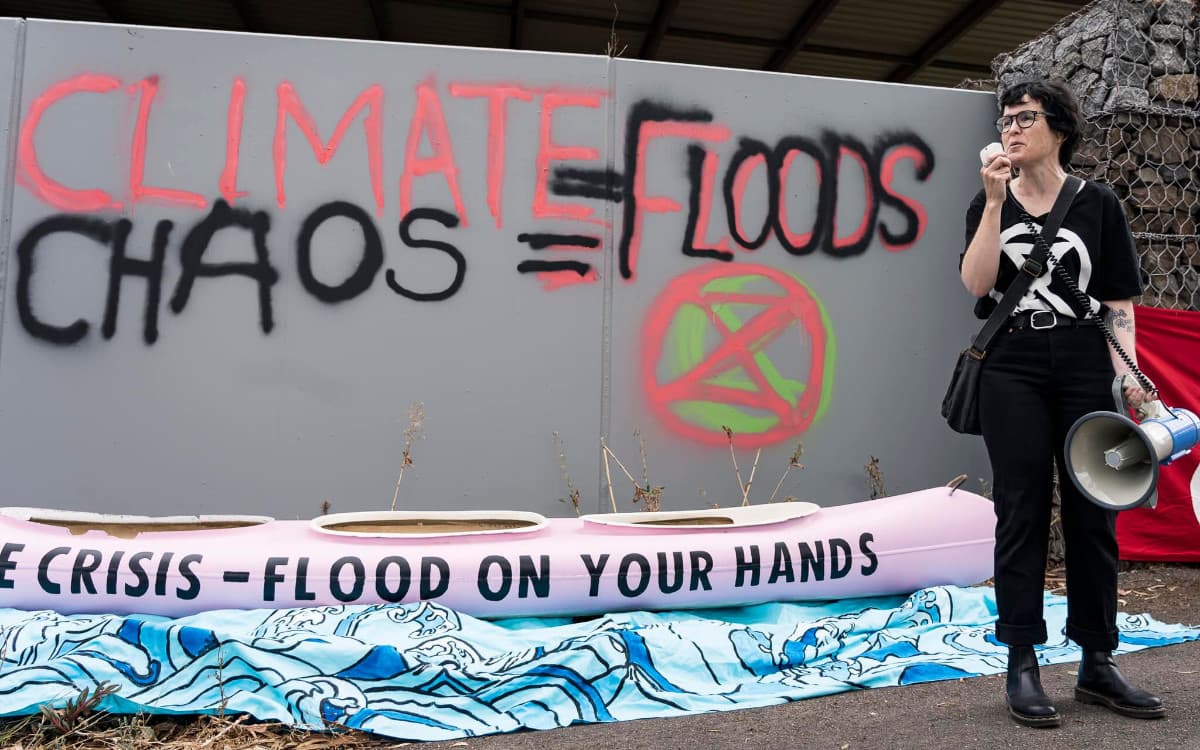 Rebels in XR Victoria staged a protest outside the Flemington Racecourse, an area hit by the recent flooding of the Maribyrnong River. Extinction Rebellion Vic organiser Catherine Strong said:
"The government has a duty to support its citizens in times of crisis. But instead of helping those who are suffering, they are ignoring them. We are here to demand that they take action and provide the necessary support to the flood victims."
The action featured a kayak symbolizing the 'tinny army' of ordinary citizens who worked tirelessly to rescue those impacted by the floods, saving many lives, when Emergency Services were unable to assist.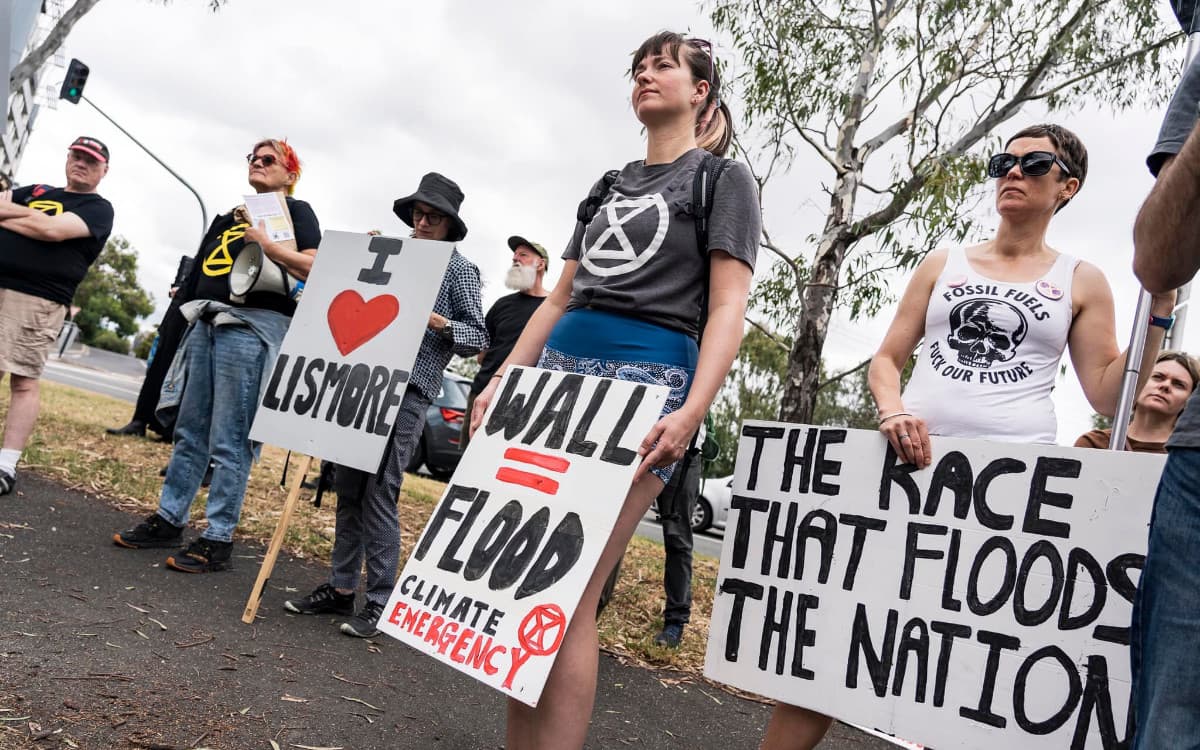 Meanwhile in Sydney, a banner drop and 'flood-in' at Sydney University, was enacted by students from the SRC Environment Collective and community members.
Rebels from XR South Australia set up tents in central Adelaide's Rundle Mall, along with inflatable boats and displayed giant posters showing scenes of flood devastation. The action expressed support of the victims of the NSW Northern Rivers floods who are still waiting for help. These people were abandoned and left to save themselves. People's homes, livelihoods and hopes were swept away in last year's climate driven floods, yet governments continue to subsidise the fossil fuel industry with taxpayer funds at a rate of $22,000 per minute, every minute of every day, and more than $11 billion a year.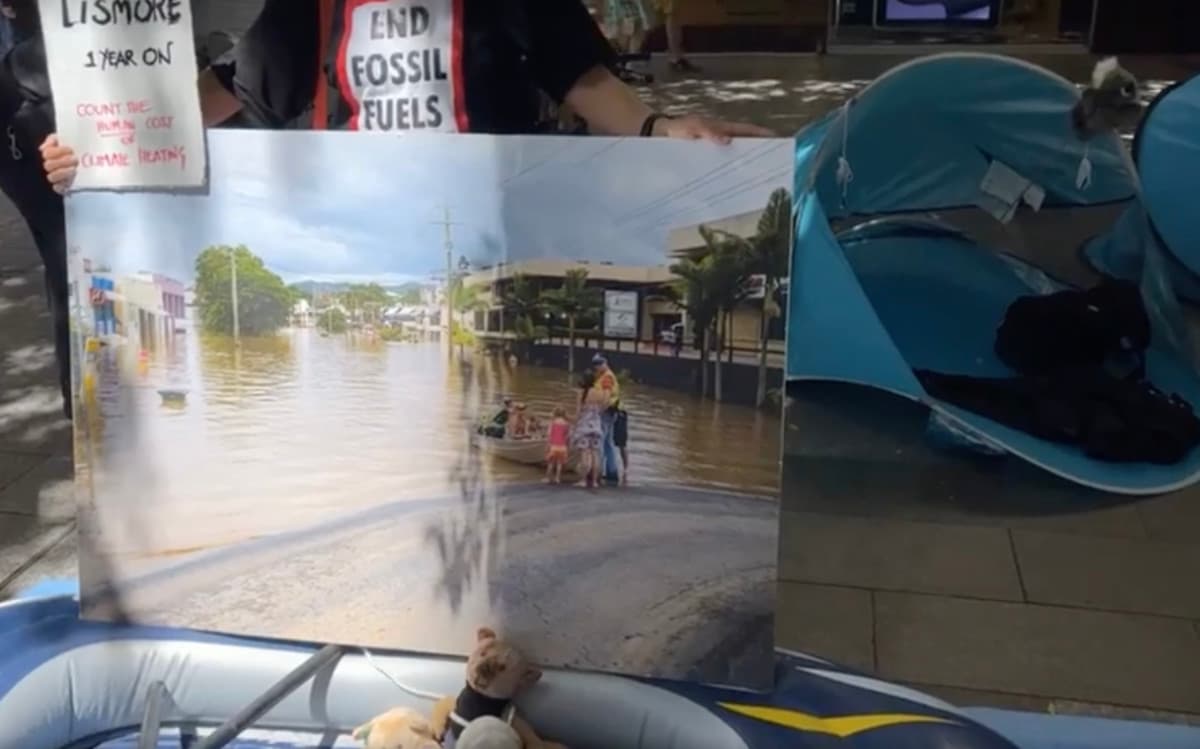 XR Queensland rebels projected images of flood devastation against a building in Brisbane's CBD in an action commemorating victims of climate on breakdown.
The series of photos showed flooding in Eastern Australia 2020, Fitzroy Crossing WA in Dec 2022, Lismore NSW and Brisbane Qld in March 2022 and Tara, Qld in Feb 2023. The action was especially in solidarity with Lismore, still suffering effects from the repeated floods of 2022.
More than 4 thousand Lismore homes became uninhabitable while around 10 thousand were damaged. Lismore residents suffered and will continue to suffer trauma. A year on, 52% of those people in Lismore are living in the shell of their flooded homes. 26% are living in caravans, in pods or in sheds, and 20% of those affected by the floods are still living in tents or in insecure accommodation. The remaining 5% of those affected by floods have left Lismore. The government is negotiating to buy back around 6 thousand homes, but otherwise very little is happening.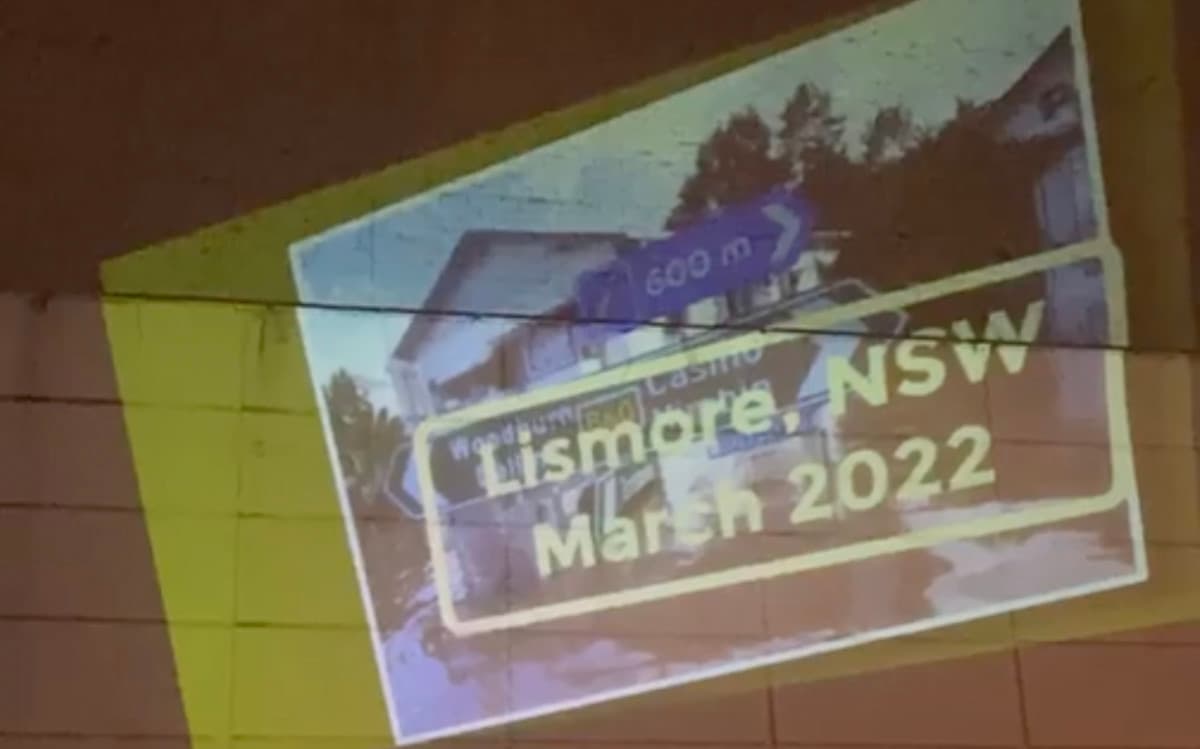 Government support has been unimpressive and late to arrive. Many residents in Lismore have been left feeling abandoned by the government, which has failed to provide adequate support for those affected by the disaster.
The blame for these climate-driven disasters can be laid squarely on the fossil fuel industry. Yet Minister for the Environment and Water Tanya Plibersek has approved new gas exploration; 117 fracking applications in QLD alone. The fossil fuel industry gets an outrageous amount of support from the government, while making obscene amounts of money. In the last year, Woodside trebled its profits while Santos profits almost doubled.
In effect, the government is giving fossil fuel companies taxpayer money to destroy our lives and any future for our children.
---
Get involved