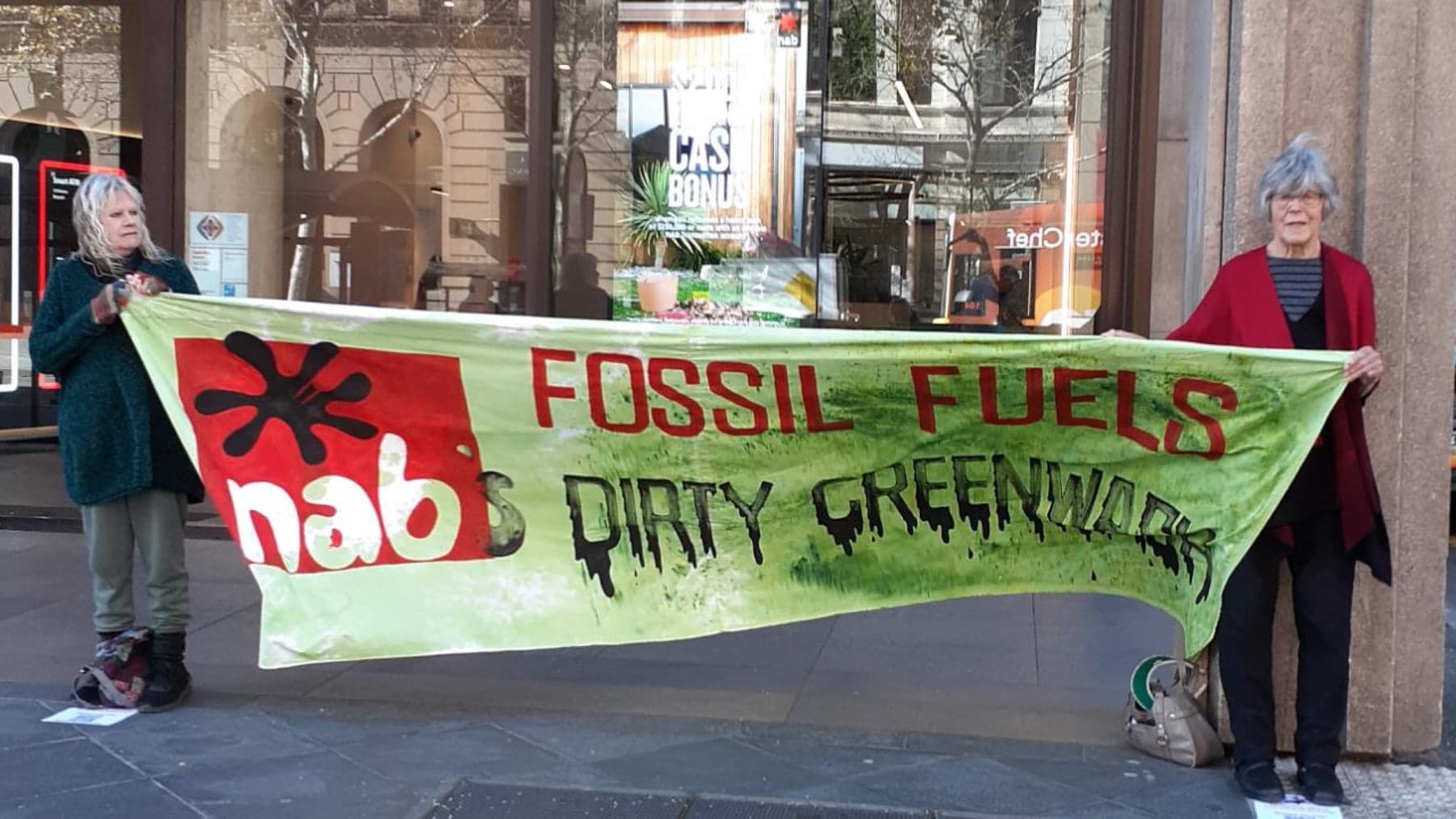 It's time for NAB to price the risk of climate chaos
Extinction Rebellion Australia, 17 July 2021
NAB has lent over $7 billion to fossil fuels in the last 5 years. Will it continue to invest in industries driving the climate crisis? With a critical policy announcement due in September it's time they reconsidered.
Over the last 5 years, the Big Four banks (ANZ, Westpac, CommBank & NAB) have lent over $35 billion to fossil fuels. They are a key pillar of support for the fossil fuel industries which are the #1 cause of climate damage. All Big Four banks claim to support the goals of the Paris Climate Agreement to limit global temperature rise to 1.5°C, yet are doing the opposite by continuing to support a huge expansion of fossil fuel industries.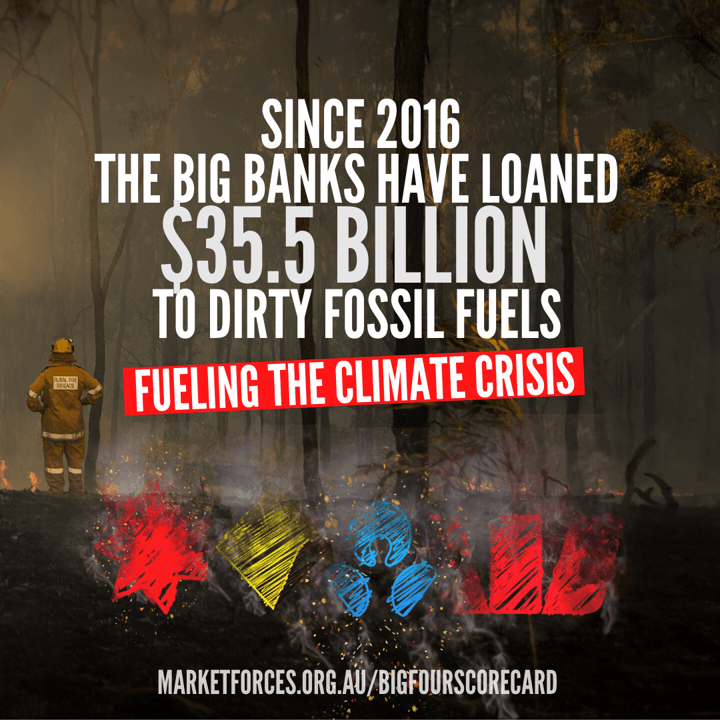 People-powered campaigns have won numerous campaigns against them. The banks have branches everywhere and are the perfect target for a national grassroots network.
Earlier this year The Guardian reported that ANZ had decided to stop lending money to Australia's biggest coal port, the Port of Newcastle, after adopting new policies that prohibit it entering new finance deals for customers with significant exposure to the fossil fuel. Ben Butler and Adam Morton wrote that
"Emma Herd, the chief executive of the Investor Group on Climate Change, said an irreversible shift was occurring across the economy as major financial institutions priced the risk posed by climate change into their decisions."
Global Money Rebellion is a growing international campaign against the financing of fossil fuels and ecocide, and Don't NAB Our Future is the Australian chapter of this campaign.
Why NAB?
NAB has proven to be one of the worst, recently making a number of terrible decisions to increase its support of massive fossil fuel projects. In September, NAB is releasing its new Oil & Gas Policy, which presents a great opportunity to build pressure on key decision makers. By singling out one of the Big Four and winning, we can create a domino effect by then going after the others.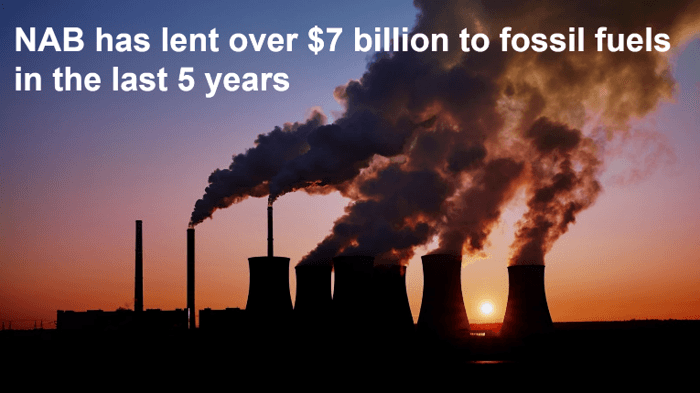 This year, critical decisions will be made by NAB about its oil and gas investments
How we win
The Stop Adani campaign showed that it is possible for a grassroots movement to take on the Big Four and win. By talking to bank staff and engaging in a range of creative and disruptive tactics, the Stop Adani campaign was able to build huge internal resistance within the banks and ultimately force them to rule out financing the Adani coal mine.
The Big Four banks rely on misinformation to deliberately misrepresent their climate credentials to staff and customers — claiming that they are aligning their investment decisions with the goals of the Paris Climate Agreement. By Telling the Truth to staff, we can build enormous pressure on NAB's leadership team to cut the spin and start actually doing what they claim to be doing.
What's at stake
This year, there is a massive government-supported push to expand the methane gas industry. In particular, key investment decisions will be made on the Burrup Hub in Western Australia — the single most polluting fossil fuel project ever attempted in Australia's history.
Other major fossil fuel projects, like Beetaloo Basin in the NT and Santos' Narrabri Gas Project in the Pilliga forest will also soon need finance before they can proceed.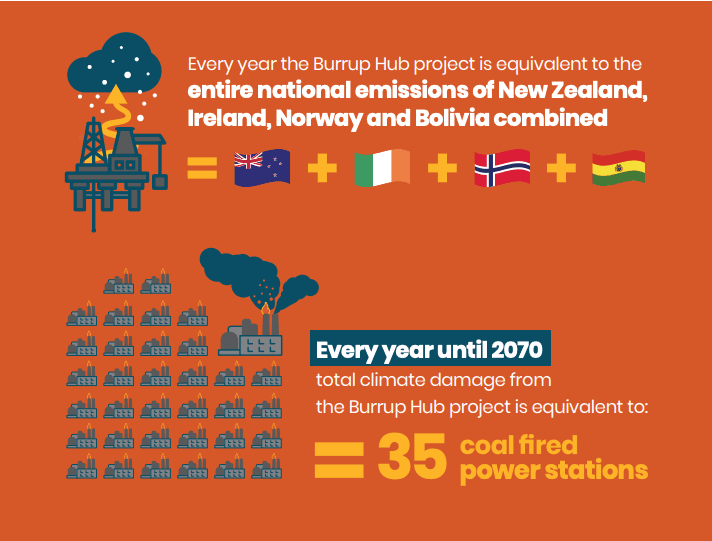 What can I do?
The best thing you can do is adopt your local NAB branch, use the resources in this kit, and start doing outreach events to tell the truth to staff and customers. Over time, you can build a team, escalate to some more fun, creative ways to get attention, and lastly engage in disruption of NAB branches, ATMs and events (if you're up for it!). Local groups around the country are taking action.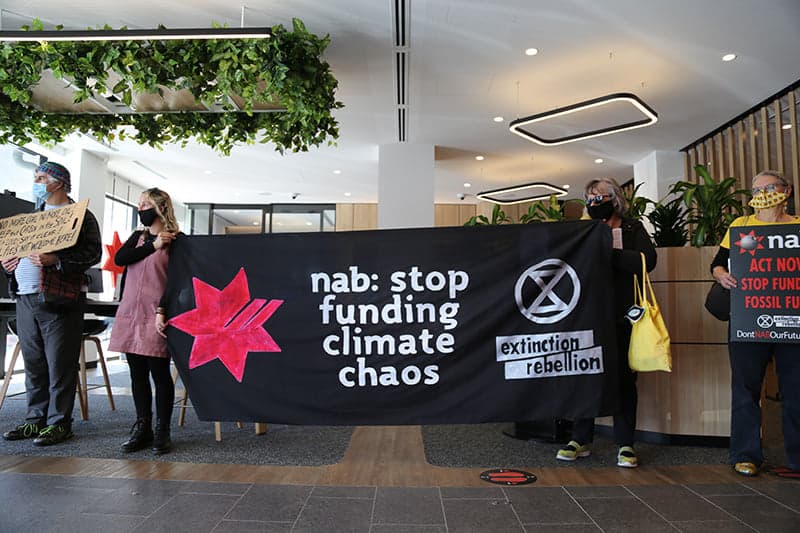 XR NAB protest West Newcastle
In July the Knitting Nannas and Extinction Rebellion joined forces for an empowering occupation of NAB Newcastle West. They occupied inside the branch for an hour and have vowed to return, in response to the NAB executive's ongoing failure to rule out funding fossil fuels.
-----
ACT NOW
NAB Staff:
Ask your manager if NAB's leadership disputes any of these facts
Do our fossil fuel funding survey
Show this website to your colleagues
NAB Customers:
Ask your local branch manager if NAB's leadership disputes any of these facts
Do our fossil fuel funding survey
General public:
Do our fossil fuel funding survey
Sign our online petition
-----
Learn more
Don't NAB our future website
Loads of resources and information at the UK Money Rebellion site
Watch Can Economics Help Us Save the Planet? Part 1 | Economics for People with Ha-Joon Chang
#DontNABourfuture
#NoNewGas
#NoNewCoal
#ClimateEmergency