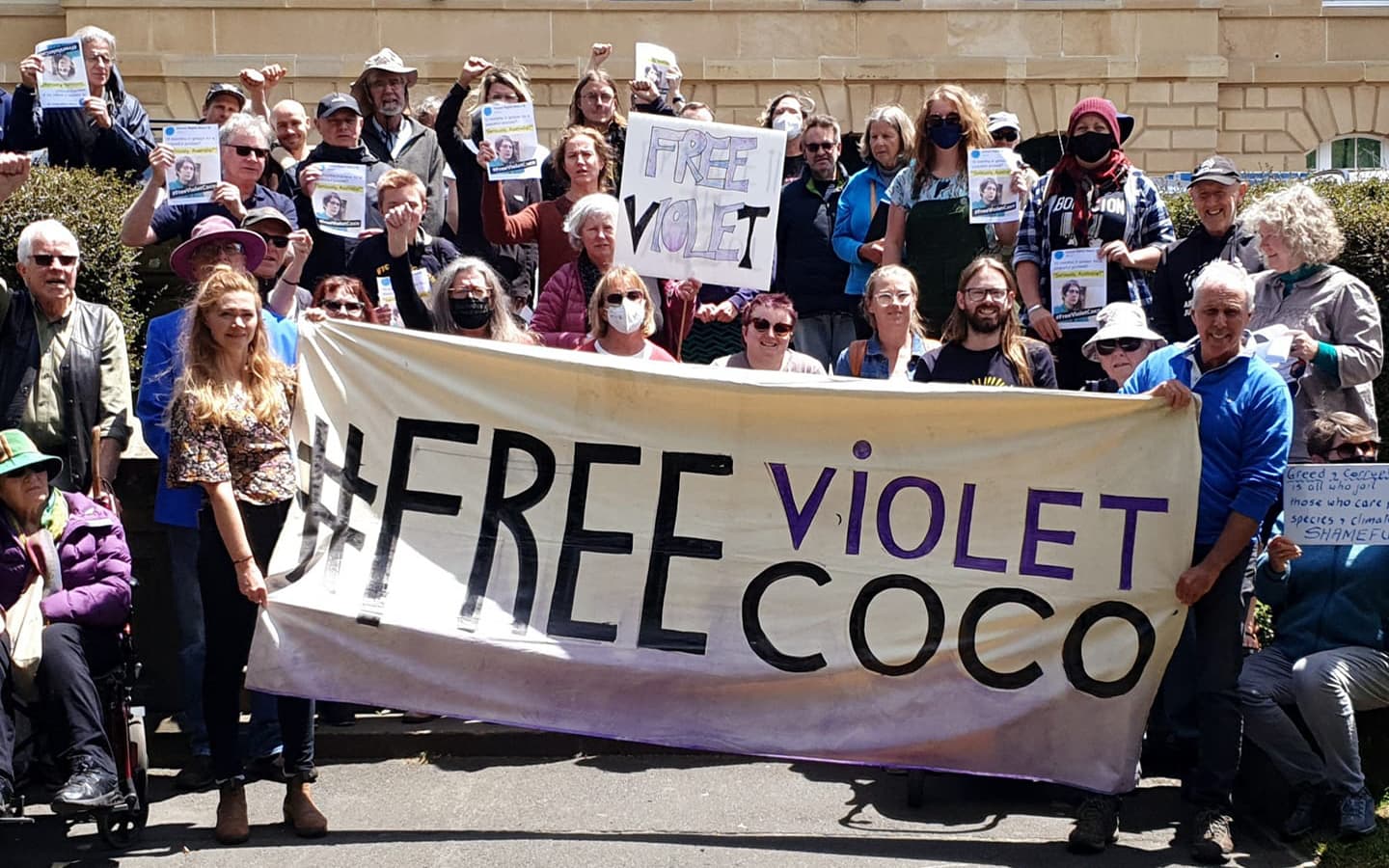 Climate protesters targeted by judicial and state intimidation
Extinction Rebellion Australia, 7 Dec 2022
Activist Violet Coco has been sentenced to 15 months jail with a non-parole period of eight months, for blocking one lane of the Sydney Harbour Bridge. This week snap rallies to support Violet were held across Australia.
Steven Donziger, key lawyer on the team that won a 2011 $9.5B judgment against Chevron in Ecuador, said that in his opinion, Judge Allison Hawkins, who sentenced Violet to prison, has done the rule of law a serious disservice.
"Judge Hawkins is for all intents and purposes letting her courtroom be used by the fossil fuel industry to try to silence an adversary trying to save the planet. Worse, she appears to be trying to use that silencing to facilitate the industry's attempt to intimidate others who want to do this vitally important climate justice work."
At the Brisbane support rally, long-time climate activist Marie said: "The Australian taxpayer is forking out $22K a minute to the fossil fuel industry. In the 25 minutes that Violet blocked one lane of five lanes of traffic on Sydney Harbour Bridge, we gave the Fossil Fuel Industry over $550K".
"Our governments continue to approve new coal and gas projects in complete disregard of the warnings of the IPCC. In Queensland, the government says it will still be digging coal beyond 2050."
Rallies to protest Violet's sentencing were also held in Melbourne, Sydney, Perth, Canberra and Tasmania.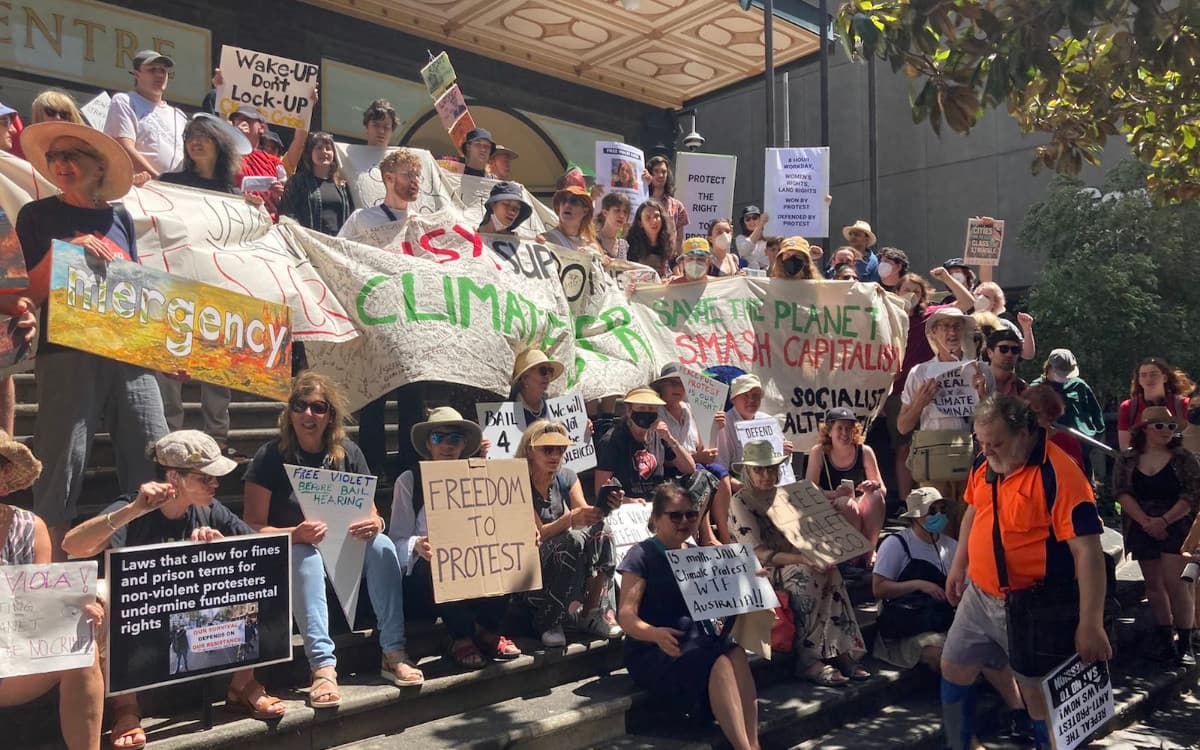 Snap Rally in Perth
Extinction Rebellion rebels took part in a November action in Queensland's Parliament House, dropping banners from the gallery with slogans reading 'End Fossil Fuels Now', 'Qld coal burnt anywhere causes climate hell' and 'Renewables while selling coal and gas = Greenwashing'.
The nine rebels became the first people since before the Fitzgerald Inquiry to be charged under legislation brought in by the right-wing Jo Bjelke-Petersen regime. The charge of 'disturbing the legislature' carries up to three years in prison, and hasn't been used for 30 years.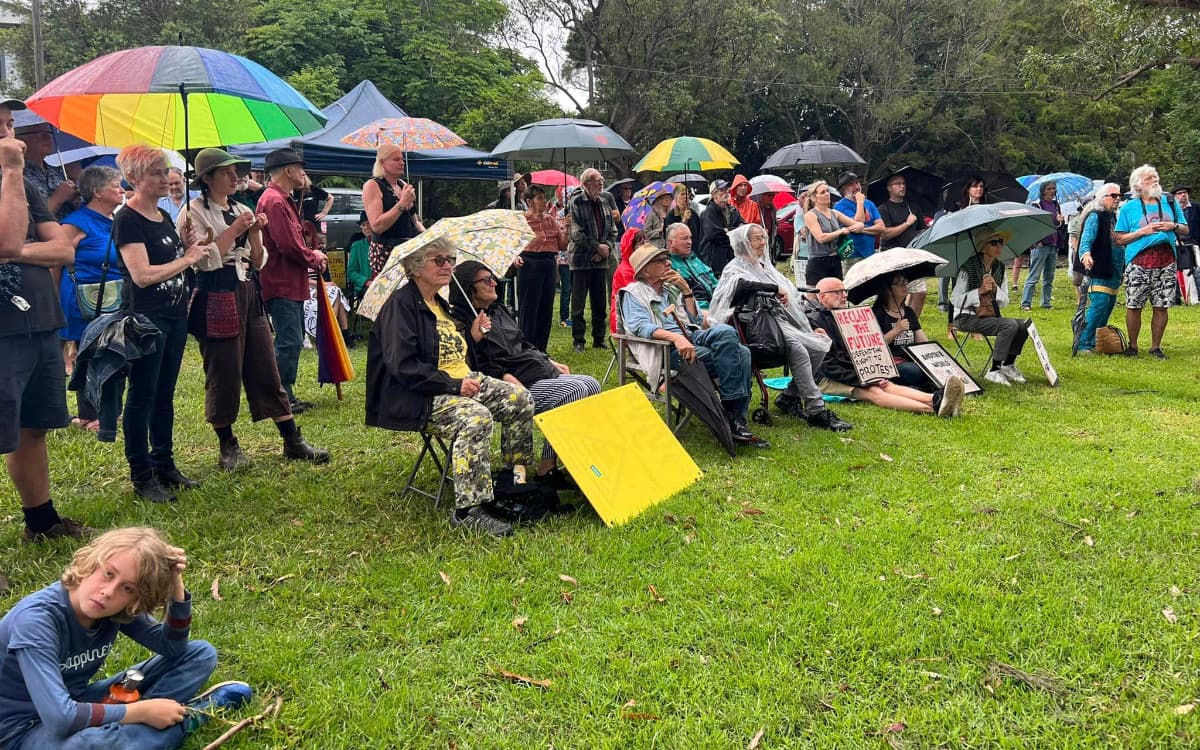 Snap rally in Lismore,NSW
In NSW in April 2022, it became unlawful to block or obstruct major roads or pieces of major infrastructure. Major roads or pieces of major infrastructure are defined very broadly in the act, and the Minister has the power to add pieces of major infrastructure or add major roads. Protesters are being refused bail, although the bail act hasn't changed. This is following a pattern seen in other states and internationally.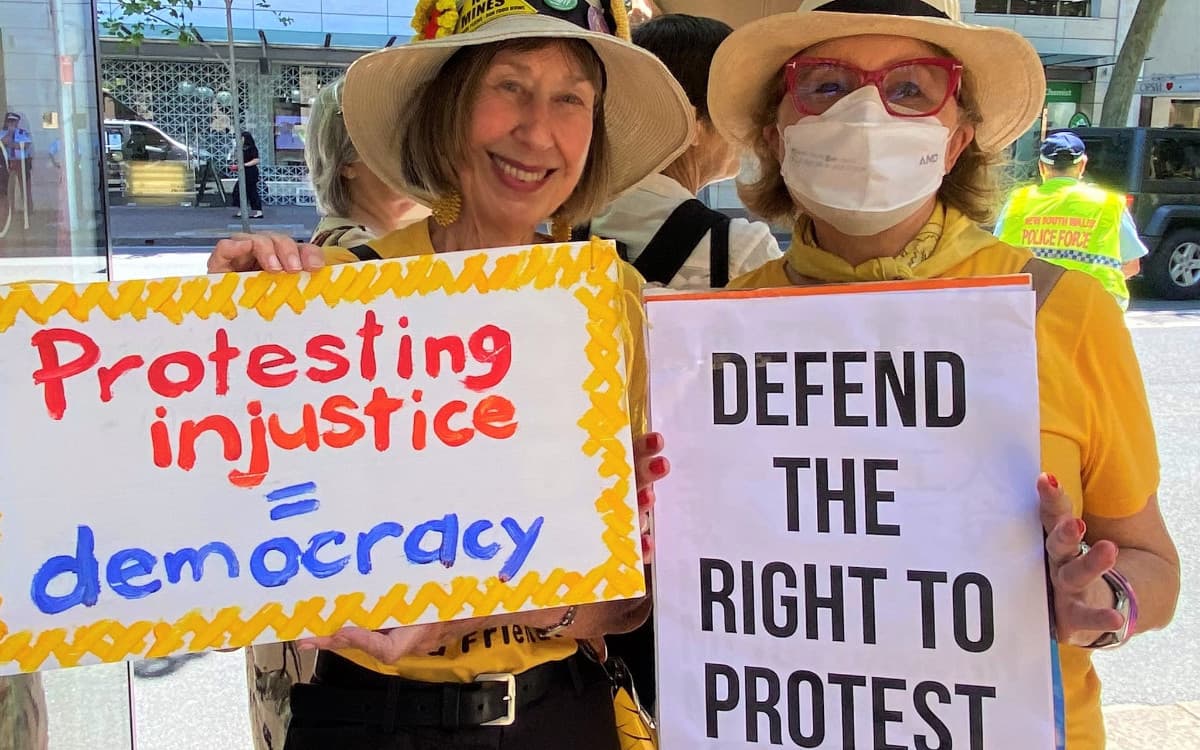 Snap Rally in Sydney
Steven Donziger said:
"It astounds me that more and more judges in the US, Canada, and Australia seem to be targeting climate protesters and Indigenous leaders with incredibly harsh treatment after being pressured by lobbyists for the fossil fuel industry."
Sadly it's not just the courtroom - the fossil fuel industry has a strong influence on both state and federal governments in Australia, and peaceful protest is being systematically criminalised across most states.
In a worrying trend, industries that are killing the planet are getting special protection from protestors with NSW, Victoria, Tasmania and QLD all recently passing more draconian laws against activism. Yet while Violet received a prison sentence for a peaceful protest, Rio Tinto wasn't punished for bulldozing a cave in WA dating over 40,000 years old with genetic links to living indigenous communities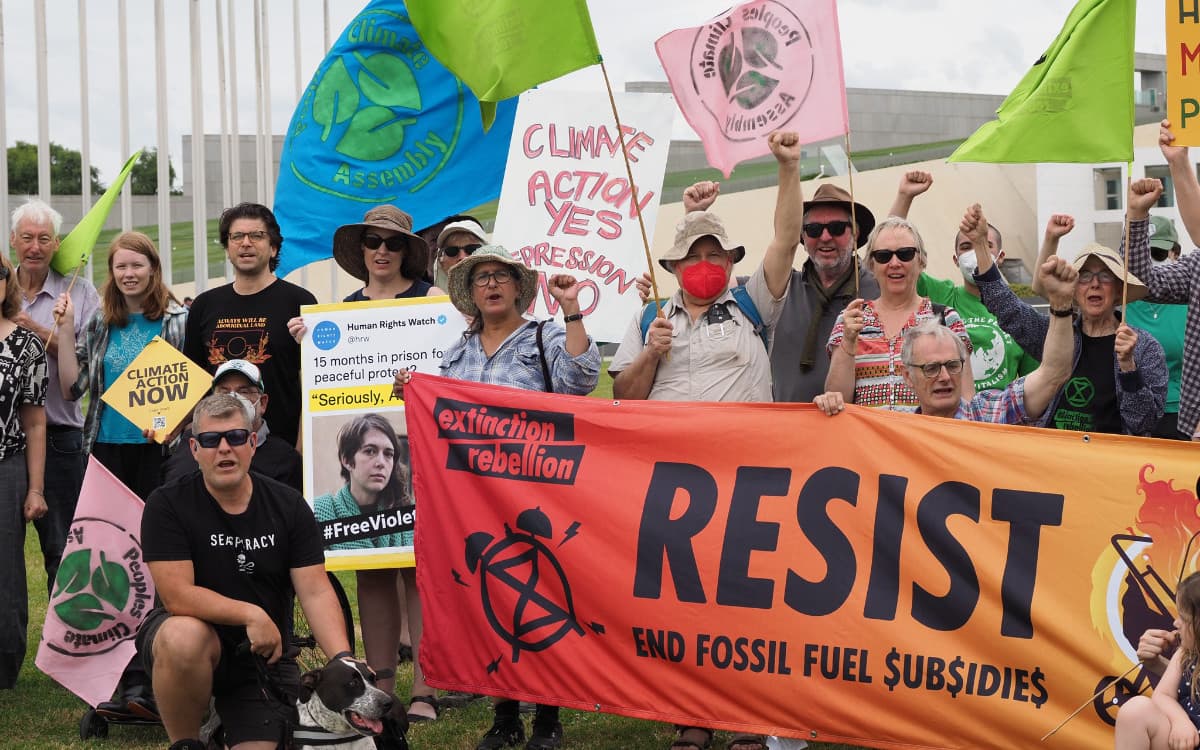 Snap Rally in Canberra
Canberra rally speaker and the Green Institute Executive Director, Tim Hollo, said Violet's sentence was a "window into how our system is going into high gear to defend the right to suck the planet dry for profit".
"We all need to use our democratic rights to call for Violet to be freed and to start building a real democracy that works for people and planet," he said.
Read Violet Coco's full statement and her original statement on the Get Violet out of Prison fundraising page.
In a presentation on anti-protest laws and the right to protest at Ecosocialism 2022, Josh Pallas, President of the NSW Council for Civil Liberties, said:
"The right to protest has now become a mainstream issue and everybody needs to fight for it as if all our lives depend on it, because we know in a climate crisis, a climate catastrophe – it certainly does. And we owe it to countries that are more affected than a wealthy country by climate change."
More than ever, it's time to stand up and be counted.
---
Get involved