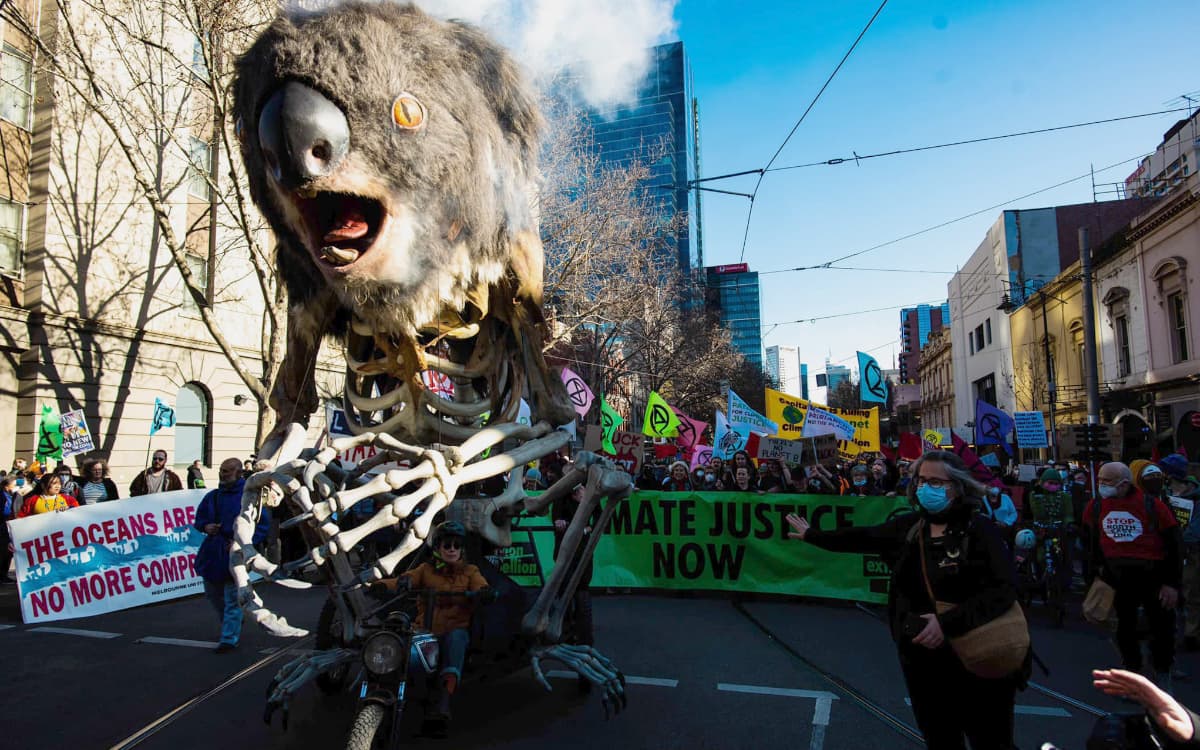 Climate groups rally in Melbourne while governments shut down the future
Extinction Rebellion Australia, 31 July 2022
The new government still plans to go ahead with 'carbon bombs' like the Scarborough-Pluto gas project, which by itself will produce three times Australia's current annual emissions in its lifetime.
The coalition of climate groups endorsing the climate rally: The Greens, Victorian Socialists (VS) , School Strike 4 Climate (SS4C), Friends of the Earth (FOE), The National Union of Students (NUS), Uni Students for Climate Justice (USCJ), Extinction Rebellion (XR), Blockade IMARC coalition, Workers for Climate Action (W4CA , Victorian Forest Alliance (VFA), Tomorrow Movement, Socialist Alliance, Socialist Alternative
The rally began at the State Library, moved through the streets of Melbourne, stopping at the Bourke Street intersection for a short sit-in then finished at the State Parliament building. These demands were put forward:
Real zero emissions by 2035
No new coal gas or oil
100% publicly-owned renewable energy
Tax the billionaires to fund a just transition for affected workers
Land rights not mining rights
Protect ecosystems and stop logging native forests
Anneke Demanuele, Convenor of Uni Students for Climate justice and member of Socialist Alternative compèred the program of speeches with energy and passion.
Adam Bandt, Leader of the Greens, and federal MP for Melbourne, said "When your house is on fire, you call the fire brigade. You don't turn up with tins of petrol and chuck it on the flames to make it worse. But that is what is happening. And right now in Australia as we face a climate crisis that is claiming lives and livelihoods, there are 114 new coal and gas projects on the books. Even one of those - the gas fields at the Beetaloo Basin in the Northern Territory – would be a climate bomb that would blow this government's weak climate targets out of the water.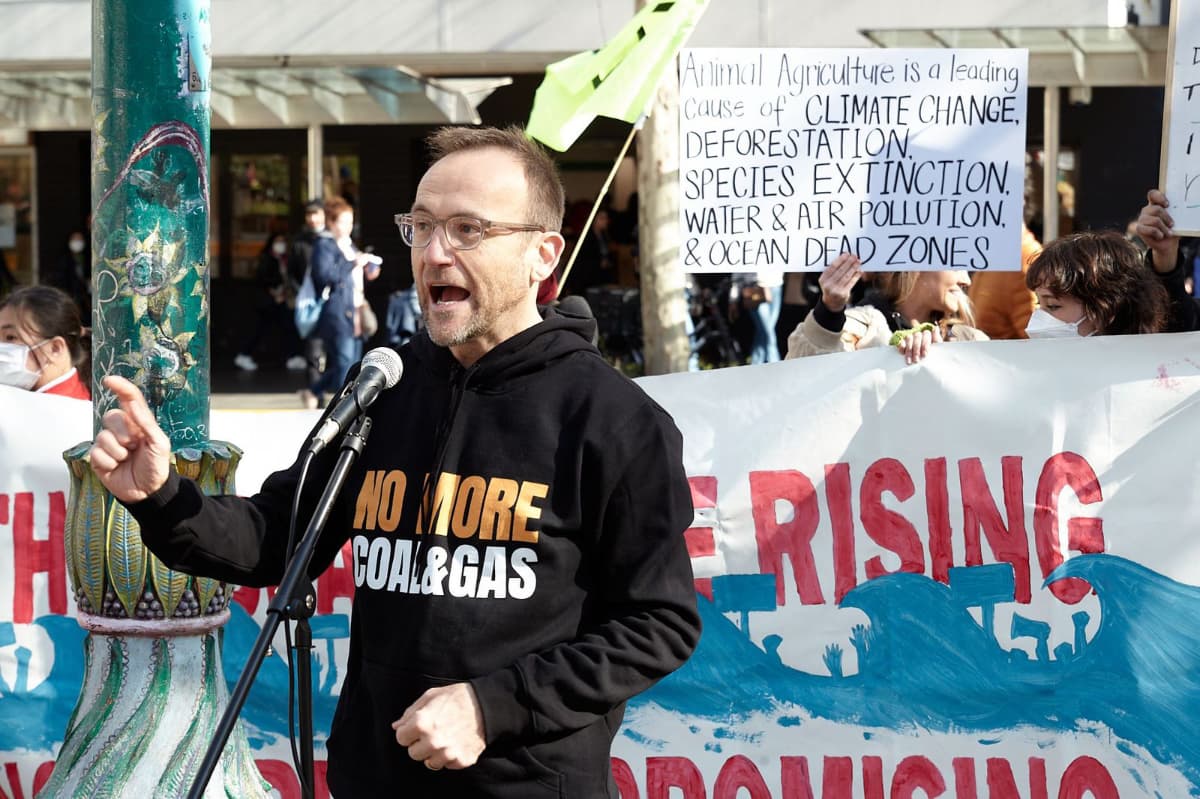 Adam Bandt at the Climate Rally
Adam promised that "In Parliament we will fight as hard as we can" but said it will be people power that changes the government's mind.
Freya Cole, Coordinator of No More Gas (a campaign group organised by FoE) pointed out that: "$11.7 Billion in the last federal budget went to the coal and gas industries in subsidies alone. A little over half of that money came back to us in royalties, while zero in tax came back. 95% of the profits from the sale of oil and gas is walking offshore while our gas bills increase.
"We are locked into an unhealthy an uneconomic energy system, that can never achieve climate justice."
"From now on every election is a climate election " Freya said. "We need our representatives to recognise that the only future for Victoria, for Australia and for the world is for us to lead the way in embracing renewables, switching off gas, shutting down coal mines."
Tansy Elliot, a young Climate Strike Activist, spoke of her anger at the betrayal of our people and planet by those who should be protecting us.
She said "We are here today because we are not ignoring the invisible timer that is counting down to irreversible. Irreversible to fix things, irreversible to change things and irreversible to save this planet."
Jonathan Stephens, the Regional SS4C organiser for Ballarat, lives in the Wombat State Forest, which is currently being logged and deforested. He often sees logging trucks passing by, carrying what used to be vital habitat for many animals. "Every time I see them" Jonathan said, "I'm filled with anger and sadness."
Jonathan spoke about the anti-logging protest laws that criminalise those who stand against the forest destruction. He said "The real criminals are the fossil fuel companies and the deforesters who contribute to the climate crisis."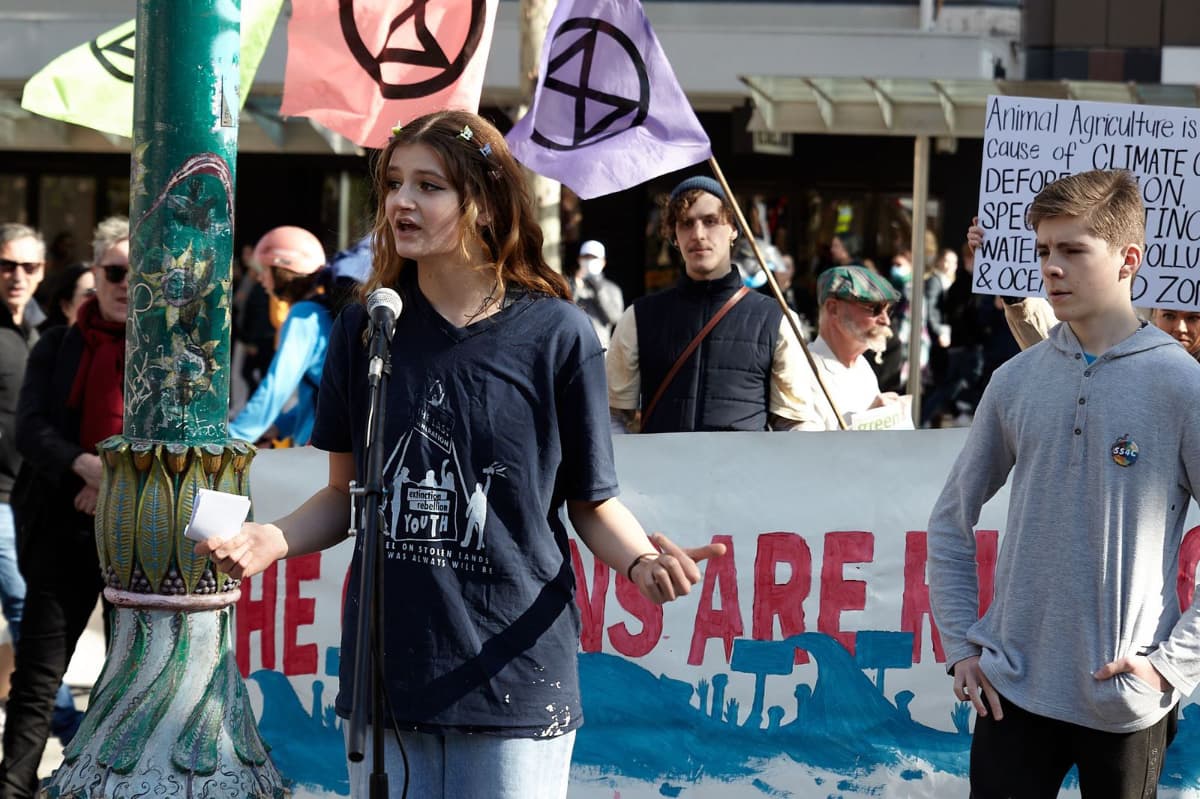 Tansy and Jonathan speak at the rally
Jerome Small, a long-time climate activist and the Victorian Socialist candidate for Calwell in the upcoming State election, challenged a system that turns everything into a way to make a profit. A system that decided it was more profitable to run sheep on land than have it continue as a place for people to live, that decided it's more profitable to rip coal and gas from the ground than to let Aboriginal people live on their country.
He said "First Nations people are still here, and still fighting for justice. A reminder that sometimes survival depends on resistance, depends on fighting and organising.
"We've got civil disobedience going for us, whether it's XR, whether it's Blockade IMARC, whether it's Blockade Australia, we're going to need a shit ton more of that. We have ingenuity going for us, we have the truth going for us, But the truth is never going to be enough, we need organisation to turn all of that into a mass movement."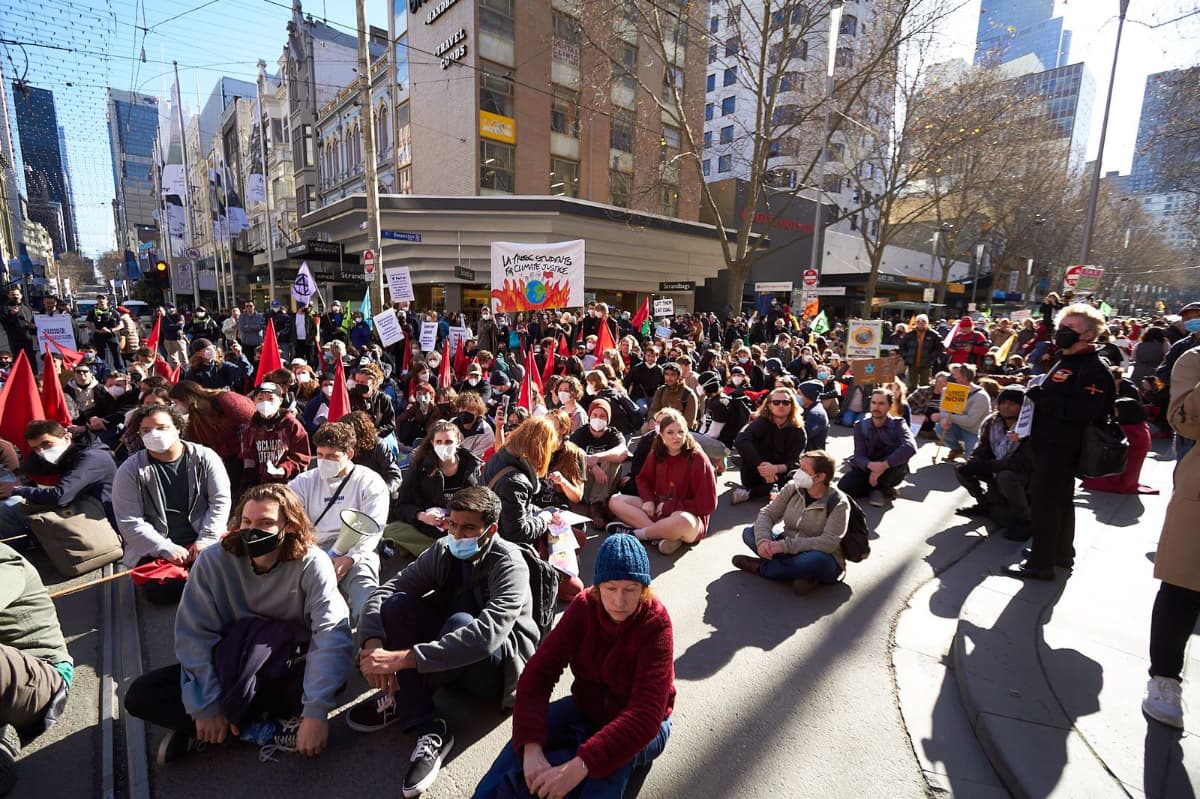 Catherine Strong from XR spoke during the sit-in at the Bourke Street intersection.
"I would like everybody to take a moment to think about the power that you have, to use your body to take up space and to sit here on this street, which is OUR STREET. I would like to take a moment to talk about the attempts by the State to NOT allow us to take up space on our streets" she said.
"Before I speak about State Oppression or Police Overreach, we need to acknowledge that we are on the land of people who know more about those things than pretty much anybody else on this planet. We need to be aware of that as climate activists in the coming years as the climate crisis gets worse."
Introducing the next speaker, Catherine said: "A few weeks ago, Climate Activists in Sydney were targeted in an extreme way by police under new laws that were brought in in that state. A number of those people have been given extraordinary charges and extraordinarily repressive bail conditions.
"Two of those people were taken to jail and were left there for three weeks for NO REASON. They didn't even sit on the road as you're doing now. They just THOUGHT ABOUT doing that."
Tim Neville from Blockade Australia said: "I spent three and a half weeks in a maximum security prison for my thoughts. 17 of those days were in isolation, where I didn't leave my cell once.
"I was charged with the crime of aiding and abetting the commission of a future crime. In other words, I was charged with thinking about protesting. I was thinking about taking direct action.
"This draconian abuse of the Bail Act was designed originally to break up Bikie gangs and Crime Syndicates. Operation Strikeforce Guard has the express mission of designating Blockade Australia and other Direct Action climate groups as 'organised criminal syndicates'. This would give them extraordinary powers, beyond simple bail and charges. It would give them the power to stop protests happening in the first place.
"Repression is harsh but it's also predicable and it's an age-old story. This sort of repression including using non-association orders has been used for decades, with the express aim of creating fear and intimidation in the activist community. To capitulate to that fear is to let them win."
The final speaker, Lidia Thorpe is of DjabWurrung, Gunnai, and Gunditjmara descent and she is a Greens Senator for Victoria. Speaking in front of the State Parliament building, Lidia said:
"What an incredible turnout from allies when we're rallying for our rights, when we're rallying against our extinction."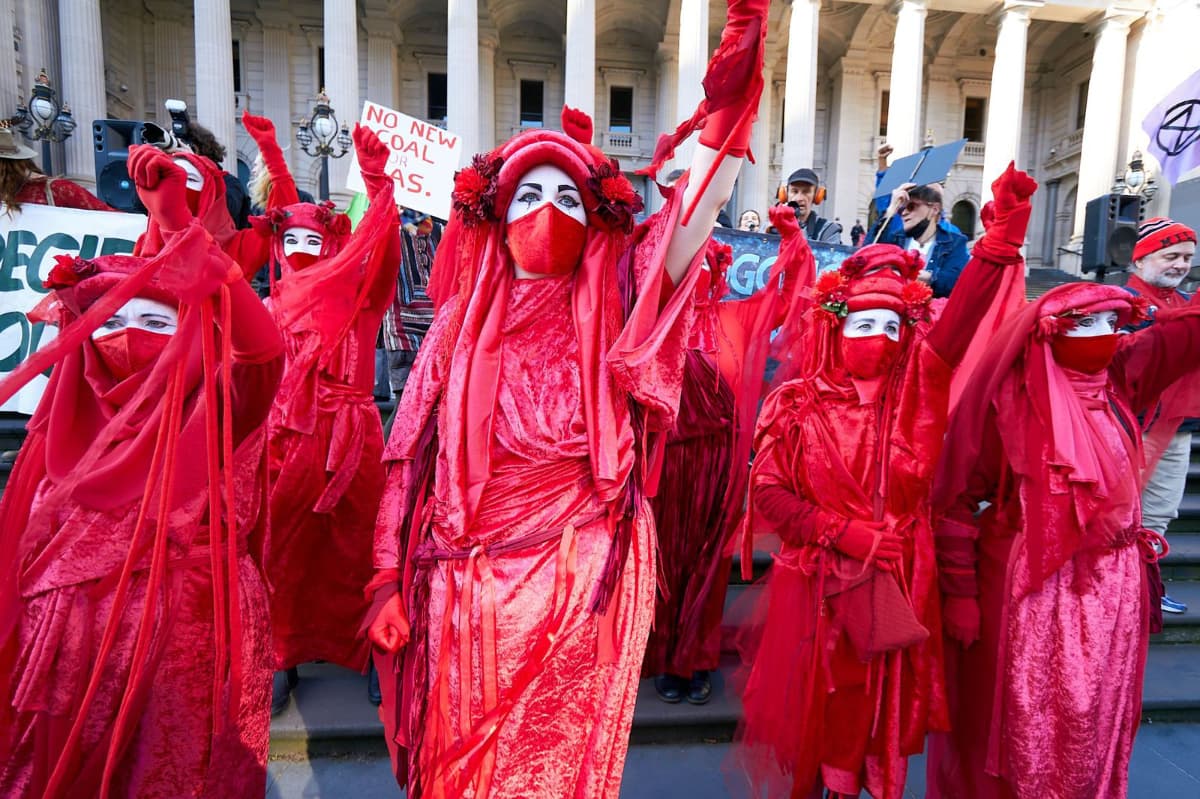 Lidia reminded the marchers that the colonial system has been trying to wipe out First Nation people for over 240 years.
"Don't forget that" she said. "We've been on the endangered list far longer than any thing or anyone else. Behind me, [the State Parliament] which I've been a part of and I've seen the dodgy deals going on behind me, particularly with the so-called progressive Labor government who have NO consent to log our country. They are logging our country while they want to talk about Treaty. They are opening gas on my country while they want to talk Treaty. They are destroying our people's land, our totems, our country, our water and our spiritual connection because they are greedy, and they are genocidal and they are criminals.
"We need this country to stand up for black justice so we can get climate justice.
"Today the Prime Minister has announced that he wants to put the Aborigines into the constitution – the colonial constitution. Well I see that as an opportunity to change the nation and get a treaty so that we can stop any more desecration of our country, any more desecration of our water."
Of First Nations people, Lidia said "We want to be at the decision-making table, not the advisory table. We need a treaty, and we need justice."
Main photograph courtesy of The Greens, other photos by Danielle Judd
---
Get involved