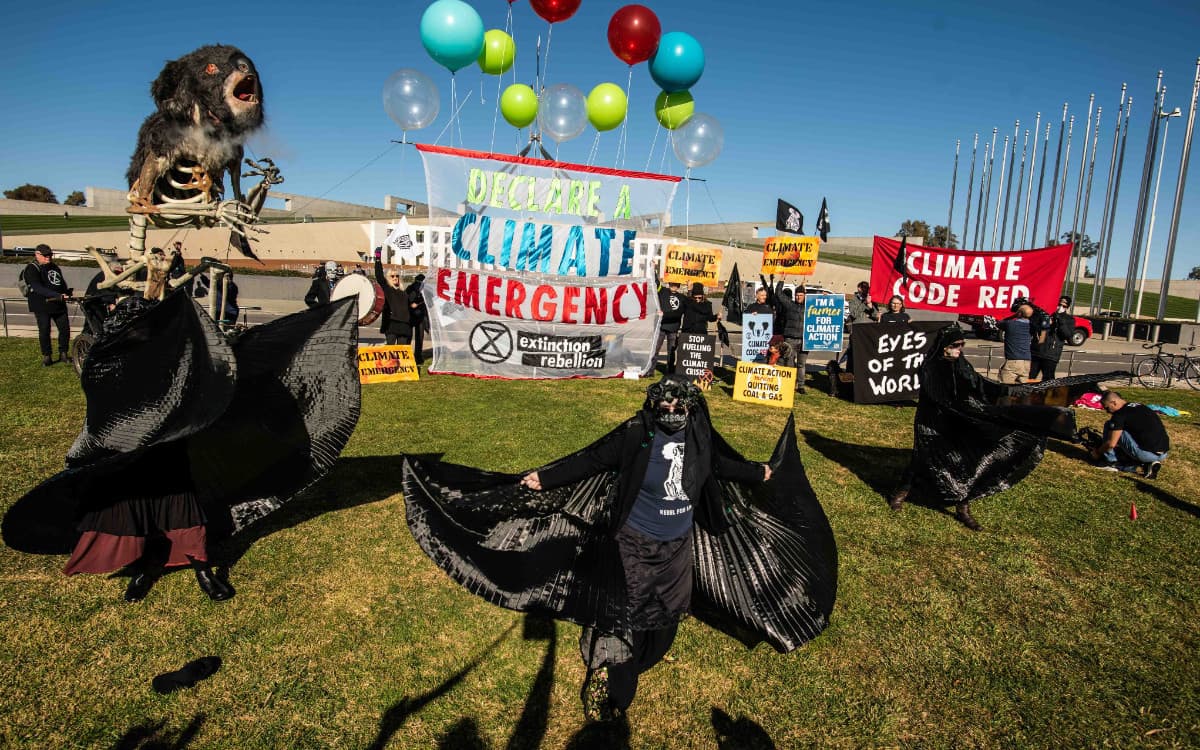 Blinky the giant burning koala in Canberra
Extinction Rebellion Australia, 27 July 2022
The new government must declare a climate and ecological emergency and take urgent action to avert climate collapse.
Blinky fire-burned koala came to Canberra City on Ngungawal and Ngambri land with Extinction Rebellion on the first day of the new Parliament of Australia. The four-metre tall burning koala was accompanied by drummers and climate wraiths in swirling black.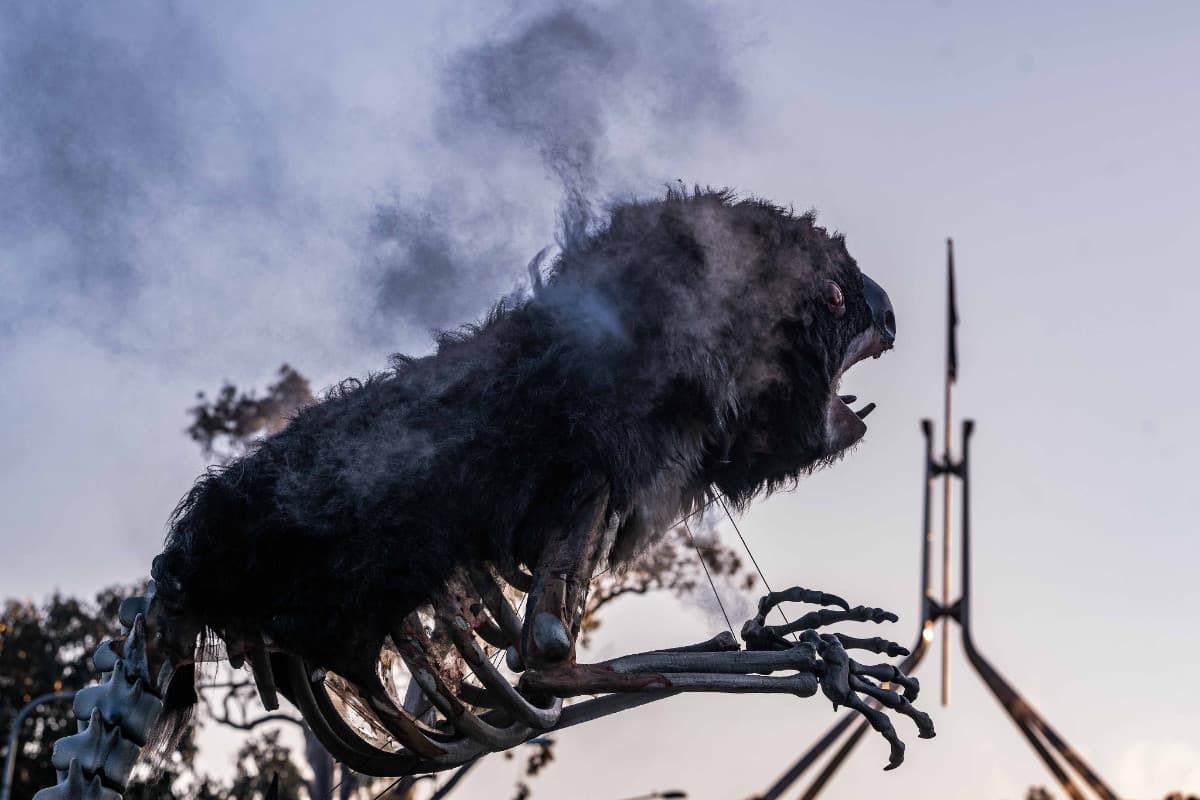 A magnificent banner with red, teal and green colours represented hope that the new parliament can work together to do what is needed.
Extinction Rebellion Spokesperson Jane Morton said:
"It's time for the Australian Government to declare a climate and ecological emergency. The natural world is collapsing. This poses an existential threat to humans as well as animals, according to the shocking State of the Environment report. Global warming is a horror show of heatwaves, bushfires and floods in this country and around the world. We are risking a cascade of feedbacks and runaway warming. The window for effective action is rapidly closing.
"Blinky is here outside of Parliament today representing the billions of animals killed in the 2019-20 climate fuelled bushfires and the threat of extinction. Australia has one of the worst records for species extinction in the world.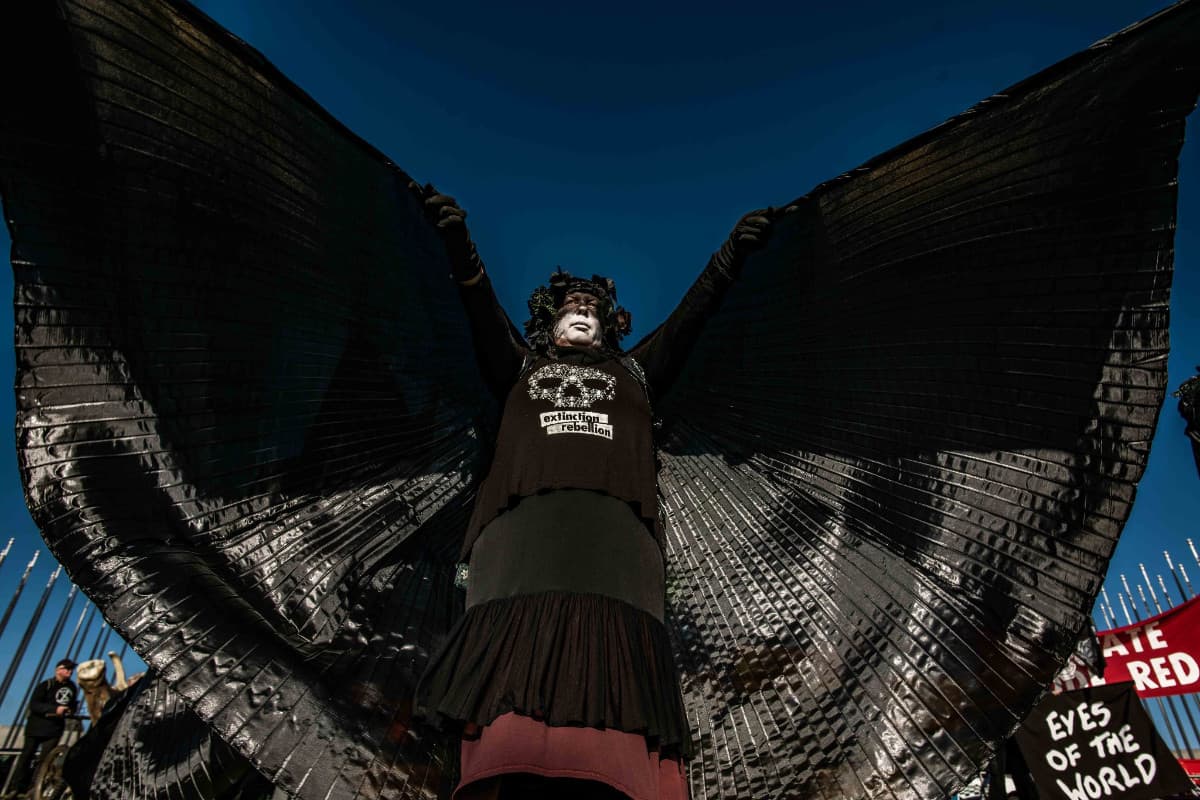 "Extinction Rebellion calls on the government to act now to reach net-zero emissions at emergency speed and halt biodiversity loss.
"UN Secretary General Guterres warned recently that humanity is in a climate crisis facing 'collective action or collective suicide'.
"Australia is one of the largest exporters of coal and gas in the world. We are a huge part of the problem. There is no way that any new coal or gas projects 'stack up environmentally'."
Blinky Koala's message to Parliament was very clear: DECLARE A CLIMATE EMERGENCY. The government must acknowledge that we are in a climate and ecological emergency and then make this the first priority across all departments of government. A declaration doesn't promise immediate action from those in power, but it provides a platform to start campaigning for emergency action.
The IPCC reports, the State of the Environment Report are all telling us how critical the climate emergency is, yet the night parliament re-opened, the Prime Minister appeared on the 7.30 Report saying that we have to keep exporting coal and that (using the drug dealer's defence) if we don't export our coal someone else will sell theirs instead.
It is impossible to meet the Paris climate target of keeping global heating to less than 1.5C and still keep burning coal, oil and gas. The opening of new coal and gas projects in Australia is incompatible with reducing emissions. It is magical thinking at its worst.
New coal and gas (or oil) spells the end for the climate, the earth systems, and us.
---
Get involved
Photos: Julian Meehan