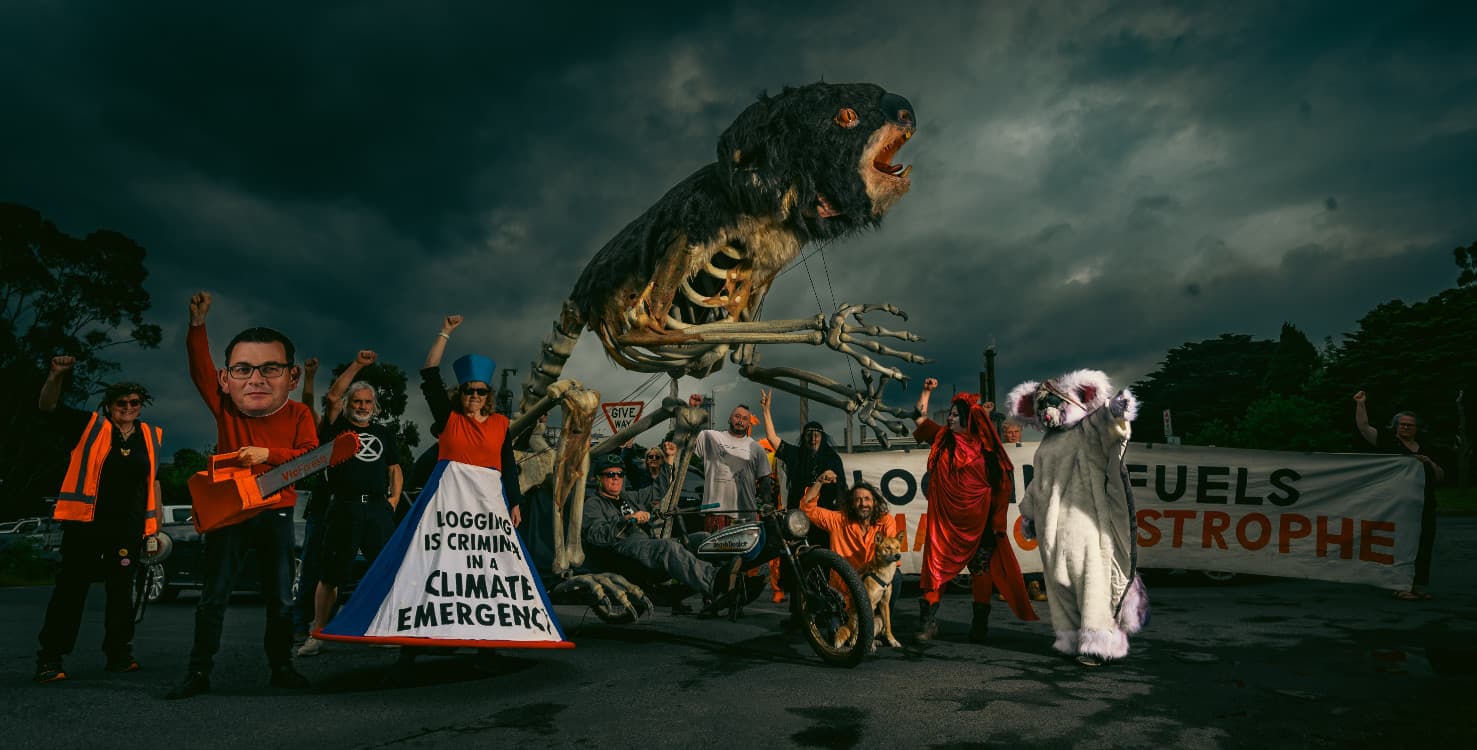 Blinky the burning koala comes to Gippsland, calling for an end to logging
Extinction Rebellion Australia, 12 Nov 2022
XR Gippsland protesters moved in a colourful procession through Morwell and Traralgon - Victorian towns in traditional logging areas. As the sky darkened with thunderclouds, they reached Maryvale paper mill. The 'Save our Species Climate Rally' was held in Lakes Entrance on the following day.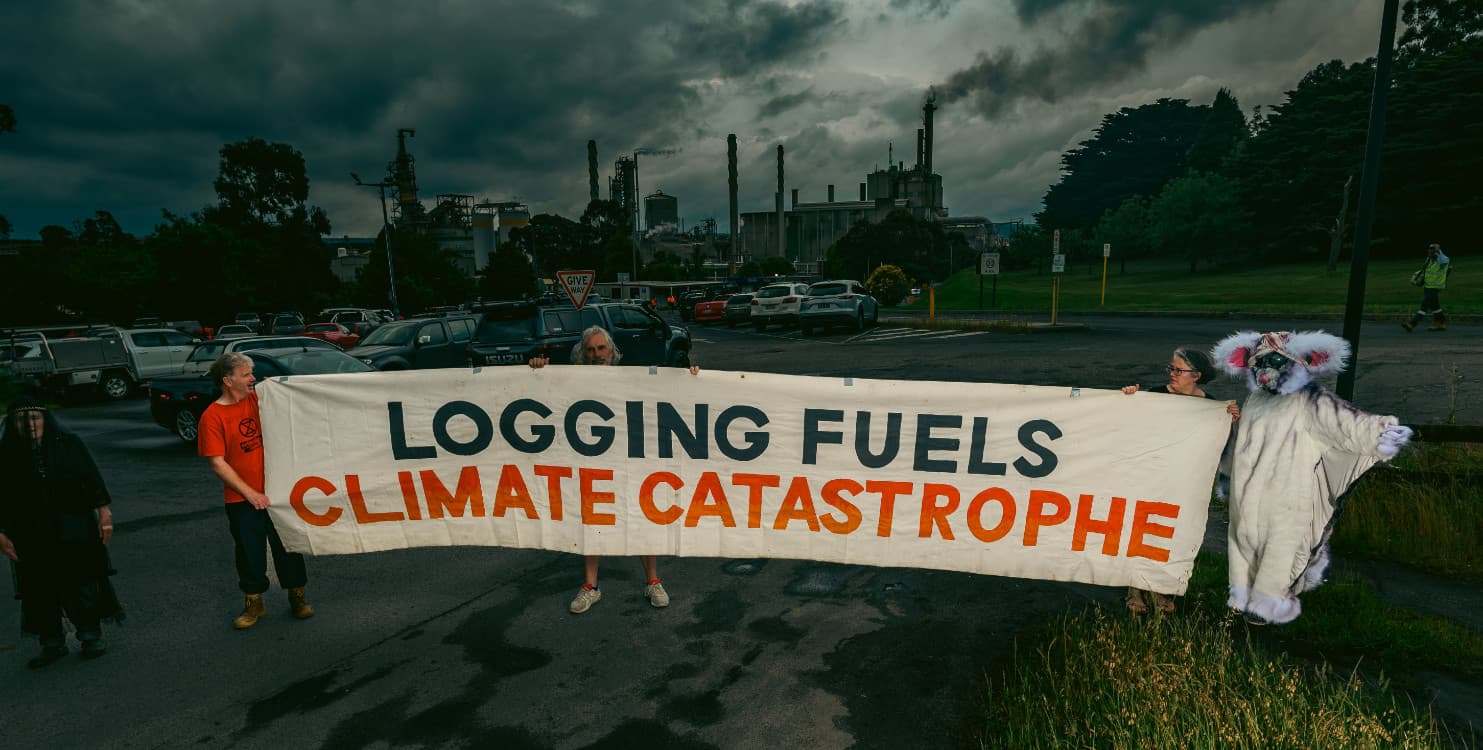 Protesters at the Maryvale paper mill - photo by Julian Meehan
In 2021 Environment East Gippsland and Kinglake Friends of the Forest began a legal case to protect endangered Gliders in East Gippsland and the Central Highlands. The recent Supreme Court ruling confirmed that VicForests' logging is pushing already threatened species towards extinction. The Victorian Labor Government must end logging now, not in 8 years' time.
VicForests are running out of areas to log, and that's why they plunder critical wildlife refuge areas. That's also why they're logging steep slopes and high conservation value forests, including the home of the world's tallest flowering plants. In a shocking attack this year on the democratic right to protest, the Victorian Government passed legislation with harsh penalties. Illegally entering and interfering with special forestry zones now risks a maximum fine of more than $21,000.
It's hard to avoid seeing this as an attempt by the government to deflect anger about job losses in the logging industry onto forest and climate activists, and clear the way for unopposed acceleration of native forest logging. Instead, government should be doing everything possible to speed up plans for alternative industries and green jobs in the Latrobe Valley.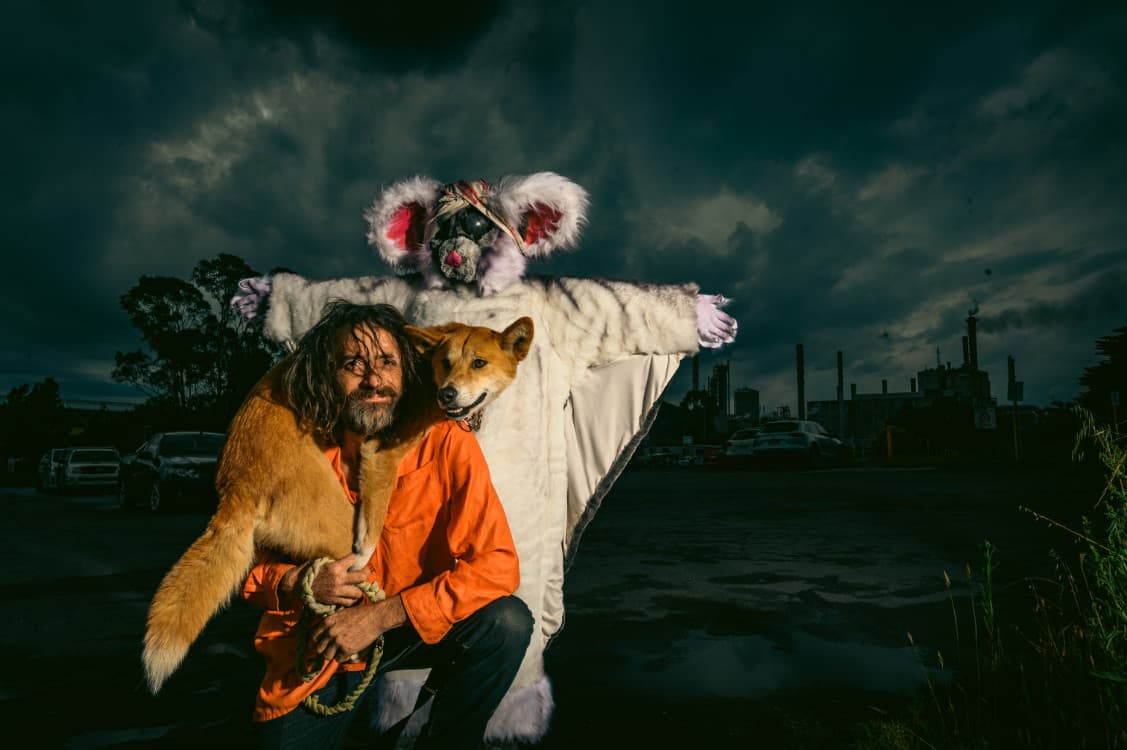 Gippsland climate activist Jay and animal friends - photo by Julian Meehan
The Latrobe City Council did their best to prevent the local climate action in Gippsland, so the first stop of the procession on Thursday 11th November was at the Council offices. Protesters reminded the Council that 'the right to protest is the cornerstone of democracy'. Dan Caffrey from Latrobe Sustainability spoke to the gathering. The office of Harriet Shing, MP for Eastern Gippsland and Minister of Water, was another stop, with a speech from John Pead, followed by drumming, chanting and an animal die-in.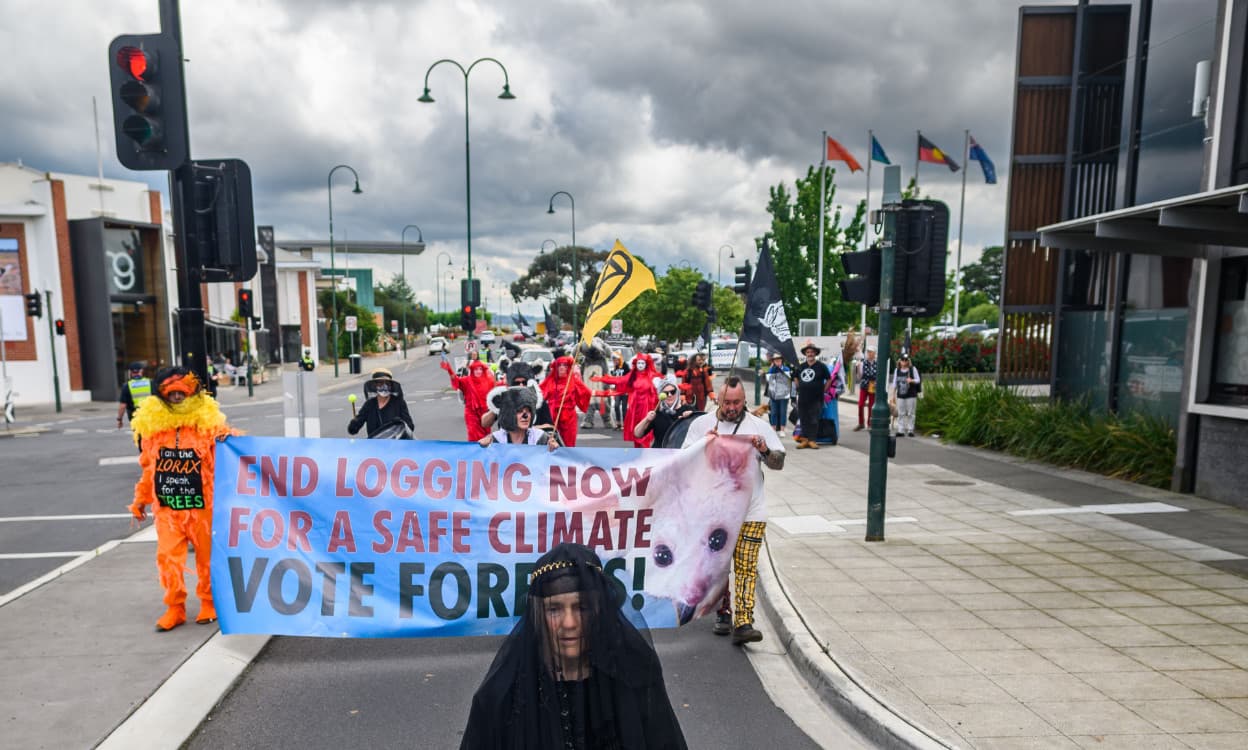 Moving past the Latrobe City Council offices in Morwell - photo by Julian Meehan
Blinky the fire-ravaged koala joined the protest at Traralgon. Blinky was supported by XR Gippsland's Red Rebels, Sybils, local climate activists and others from further afield. Activists heard from Nat Morgan, the Greens' lead candidate for Eastern Victoria, and a protest was staged in front of the office of National Party MP Darren Chester. Darren has consistently voted against ending illegal logging.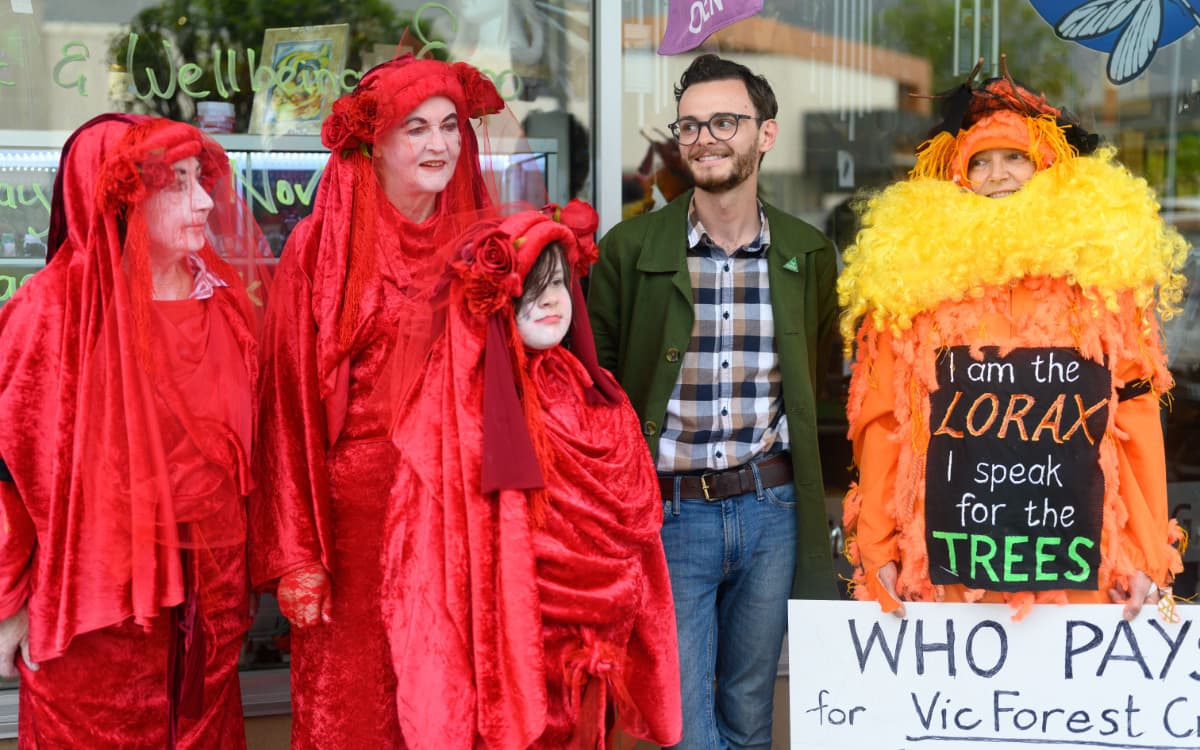 Gippsland Red Rebels with Nat Morgan - photo by Julian Meehan
The procession continued in spite of a gathering thunderstorm. Maryvale paper mill was the final stop for Friday.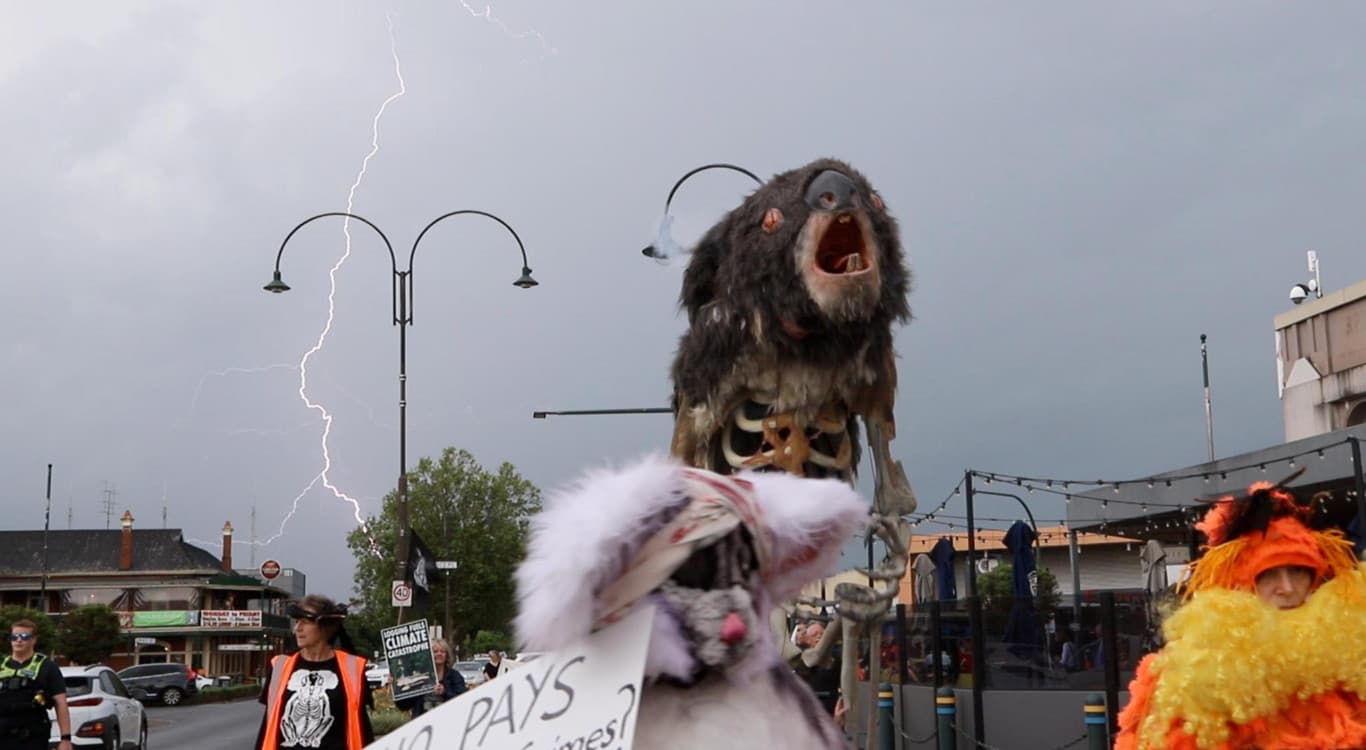 Blinky in Traralgon - photo by Stephanie S
Actions continued on Saturday with the 'Save our Species Climate Rally' at Lakes Entrance, organised by Roo Gooch.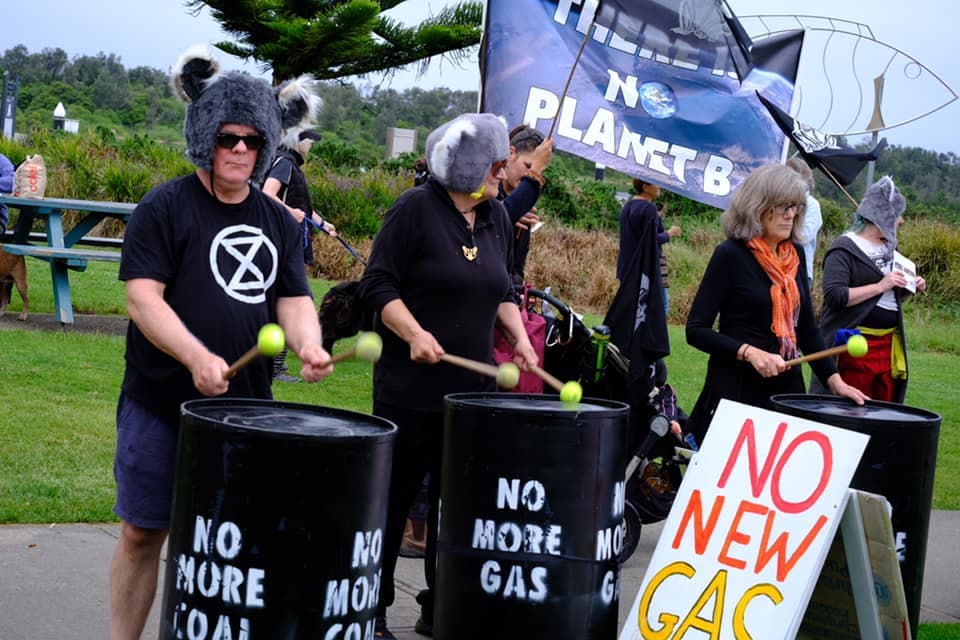 XR Drummers at Lakes Entrance
The 82-year-old Maryvale paper mill is Latrobe Valley's largest private employer, and was purchased by Japanese company Nippon Paper in 2009. It produces more than 600,000 tonnes of copy paper and board annually under the Opal brand name using raw materials from native forests and recycled paper sources. About two-thirds of its supply comes from private pine and eucalypt plantations.
In late 2019 when the Andrews government announced a decade-long phasing out of native forest logging in Victoria by 2030, it also proposed a transition to plantations and that as a "sweetener" it would invest $110 million to grow new plantations.
Victorian Agriculture Minister Mary-Anne Thomas has acknowledged that the plantation trees planted in 2021 would not be ready by 2030 and that they would not be replacing native forests tree-for-tree. See the March 2021 article in The Age, 'Timber shortfall brings new focus on Maryvale mill future'.
Heike speaking outside the Latrobe Valley Express office - photo by Julian Meehan
Heike Weber of XR Gippsland and Friday's protest organiser said: "Native Forest Logging is destructive and irrational in every way. Not only does it have a devastating impact on the environment, but also on the economy. Taxpayers spend millions of dollars every year to keep state-owned VicForests afloat. The alternative makes so much more sense. Create a 'Greater Forest National Park' in Victoria and attract millions in tourist dollars, increasing biodiversity, decreasing species loss, creating secure jobs and mitigating climate change."
The government must act now to stop its state-owned logging company plundering native forests, and move at speed to create sustainable alternatives for forestry workers and the 850 jobs at the Maryvale paper mill.
---
Get involved